Dave Empey
Dave Empey has developed four major league
players, including James Paxton, the ace of the
Seattle Mariners staff, and Ryan Dempster, who
pitched for 16 MLB seasons, was an all-star twice, 
and won a World Series ring with the Red Sox.
Dave has coached 19 pros, 11 members  of the
Canadian national junior team, and more than
100 collegiate players.  
 As a sports reporter with the Vancouver Sun
Dave interviewed the likes of home run king
Roger Maris, iconic heavyweight champ Rocky
Marciano, legendary sprinter Jesse Owens, Hall
of Fame pitcher Bob Lemon, daredevil Evel
Knievel, and NHL hard rock Tiger Williams.  
 Dave also managed a rock band and is currently
giving team and individual instruction. 

      Dave Empey can be reached at 604 771-9736
from noon to midnight 
                                          Ryan and Dave in Las Vegas
February to December, 2017 visitors--16,394
January visitors--1,382
TODAY'S LINE-UP
NEW--Living One Pitch at a Time
NEW--Do You Really Want Two Hour Games?
NEW--The Split and the Greaser
NEW--Rowan Wick is Ready to Rock

Chilliwack Invades the Big Apple
Mike Tyson, Discipline
Rodney, Deion, Romo and Delmonico
A Cure for Betances
Sandy Koufax--Lead with your Hip
The Showcase at Rogers Centre
Osuna and the WBC
Stealing Signs
Dr. George Chalmers, a Rennaisance Man
Kyle Chalmers--Godzilla
Where there's Smoak there's firepower
Up-Date--Five Ways for a Hitter to Stride
Moneyball, The Farce
The Curveball
Should Young Pitchers Throw Curveballs?
The Arm
Never Make the First or Third Out at 3B
Tom Glavine--Ultimate Command
The Odds of getting to the Big Leagues
Teaching Charges to Little Guys
SEE  HOW EASILY YOU CAN THROW HARD
The Amazing Saga of Sidd Finch
and his 168 mph fastball
The 12 Infield Throws
The Terminator at Shortstop
Is Clayton Kershaw a Communist?
March Madness and You
THE GREATEST BASEBALL PICTURE EVER
Did I Mention Simplify?
Shaking off the Catcher
Stay Inside the Ball
Dock Ellis and the acidic no-no
Levels of Pro Baseball
First Pitch Cutters
Developing COMMAND
Why Infielders Commit Errors
Simplify, Simplify, Simplify
Wisdom from Mike Trout
Steve Dalkowski--"White Lightning"
"If you live past 100 years old you've got it made.  Very few people die past that age."
   --George Burns, who lived to 100 with all his wits intact.
TOM BRADY AND BASEBALL
            Living One Pitch at a Time
I'm sure you've had more than a belly full of Tom Brady.  You grimace every time you hear his name and your stomach churns like a blender on overdrive.  Well, Ready Set Go to hurl because here's another Brady epic, this one connected to the game we call Baseball.
I watched a doc on Brady's greatest games, which was fine, but the comments by an assorted group of fans, media and comedians (as Dorothy Parker quipped, "How could you tell?") were so inane and boring it made you wonder if they were all suffering from Concussion Protocol after repeatedly smashing their skulls against a concrete wall. 
So why are Belichick and Brady so incessantly King Bill and Prince Tom?  It all comes down to five golden nuggets.  Pay attention now, I give you these Truths free of charge because I'm not smart enough to use Pay Pal.
               FOCUS
They both have absolute shut out concentration.  You could drop a nuclear into Gillette and they wouldn't notice until the play was over.  They zero in like a drone tracking a terrorist.
               PREPARATION
Belichick never takes anything for granted.  He's like a programmer using HTML to build a website.  The classic example came when the Seahawks blew the Super Bowl three years ago.  Second and goal from the two and Marshawn Lynch pumped to pile drive.  It was like holding a Royal Flush with $3 million in the pot.  So the Hawks throw.  Worst call since Hitler invaded Russia.  Belichick, of course, has done his homework and his guys are prepared.  Pick.  And the Lombardi trophy returns to Foxborough.
              PERSEVERANCE
That seems like a universal quality for a pro athlete but it isn't.  At least not 100 percent of the time.  They get mentally tired.  So do coaches.  Their resolve dissipates like morning mist in the sunshine.  Their brain seeks comfort, not conflict.  Doubt seeps in like drips from a faucet.  By the fourth quarter (or the seventh inning) their minds inexorably drift and the game is gone.
I've never seen either Belichick or Brady ever drift. Perseverance is their rekligion.
"I think at the start of a game you're always playing to win, and then maybe if you're ahead late in the game, you start playing not to lose. The true competitors, though, are the ones who always play to win."
--Tom Brady
   THEY COMPETE LIKE THEIR LIVES DEPEND ON IT
Brady is often denigrated as a "Pretty Boy."  Ridiculous.  He's as tough as nails, renowned for his no holds barred, compulsive, obsessive desire to win, a positive trait he shares with guys like Michael Jordan.  Belichick is his soul mate.
Tom Brady would have been a Hall of Fame pitcher.  And I'm pretty damn sure he'd have his fingers full of World Series rings because he'd lift the rest of the team up to his level.
"A lot of the time people who are blessed with the most talent don't ever develop that attitude, and the ones who aren't blessed in that way are the most competitive and have the biggest heart."
– Tom Brady
               PLAYING THE GAME ONE PITCH AT A TIME
There is nothing in the Psychology of Sports more important than this.
          Learn from the past.
          Plan for the future.
          Live in the NOW.
At one point in this video Brady rallies the troops.  "One play at a time!" he yells.  "Hey, one play at a time!"  It's the simple, basic, undeniable single truth of winners.  In any sport.
So you threw a hanging curveball and it was smoked for a two-run double.  So you struck out swinging at a change that bounced five feet in front of the plate.  So a tailormade double play ball just disappeared between your legs and the left fielder is picking it up.  So you just got picked by a lefthander with a move Andy Pettitte would applaud.  So you dropped a pop fly a six-year-old would have caught with his eyes closed.
Let it go.  You have to.  If you don't it will eat you alive like an alien predator and it's going to happen again—another bad pitch or embarrassing swing or brain freeze--because you're dwelling on the past, something you can't possibly change.  Even if you can astral travel like the speed of light.  Learn from it.  But let it go.
Plan for the future.  That's what practice is all about.
But live totally in the NOW.  Focus.  Concentrate.  This moment in time is all she wrote.  This pitch.  This swing. This groundball.  This instant is your world.    Absorb it.  Love it.  This moment is all you've got.
Focus does not come easy.  It takes work.  Most players worry about what has happened or what will happen.  When they lose focus they make mistakes.  I hear coaches talking about a player "Choking" and I hate it.  This is not a matter of courage.  It's simply learning to focus.  Don't dwell on what your parents or your friends or your coach are thinking.  Don't let your concentration drift.  Live in the moment.  Focus.
               ONE PITCH  AT A TIME
Basketball and soccer are virtually non stop.  Shoot an air ball or bungle a sure goal and you hustle back on defence.  Hardly anyone remembers by halftime.
But kick a routine grounder and you might not see the ball again for three innings.  What's more, you spend half the game sitting in the dugout.  Thinking.  Thinking.  Way too much.
That's why there have been more words written about the mental game of baseball than War and Peace and the collected works of Stephen King combined.
Here are three of the best.
Heads-Up Baseball: Playing the Game One Pitch at a Time.
          By Ken Ravizza and Tom Hanson
The Mental Game of Baseball
          By Harvey Dorfman
The mental ABC's of pitching
          By Harvey Dorfman
I've given One Pitch to several of my pros.  I think it's the best book of a very useful bunch.  Buy it.  If not, I'll tell you a secret.  It's all about Living in the NOW.  One Pitch at a Time.
The psychiatrist has left the building.
THE SUITS STRIKE AGAIN
      Do you Really Want Two Hour Games?
As usual the baseball suits just don't get it.
Remember the All-Star game in 2002 that dribbled to an 11-inning tie?  That's when Commish Bud Selig panicked and delivered the Sermon on the Mound.  From now on the winner of the Mid-Summer Classic gets the extra home game in the World Series. 
 How stupid is that?  On a scale of 1 to 10?  I give it a 12. 
The All-Star game is a showcase of talent, nothing more and nothing less.  Lately it's even been overshadowed by the Home Run Fun Derby.  Pitchers toss an inning or two, hitters step  in for a couple of AB's and then head for the showers, often on a 747 back home to Texas before the ninth inning is over.  The score is as meaningless as a promise from a politician.
So why should it decide who gets the extra in the WS?  What if you were managing the AL stars and your team had a strong shot at playing in October.  Do you give Mike Trout a third AB or use a closer for two innings to guarantee a win?  I doubt it but why should a manager be put in that precarious position.
It took 14 years but eventually the suits saw the light and erased the ruling.
                   The Race to 70    
When Mark McGwire and Sammy Sosa duked it out 20 years ago the suits did an abrupt pirouette and turned their backs on the scandal.  After all, the barrage of Steroid Jacks released a tsunami of publicity (even before social media controlled the world as we know it) and the dollars poured through the turnstiles faster than the speed of light.  This is commerce, baby, and the fans love it.
 Who cares if Deca and Winstrol will destroy the lives of thousands of young men who thought it was cool to emulate their heroes.  One owner of a nutritional store said fathers would come in and ask, "I don't know what McGwire is taking but I want some for my son."

Big Mac, who had great extension and certainly did not need steroids.
If you think 'Roids are harmless and who cares if hitters muscle up with Juice then you are either a moronic fool or suffering from dementia.  I'll talk about PED's at a later date.  Suffice it to say you should Google Lyle Alzado or the vast number of pro wrestlers who were buried in their 20's and 30's after attacking their livers, their hearts, their kidneys, their arteries and their brains with steroids and Human Growth Hormone in a gamble to get as big as King Kong.  As one blogger said, "I thought I was covering pro wrestling but I wound up writing obituaries."
McGwire and Sosa and Bonds and Palmeiro were swept under the tarp by the suits because the Race to 70 injected baseball with an Anabolic Juice that pumped the box office like Mr. Olympia.
What a load of Trump.
                   Nine Innings in an hour and 45 
The latest move by the suits also makes about as much sense as watering your grass in Vancouver in February.
Get this.  They want to speed up the games.  This, they think, will attract the younger crowd, the teenagers and the 20 Somethings.
So how?  Well, here is a great idea.  Eliminate the four wide ones of the Intentional Walk.  Just wave the dude to first.  What a monumental move.  It rivals the Manhattan Project, landing Armstrong on the Moon, the Invasion of Normandy, and Babe Ruth switching from the mound to crushing the seats at Yankee Stadium.
Think about it.  The auto IW shortens one or two games a week by 20 seconds.  Whoopee.
And, of course, the suits miss the point again.  You don't go to the ball yard for a quickie.  We drove to Seattle one night many moons ago to witness Bert Blyleven stifle the Mariners in two hours and five minutes.  It felt like Baseball Interruptus.  Over before it began.
Do you want games so short your car is still warm when you leave?  I doubt it.  I'm sure you'd prefer three hours plus because you're in the stands to wolf down hot dogs and burgers and peanuts and nachos and cokes and brewskis.  You're there to socialize with your buds or make new friends by dissecting the slider or hitting oppo or your favourite sushi joint or Justin Trudeau.
You're there to introduce your three kids to pro sports without having to mortgage the condo to pay for the seats and the fast food, which is both unhealthy and indulgently very satisfying.  You're there to absorb the warm sunshine and the emerald turf and the azure sky and the refreshing breeze and the sheer skill of some remarkable athletes.  You are at ease, feeling the Zen, the joy of being alive.  You are there for an experience.  Not a speed drill.
Baseball is therapy.  Let that therapy linger and set you free.

   Wouldn't you rather be enjoying Ball Yard Therapy?  I didn't think so.
The suits, who understand nothing but numbers, just don't get it.  They want to attract 23-year-olds and teenagers, which is admirable but pointless.  Teenagers are as scarce at pro sports as lottery winners.  They are so obsessed by their smartphones they eat together in a restaurant and never speak to each other.
It would be a blessing for any 17-year-old to just go to the park, leave his cell in the car, and morph from a robot into a living, breathing human being.
For three and a half hours.
When president Calvin "Silent Cal" Coolidge died the inimitable and legendary Dorothy Parker quipped:
          "How could they tell?"
BRANDON MORROW, the 21 million dollar man
         The Split and the Greaser
This is a story about a Splitter, a Greaser, a Reliever and a High Heater.  Call it The Search For Brandon Morrow, starring Sean Connery, Alec Baldwin and, well, Brandon Morrow.
Morrow fired aspirin tablets for the Dodgers last summer. The righthander was as stingy as Scrooge before the Ghosts, shooting blanks with a 2.06 ERA.  In the NL playoffs he gave up one run in eight and a third.  Brandon was LA's Advil, the Painkiller.
Morrow's 2017 joy ride went from a baloney sandwich to Eleven Madison.  He came to spring training on a minor league contract, where he was about as effective as drinking rum and coke to relieve dehydration.  At which point he stepped into the bull pen and saw a transformation that rivalled Jekyll and Hyde.
                                     Morrow stays loaded
What happened?  Well, undoubtedly he just let it rip instead of pacing himself.  But that's only a few pixels of the picture.  The real key was a subtraction rather than an addition.
Morrow deep sixed his splitter.
Presto.  His velocity jumped like a kangaroo, hopping up to 97-98.  He became a Killer.  He was as dominant as King Kong pitching at Williamsport.  As intimidating as a teenage hacker cracking Bitcoin algorithims.  As ominous as an F-35 stealth fighter loaded with nuclear.
And now he's signed a two-year $21 million contract with the Cubs.  He must feel like Cinderella.  Okay, Cinderfella.
                  The Anatomy of the Greaser
So what is so significant about leaving the splitter in his tool kit?  Well, the  Split-fingered fastball, which is really a mutation of a change-up, is the legitimate offspring of the illegitimate Greaser.
Which ignites a look into the past.  No, don't turn the page, I promise this will be more interesting than grade 11 history class.
Back in the days when dinosaurs roamed the earth, Burleigh Grimes threw what was called The Spitball--when they were legal and then illegal.  Gaylord Perry honoured that dubious tradition and even wrote a book called Me and the Spitter.  Not exactly a shocking tell all but amusing nonetheless.
Hall of Famer Burleigh Grimes won 270 games and pitched in four World Series
The problem, of course, is that spit is virtually useless if you want to be Dr. Strangeglove.  Depositing saliva on the ball is about as productive as exhaling hoping to create a hurricane.
The Spitter is really a Greaser.  Vaseline.  KY Jelly.  Brylcreem, a little dab'll do ya.  Anything that is as slick and slippery as a hedge fund Ponzi scheme.
In search of a Ph.D the astrophysicists, gurus, aficionados and connoisseurs trot out a flotilla of mystical theories.  The expectorant makes the ball lopsided or distorted or drunk or psychotic.  It's on LSD.  It's genetic structure has been altered.  It's controlled by a hypnotist from Saturn.  Whatever.  The ideas  bounce around like a pinball game on speed but there is one indisputable truth.  The Greaser is virtually unhittable.
And all of those bizarre theories are utter nonsense.  The Greaser is about as esoteric as spaghetti and meatballs.  In fact, it's as simple as turning on your computer.  Let's play Sherlock Holmes and unravel the mystery.
When you throw a four-seam fastball your fingertips are on a seam and they pull down at release.  This causes backspin, which competes with gravity and gives the ball "carry", making the fastball seem to "hop."  That backspin is the mark of a "live" arm.
Okay, so put a little bit of grease on the tips of your index and middle fingers--just some hair cream or vaseline mixed with sweat.  Now, instead of gripping across the seams, put those two fingers on the bald spot of the ball in the middle of the horseshoe.  You want no friction at all.
(Where do you hide the vaseline?  Anywhere you can.  Your neck, your glove, your forehead.  The hitter pops up to the shortstop and you load up while no one's watching. Eventually, you'll learn to throw it with only sweat and that's perfectly legal.)
Now throw the greaser just like your fastball.  Your fingers are slick and they have no seams to hold onto.  They're as naked as a streaker.  As the ball is released it won't spin backwards anymore like a normal fastball.  It can't--you have no grip with your fingertips.
The greaser spins forward.
It tumbles.  Gravity takes effect and gives a kick to the action.  As it gets near the plate and the forward rotation makes friends with the air, it dive bombs, exploding straight down.  It's like trying to hit a runaway elevator.
But the greaser is illegal.  So…
            Enter the Splitter
The split-fingered fastball is essentially a very legal and very lethal greaser.  Roger Craig orchestrated the split when he was the Giants pitching coach in the 1980's.  It spread like a virus and Mike Scott made it legendary when he fine tuned it throwing for the Astros in the 1986 playoffs.  It was so devastating helpless hitters like Gary Carter of the Mets kept asking the umpires to check the ball—they just couldn't believe Scott could get that kind of tumbling action without doctoring or scuffing the ball.  Either that or ET was pitching.
The split-finger is just that.  You split your index and middle fingers and jam the ball in between.  The fingers are not on a seam and not pulling back on anything.  They are essentially on the outside of the ball and not gripping it at all.  They apply very little friction.  Just like the greaser.
And, when you throw the splitter, the action is identical to the Vaseline Ball.  The Rawlings spins forward in a search for terra firma.  It drops off the table and disappears faster than a wisp of smoke.  What you have is a very legal greaser. Hitting a good splitter is like chasing a rainbow.
            And you shouldn't be throwing one. 
Whoa.  Why not?
Spread your index and middle fingers and force a baseball in between.  Feel the tension in your forearm.  Do that often enough and muscle strain is inevitable.  Eventually your velocity deteriorates and an arm problem stalks you like Jack the Ripper.  In fact, a lot of pros who relied too much on the split-finger (including Scott) had abbreviated careers.  Guys like Roger Clemens, who had a nasty splitty, kept it on a leash.  It was just a part of his arsenal--not the main event.  Wisdom.
But possible arm trouble is only the beginning.  Too many pitchers fall in love with the splitter and use it as often as teenagers scrutinize their smartphone.  Which means they don't throw their fastball enough, their velocity diminishes, they rely even more on splits and breaking balls, and their mph invades the slow track.  A very vicious cycle.
Risking injury to a young arm and stunting the development of your fastball are not good trade-offs for a quick fix.  A lot of big leaguers don't start throwing a splitter until they're well into their 30's.  Take heed.
So that, I think, is why Brandon Morrow's velocity rose like the morning sunshine.  His forearm relaxed, his four-seam became as lively as a Kentucky colt, and he focussed on Power Pitching.
          Turn Up the high Heat
The High Heater?  The Dodgers bull pen is known for fastballs up in the zone and Morrow bought in and joined the parade.  In fact, that's been a dominant trend for more than a decade, which is a story unto its self but we'll put it on hold.  Suffice it to say pitching coaches have stressed keeping the ball down, down, down since Robin Hood was a rookie embezzling from the rich and giving to the poor in the Sherwood Forest AAA loop.
Robin the Hood, better known as Crash Davis in Bull Durham
Everything on the knees or lower.  And that, of course, is a blue chip policy for your breaking ball and your two-seam sinker.
But here's the rub.  The guys standing in the box are not comatose and they see so much stuff on the bottom of the zone a lot of them have become low ball hitters, especially lefties.
Which brings us to the four-seam fastball, which can be down…or up.  The men in blue have guillotined the top 12 inches of the zone but pitches at the letters (and often higher) are as tempting as a bowl of chocolate ice cream.  Hitters without discipline take a lot of hopeless hacks at High Heat, which is as tough to contact as catching moon beams in your bare hands.
Morrow saw the light.  Forget the split.  Rely on the elevated four-seamer.  His velocity went up like NASDAQ.  His strikeouts soared like a helium balloon.  And his salary burst through the sound barrier.
It's a lesson for young pitchers.  If you have any kind of juice at all you can work up or down with your fastball.  And stay away from the split until you're an MLB free agent.
As far as the Greaser is concerned it's off the table because it's blatantly against the rules.  And no one in the big leagues throws it any more, pretending it's a split.  Of course not.  Did I mention the great swampland I have for sale in the Florida Everglades?
"Which ring is my favorite?  The next one."
     --Tom Brady, who already has five Super Bowl rings.
UPDATE
           Rowan Wick is Ready to Rock
It was a roller coaster season for Rowan Wick.  But now the track is straight and he's ready to rock.
The 25-year-old righthander from Lynn Valley tossed 42 innings as a closer in the Cardinals organization with 42 strikeouts, a 3.19 ERA, and six saves.  But those bare bones stats are only a small chunk of an adventurous year.
Last spring Wick was on the fast track to the bigs.  He threw well for Canada in the WBC and he was assigned to Memphis, the St. Louis AAA franchise.  So far so good.
But, like all pro sports, baseball is at the mercy of The Gods of Injury.  For example, at one point in 2017 the Seattle Mariners pitching staff resembled the war zone in Afghanistan.  Four starters, including King Felix and King Canada, James Paxton, were dry-docked on the DL, which doesn't speak well of the Seattle pitching coach and trainers or is a coincidence about as likely as snow in West Palm Beach.
Rowan also visited the DL, suffering from a small tear in his labrum, the cartilage that holds the ball of the joint in your shoulder socket.  It wasn't serious enough for surgery but it was frustrating to say the least.
"My arm was dragging," Rowan says, "and I wasn't rotating my hips enough."  That strained his shoulder.
          "My Arm Felt Great"
 With help from Cardinals coach Paul Davis, Rowan rehabbed enough to get back into action at AA Springfield and then return to Memphis where he notched a win as the closer in the PCL playoffs.
"The last time I threw was on September 19," Wick says.  "And my arm felt great."
Good news.  Rowan left for San Diego this week where he'll soak up some sunshine and get amped for spring training in Florida.  I watched him throw a bit the day before he left and his delivery looks perfect, a Coil and Go with a great load, leading with his hip.
I believe in this young man.  The future is his.  (North Shore News photo)
Rowan has been on the Cardinals 40-man for a year now, which tells you how much they like him, and he expects to start the 2018 campaign in AAA Memphis.
I know the Cardinals see Rowan as their closer of the future but I'd love to see him as a starter in the minor leagues.  Relief pitchers never know when they'll be on the mound and they can't throw sides.
By contrast, guys in the rotation have at least four days off, which means they can hit the bull pen once or twice between starts. That's a necessity for developing command, which Rowan needs, and fine tuning your delivery and your secondary pitches.  What's more, starting adds depth and mound endurance and those increased innings are invaluable for a young pitcher.
At any rate, Rowan Wick is ready to roll.  Bring it on.
"The best argument against democracy is a five minute conversation with the average voter."
--Winston Churchill
SMITH TO HAWAII, JEPSON'S A PROSPECT
          Chilliwack Invades the Big Apple
How's this for a baseball trip.  You invade the Diamond Nation showcase in New Jersey.  You travel three times to the Big Apple, the greatest city in the world, to absorb the Usual Suspects, Times Square, the iconic Statue of Liberty, the Brooklyn Bridge, which is always for sale.  You saunter into the legendary concrete of Yankee Stadium to check out the Bronx Bombers and you hook into the Mets at Shea, where The Beatles cut it loose.  Plus, you ingest nine innings of the Phillies in, well, Philly.
And, just to make it a grand slam, you win the Diamond Nation tournament going 6 and 0.
That was the journey for the Chilliwack Cougars and coach Shawn Corness last August, courtesy of BC Baseball and Grant Rimer, head honcho of the College Prep division.  They earned the trip by clipping Cloverdale 4-3 in the Prep final with drafted workhorse ace Cade Smith on the hill.  Next stop: Clinton, New Jersey.
"It was a fantastic trip," Corness says.  "We peaked at just the right time."
It capped an adrenaline packed year for the Cougars.  What's more, they only graduate a trio of players, including Smith, who was selected in the 16th round by the Minnesota Twins but chose not to ink, preferring to head to the University of Hawaii at Manoa on a ride.
Cade Smith drives to the plate.  (Photo courtesy Canadian Baseball Network)
I hear through the grapevine Minnesota scout Walt Burrows was so high on Cade he convinced the Twins to offer the right-hander a bonus well above 16th round money.  In the ensuing tussle, the sunshine of Waikiki won two falls out of three and Smith will have to wait until after his junior season to be drafted again.  Cade has the size, 6-5 and 220, to develop like IMAX 70 mill and he has a strong shot at becoming a Top 10 rounder.  As one scout said, "I like everything about him.  The velocity will come."
The 2018 cast for the Cougars includes Jack Ray, a solid shortstop, power hitting third baseman Brendan Schultz, and Connor Dykstra, who is 6-2 and 220.  Corness thinks Dykstra will be the best catcher in the Prep league.  "He has power and he's a strong catch and throw guy," Shawn says.
So how does Chilliwack hold on to their talent and avoid poaching from the Premier League?  "It's development," Corness says.  "We've had four or five players approached by PBL teams but they all say they're happy where they are."
Corness plays two hands of baseball poker at all times.  Besides the Midget Prep he also coaches the University of Fraser Valley Cascades, who had a remarkable 2017 season, their debut in the Canadian College wars.
Led by the likes of pitchers Dylan Emmons, Dan Rogers, Jeevan Hayre and Evan Petersen and sluggers Riley Jepson, Liam Campbell, Nick Laflamme and Brennan Hegel the Cascades battled into the semi-finals of the wrap-up tournament in Kelowna before succumbing to the perennially dominant Prairie Baseball Academy.
      "We proved we can play at this level"
"We proved we can play at this level," says Corness.  "We'll be ready to make a run at it next year."
Emmons, the right-hander from Vernon, had a strong 2017 campaign with blue chip command, a live fastball and a competitive spirit.  He should be the Cascades King of the Hill next summer.
And then there's Jepson.  Cade Smith sent out a high school sun flare when he was the highest draft pick in B.C.  And Riley just might match that lightning strike as the first MLB college prospect for the Cascades.
Jepson, who drilled a .475 hole in the wind in Kelowna and shows the kind of pop you need from a first baseman, is a massive 6-4 and 230.  He worked out for Burrows and the Twins this week and will travel to Portland next Saturday to showcase his left-handed power stroke for the Arizona Diamondbacks.  "He's a guy," says Corness.  In scout talk that means he's a prospect.
                     Jordan Lennerton holding a runner for the Tigers
TRIPLE PLAYS—Langley's MARCUS GREGSON has transferred to UFV from Indian Hills in Iowa.  Corness expects the rangy hurler to be his closer…The Cascades have one of the most impressive coaching staffs in the country.  That includes KYLE LOTZKAR, who was drafted in the first round by the Reds and signed for $600,000.  Lotzkar fractured his elbow in 2008 and needed Tommy John surgery but still managed to pitch for eight years in the minor leagues…WES DARVIL, a fifth round pick of the Cubs who progressed as high as AA, takes care of the infielders…And then there's JORDAN LENNERTON, who was drafted by the Tigers after a brilliant college career at Oregon State, and played first base for eight seasons in the Detroit organization, including AAA action…"All three played for me at some time or other," says Corness.  And all three are products of DOUG MATHIESON's Langley Blaze powerhouse…Both teams hold winter workouts in The Yard, their Chilliwack facility with two batting cages, mounds and a weight room…When head man Corness is with the Cascades he turns the Cougars over to assistant coach SCOTT PANKRATZ.  "He runs things," says Corness, "and he does a great job."…The Cougars ate up the final game in New Jersey when BRAYDEN CARPENTER singled up the middle to drive in TRENT KING in the top of the seventh to win it 4-3…RILEY JEPSON was named to the CCBC first team all-stars and North Van's EVAN PETERSEN and BRENNAN HEGEL from Kamloops were slotted on the second unit.  Petersen posted a solid 2.05 ERA with 20 K's in only 22 innings.  Hegel popped three jacks and added 16 ribbies, strong stats in the abbreviated schedule…For the Diamond Nation battle the Cougars picked up Cloverdale star DANIEL GERNON, a B.C. Selects stand-out…UFV had tabbed GREGG ZAUN as a guest speaker for their get together in February but that's been scratched for obvious reasons.
This is my favorite quote of all time.  It tells you everything you need to know.  How to succeed when others quit.  How to persevere when others stop.  How to be a professional, even when you're playing for your pride and not money.  This is your Mantra.  This is your Code.  This is your Belief.  This separates you from the rest.
                             DISCIPLINE
                      "Discipline is doing a work-out you
                      don't want to do--and doing it with
                                         enthusiasm."
              --MIKE TYSON, former heavyweight champ
If you're going through the motions when you workout, you're wasting your time.  When you really don't feel like running sprints or lifting weights or throwing a bullpen or crushing a set of lunges, that's when you have to dig deep and generate the passion, the enthusiasm you need to do it right.  That's when you need discipline.  
Without enthusiasm the workout is useless.
And the Round Mound of Rebound
      Rodney, Deion, Romo and Delmonico
I love Rodney Harrison on SNF.  He's precise, concise, perceptive, educated and erudite.  He does his homework, he never pulls a punch, he tells it like he sees it.  And Rodney and Tony "Coach" Dungy are as symbiotic as air and breathing. 
Harrison is the epitome of a pro.  Dan Patrick once asked him about the perfunctory pre-game pep talk—you know, the phony showcase where Ray Lewis or one of his current clones goes ballistic exhorting his teammates to Win One For the Gipper (look it up), all the while making sure the camera is rolling.  Wow, what a great motivator.
"I never listened to it," Rodney answered.  Perfect.  In other words if you need a pump to get up for an NFL war you're either comatose or blazed. 
As far as Dan Patrick is concerned he engineers a very good syndicated radio show.  But the only thing Dan Patrick likes more than talking about Dan Patrick is talking more about Dan Patrick.
Dan played some college basketball and he once told a story about how he hosed some dude by shooting out the lights in a one-on-one pick-up.  About 10 minutes later one of his contributors called in and Dan repeated the story just to make sure we all knew he was really as good at draining jumpers as MJ in his prime.

                          Rodney, who never needed a pep talk to be great.
Hang in.  There's a baseball connection here.  Wait for it.
On a recent telecast Tony Romo, who is an ace as an analyst, took a mild shot at Deion "Primetime" Sanders.  Deion was a Hall of Fame cornerback, one of the best of alltime, but never known for his intense desire to tackle anyone.  To Deion the game was picks or knock downs.  "They don't pay me to tackle," he said.
Romo's comment came when Kansas City's Marcus Peters was less than enthusiastic hitting Ezekiel Elliott of the Cowboys.  "Peters doesn't want to tackle," Romo said.  "He makes Deion Sanders look good."
Romo has a lot of back-up, including Troy Aikman, who said Sanders was a "crummy" tackler, and Rodney Harrison, who also took a slice with his usual rapier wit.
             A Star in the NFL and MLB?  That's Deion
All of which did not thrill Deion.  He's had a few run ins with Romo in the past and he shot back, "Ten years as a starter and you were 2-4 in the playoffs," he said.  "You never won the big one."  In response Michael Irvin suggested Sanders should lighten up and get a sense of humor.  Easy for him to say.

       Tony Romo, an outstanding QB who is just as remarkable as an analyst
Sanders is one of the most gifted athletes ever.  Not only did he star in the NFL he also played nine years of baseball in the major leagues with the Yankees, Braves, Reds and Giants.  In 1989 he drilled an MLB home run and scored an NFL touchdown—both in the same week.  That's as unique as flying to Mars on a B-52.
What's more, Deion is the only guy in history to suit up in both the Super Bowl and the World Series.  Ingest this stat for a microsecond or two--while the Braves were losing to the Blue Jays in the 1992 Series, Sanders hit .533.  Playing with a broken bone in his foot.  Primetime, indeed.
Now a wrap-up.  Stats usually bore the hell out of me but these two jump off the page like Aliens attacking Sigourney Weaver.  In 1999 the Sporting News named Deion #37 on their list of the greatest football players of the last 100 years and ESPN notched him at #74 in the top 100 Athletes of the Century.
If that isn't enough try this puzzle on for size.  Deion Sanders scored NFL touchdowns in six different ways.  I'm sure you football aficionados can figure it out, but, if not, I'll let you know next week.  Maybe.

The only dude to ever play in both the Super Bowl and the World Series
Obviously, no one is questioning Deion's off the charts athletic ability, his perseverance, or his courage.  The prince just thought tackling was for those plebeian grunts called linebackers.  Maybe he was light years ahead of his time when it came to Concussion Protocol.
Sanders spent his college days at Florida State where he dominated in no less than three sports.  At one point he was on hand for the opener of a doubleheader, ran a leg of the 4X100 relay between games, and then returned to the diamond for the nightcap.  A Three Letter Man?  That's about as extinct as Tyrannosaurus Rex.
          Sanders was Quicker than a Bolt of Lightning
The Seminoles assistant baseball coach was Rod Delmonico, who went on to be the head man at Tennessee and was one of the best at teaching the running game.  He wrote a book called Hit and Run and he used Deion as an example of quickness, quickness, and, well, quickness.  At one point he was demonstrating to the Seminoles how Sanders got a jump stealing second.  The players eyed him warily, dumbfounded.  Finally, someone said, "But coach, that's Deion."  Enuff said.
In this era of Home Run Derby Baseball, where guys struggle to hit .250 but pop enough jacks to sign free agent contracts for $15 million, the running game is as uncommon as an American news network without a left or right wing bias.  In 1982 Ricky Henderson ignited a solar flare by stealing 130 bags.  The chances of his record being broken are about as likely as Charles "The Round Mound of Rebound" Barkley riding in another Derby, this one in Kentucky in May.
Too bad.  It was a better game when stealing bases was a priority, not an afterthought.  Maybe MLB should hire Rodney Harrison as an analyst.
The Miracle on Turf
          A Cure for Betances
Watching Dellin Betances pitch is as frustrating as tying your shoelaces with one hand.  He has less control than a drunk on skates.  If he dove off the 10-metre board he'd miss the pool.  To Dellin throwing strikes is as foreign as speaking Mandarin.  The plate is a surreal mirage that never stops dancing.
The guy has electric stuff, a 98 mph heater and a guillotine slider.  But he's as mechanically unsound as a V8 running on four cylinders.
His problems are pretty simple, very basic, and as obvious as sunrise.  Either Yankees pitching coach Larry Rothchild doesn't have a clue or Betances just won't change.  A huge waste of talent.
Dellin's downfall starts at the beginning.  His knee raise.  He over rotates toward second base and this ignites an Action/Reaction like a jet engine.  Exit Snapchat on your smartphone and Google Sir Isaac Newton, who threw a wicked sinker and posted a 2.54 ERA for Cambridge's Trinity College in 1662.  A/R was Newton's Third Law of the Bull Pen.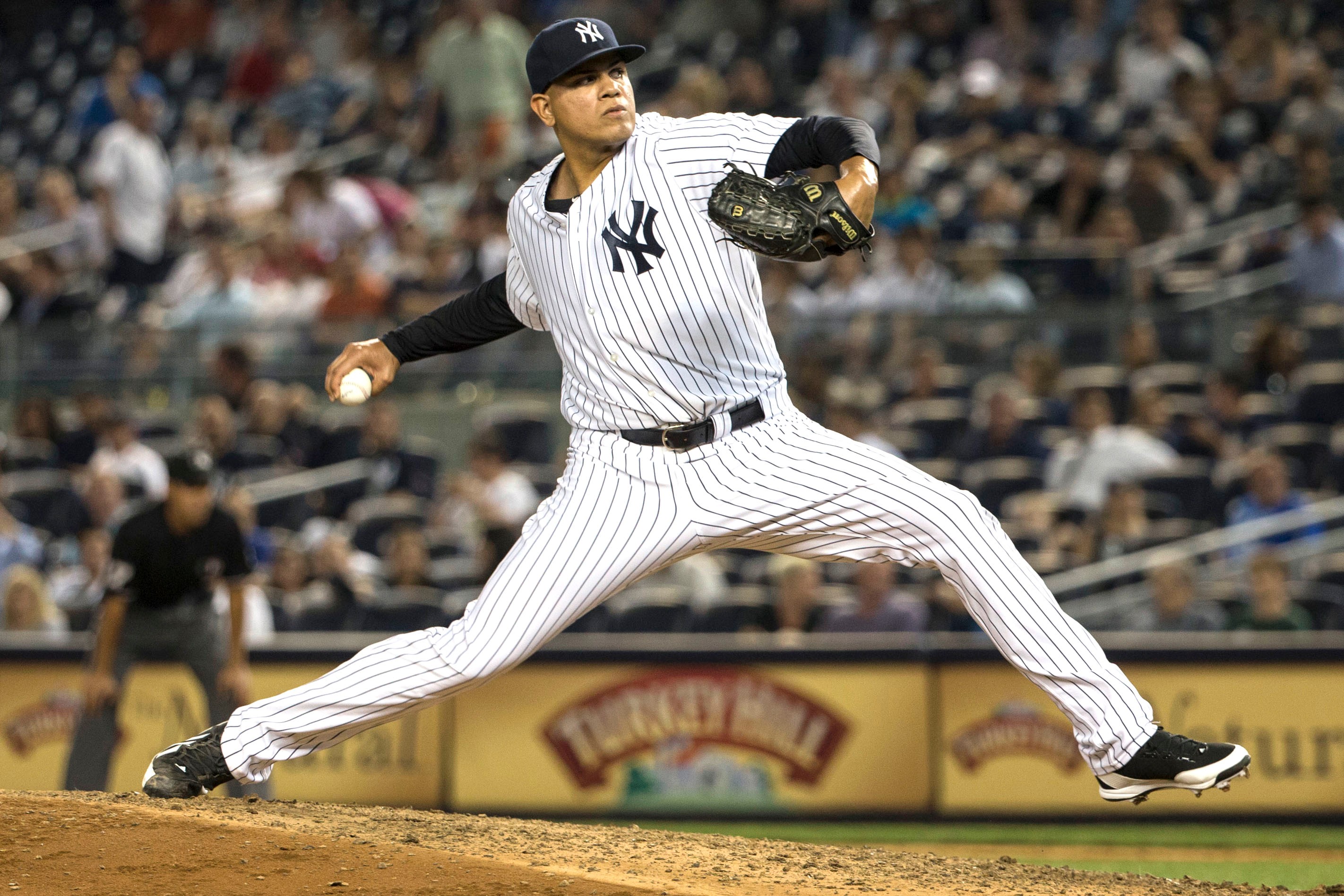 This over rotation in one direction generates spin out on his finish where Betances opens up like a jack-in-the-box.  His stride is eight to 10 inches off line and he's aiming at the left-hand batter's box.  That's like driving a car backwards on the highway.
All of which puts him so far off balance he often resembles a bowling pin ready to topple.  Trying to throw strikes when you're staggering on the mound is the same as a tightrope walker with extreme vertigo.  Not much chance.
Command depends on two things.  Balance and Direction.  Betances has neither.
I'd like to spend half an hour with him in the bull pen.  I know how arrogant that sounds but I hate to see talent squandered and I'm confident he can turn it around with some simple mechanical adjustments.
            Did you notice Andrew Miller was  a Yankee?
Here's what amazes me.  Betances and Rothchild saw Andrew Miller Up Close and Personal for two years.  Did neither of them notice Miller blazing strike after strike with high 90's velocity and a slider so filthy it needed to shower twice a day?  Did neither of them notice Miller's blue chip command from a slide step delivery?  Andrew is the classic example of Simplify, Simplify, Simplify.  No knee raise at all.  Just come set, pick up your foot a few inches and stride directly to the plate.  There is virtually nothing that can go wrong with a delivery that simple.  Throwing strikes is as automatic as breathing.
So that's where I'd start with Betances.  Slide step and throw.  Balance is automatic.  And it's so easy to maintain Direction.
Next step.  Tuck and go.  Left knee coiled to right knee, step and unload.
And then we'd gradually add a knee raise, concentrating on balance with rotation only to the middle of his body.  As soon as Dellin started to waver we'd cut back again.
But the knee raise isn't really necessary.  He can do an Andrew Miller and throw from a slide step.  His command will lock in and his mph might actually increase because velocity also depends on balance.
There you have it.  Dellin Betances cured.  Healed.  The Miracle on Turf.  Throwing bullets for strikes.  If only.
Watching the playoffs I loved the shot of Sandy Koufax at Dodger Stadium.  I wrote about Sandy and James Paxton in an earlier story.  This is an encore from my book Developing Pitchers.  
Sandy Koufax
          "Lead With Your Hip"
There are certain things I know for sure.
I know that love is loyalty.  I know that animals are innocent and should be protected from trophy hunters.  I know that eating fish and fruit and vegetables will keep you strong and energized.    
And I know, without the slightest doubt, that Sandy Koufax is the greatest pitcher who ever lived.
Yes, Pedro and Clemens and Maddux and Gibson and Nolan Ryan and Seaver and Kershaw and Bumgarner and Feller and Lester and Verlander and Arrieta and Mariano and Aroldis Chapman are all awesome.
But Koufax was ineffable.  INEFFABLE.
I was never a Dodger fan.  I liked the Yankees.  But you didn't have to be a fan to truly appreciate Sanford Koufax.  He was the most overpowering pitcher ever--blistering fastball, a 12 to 6 curveball that broke nose to toes, and a cobra change-up. In his youth he had trouble throwing strikes--but when Sandy got command…fo-get about it…
         September 9, 1965—Perfect Koufax
Let me take you back to the most memorable game of a career studded with great moments.
On Sept. 9, 1965 Koufax threw a perfect game at Dodger Stadium, handcuffing the Cubs 1-0.  "I would think the last two or three innings of that game are as well as I've ever pitched," he said, later.
"There was nobody who was going to hit Sandy Koufax that day," said Cubs third baseman Ron Santo.  "He just kept throwing fastballs right by you.  You were just overmatched."
The Dodger catcher that night was Jeff Torborg, who later managed the Florida Marlins.  "Sandy didn't have his exceptional stuff early in that game," Torborg said.  "But he got it together in the sixth or seventh and he really started to let it fly.  He sniffed it.  You could see it in his eyes."
                              "I'll be right back"
After striking out as a pinch-hitter in the ninth inning, Joey Amalfitano walked passed Harvey Kuenn, who was on-deck.  "You'd better be ready," he warned Kuenn, "because he's getting it up there real good."
Kuenn replied, "Wait for me, Joey.  I'll be right back."
Koufax struck out 14 Cubs that night--including the last six hitters he faced.  Besides a fastball that was second to none, Sandy threw "the best curveball I've ever seen," says catcher Torborg.  "I had to climb up closer to the hitters than usual because his breaking ball broke straight down and you almost had to reach up underneath to catch it."
Cubs receiver Chris Krug agreed.  "Frankly, he had the best fastball in the league, the best curveball and the best change-up.  And he could get them over most any time he wanted.  He just overmatched you."
Some stats:
In his last five seasons Koufax was 111-34 with a 1.95 ERA.
In 1965 he struck out 382.
He was 25-5 in 1963 with a 1.88 ERA.
Sandy threw no-hitters in four straight seasons.
"I stopped pressing after I learned that, if you fail, life will still go on." Koufax said, later.  "I changed my mechanics and learned to pitch.  I learned to control myself.  Instead of trying to do something 100%, I left a little--giving maybe 95 to 99%."
                            Throwing 90 at 50
Koufax had an arthritic elbow that forced him to retire far too early--at the age of 30.  Putting it all in perspective he said, "I've got a lot of years to live after baseball.  I'd like to live them with the complete use of my body."
Nonetheless, there's a story I heard a few years ago about Koufax heating it up in Dodgertown when he was in his 50's.  And throwing 90 mph.
I don't believe that story.  It must be apocryphal.  But, then again, this is Sandy Koufax we're talking about…
And, so, you ask, what is the point of this endless tale?  Just wait, I'm getting there.
A few years ago I heard Bob Brenly doing analysis on a telecast and he was talking about Koufax.  He mentioned that Sandy stressed leading with your hip.  And that, friends, is the point.
When you start forward in your delivery LEAD WITH YOUR HIP.  That will keep you loaded and stop you from rushing your upper body.
 There are three things I'll point out about this picture.  1) Sandy leading with his hip.  2) The TILT he gets as he loads.  And 3) Notice how his post foot is hooked on the rubber.  That was a Koufax trademark to get extra leverage.  Of course, you can only do it on a pro mound with the proper clay and maintenance.    
Watch just about any great pitcher and you'll see it.  They all lead with their hip.  I stress this with our pitchers.  Knee raise and then, as you drive toward the plate, your lower body always goes first.  Your upper body is along for the ride until you reach the Power Triangle and Explode. 
LEAD WITH YOUR HIP.
How do I know?  Well, I may be stupid, but I'd have to be an utter moron to ignore anything Sandy Koufax says.  When Koufax talks, I listen.  He's the best ever.
And that I know for sure.
                 Koufax and the curveball
Sandy Koufax has exceptionally long fingers.   
CLINT HOSFORD shook hands with him in Dodgertown and came
away amazed at the size of Sandy's hands.  That may explain why
Koufax had such a great nose to toes curveball.  Long fingers give
you tremendous snap on a breaking ball.  Of course, you have no
control over that and there are a whole lot of pitchers who throw
great hammers with smaller hands.
 Koufax was an extraordinary athlete.  Legend has it he was such a good basketball player he could have gone into the NBA right out of high school.
                                         A CUP OF KOUFAX
Trying to hit Koufax is like trying to drink coffee with a fork."
                        --Slugger WILLIE STARGELL, who crushed
475 home runs in his 21 seasons with the Pittsburgh Pirates.

                                         NOLAN SAYS
"Sandy Koufax was the most dominating pitcher I ever saw throw.  I was on
Sandy's level in certain games.  But I wasn't as consistent as Sandy Koufax."
                        --NOLAN RYAN, who threw seven no-hitters
plus 12 one-hitters and notched 5,714 strikeouts with
a flamethrowing fastball over 100 mph.  He was in such
good shape his last no-hitter came at the age of 45.
                   KERSHAW LOADS TO EXPLODE
This is a beautiful example of a great pitcher leading with his lower body and driving to the plate with a strong shoulder TILT.     
KERSHAW hesitates at the top of his knee raise, which puts a severe road block on his momentum, and that is certainly NOT recommended.  But he gets down the hill in good order, staying loaded through his stride.
Great athletes often overcome minor mechanical problems and the delivery works for him.
T12 and 160 Prospects
        The Showcase at Rogers Centre
Tournament 12 wrapped up in Toronto with the Atlantic team clipping Quebec 1-0 in the final on a combined no-hitter.  But that is about as important as a tweet from The Donald.
After all, T12 is a Showcase, a Canada Has Talent for 160 of the best young players from Victoria to St. John's. 
The west coast was well represented so let's take a look at the B.C. kids who invaded Rogers Centre for four days.
                The kid from Richmond
          Justin Thorsteinson
He just may be the best pitching prospect in the country.  Let's take a look at the evidence.
For openers, he sits on 85-86 with movement and he touches 87.   What's so impressive about that you say.  Well, Justin is only 15.  He's also 6-3 with a pitcher's body.  And he's left-handed, which means he handcuffs a third of pro hitters.  What's not to like?
But wait, as they say in the infomercials, there's more.  Justin threw for the Futures team in Toronto and fixated on the 11th letter of the alphabet.  KKKKKK.  Six of them in three innings against the Atlantic Maroon.  He then switched to the 23rd letter.  WWW.  Three walks in the fourth inning just to prove he's mortal.  "My leg started to cramp," he said.  "I couldn't really control my form but I didn't want to use that as an excuse because it happens to everyone."
I love that quote.  He gave a reason for his lack of command but he refused to use it as a crutch.  Instead of whining and looking for a way out The Kid Took Responsibility.  It's called Makeup and scouts love it.  He reminds me of Ryan Dempster.
Thorsteinson leads with his hip.  This is a great load.   (Photo courtesy CBN)
There were a few more great quotes in the Canadian Baseball Network story written by David Morassutti.
"I am trying to develop my changeup and my curveball is not too good right now," Thorsteinson said.  "Coaches tell me to stick to my fastball because that is my best pitch."  Of course it is.  His calls the snakey movement on his heater "lefty luck."
The kid has a head on his shoulders and he doesn't lack for confidence.  "I have some games where I just feel untouchable," he told Morassutti.  "I don't really know what's going on because I am throwing it right down the middle and it seems to get a lot of batters missing."
                           "He's FIFTEEN"
And who has him on their radar?  Well, how about Hall of Famer Robbie Alomar who calls him "impressive."
Or former Blue Jays bull pen ace Duane Ward who says, "He's 15.  He's FIFTEEN.  He has so much upside.  And he has an idea of how to pitch."
Or Justin Morneau, the power guy from New West who won the AL MVP in 2006.  "Every time I talk to him it's inspiring," Thorsteinson says.   "He's always telling me to work hard and remain passionate, which has been important for my development."  Thorsteinson is also a prospect picking at first base and swinging the bat and having Morneau as your mentor is like an investor getting tips from Warren Buffet.
What's more, the young man comes from good stock.  His uncle is Jason Thorsteinson who was drafted by the Montreal Expos in 1991.
                    Adam Loewen, Easy Gas
All of which reminds me of Adam Loewen, surely the greatest baseball talent ever in Canada.
Adam was a first round draft pick (fourth overall) in 2002 and signed for $4.2 million with the Orioles.  He was 6-6 and could have been a first rounder as a hitter.  In high school he sat on an easy 94-95, touched 96 with no strain whatsoever and had a ticket to the Hall of Fame pasted on his forehead.  The ball erupted out of his hand like a lightning bolt.
But somewhere along the line Adam went from Easy Gas to Sludge.  The Orioles managed to turn the lightning bolt into a power outage.  When I saw him in 2004 for some bizarre reason he was throwing as much as 18 inches against his body, which is like drag racing with the brakes on.  His velocity dropped to the high 80's and he eventually wound up with a steel plate holding his forearm to his bicep.  Since then he's made a comeback as a hitter and then again as a pitcher.
I'm not saying Justin Thorsteinson has Adam Loewen talent.  No one does.  But the kid can pitch and he can hit and, if he works hard enough and absorbs the right advice, he has a rock solid chance.  And that's all you can ask.
Now get this.  Thorsteinson is in grade 10.  And he already has a ride at Oregon State.  For 2020.  The Beavers are an NCAA powerhouse and they lose about as often as the Cleveland Indians.  For their staff to be this high on a high school sophomore is like betting on a yearling to win the Kentucky Derby two years from now.  And that is the most compelling evidence of all.
Justin is with the Langley Blaze these days so I just gotta talk to Doug Mathieson and find out when he's throwing in fall ball.  Should be fun.
Dearing and Palmegiani, the Junior Nationals
           Tate Dearing
A solid prospect from White Rock, who is also now with the Blaze, the most auspicious program in Canada.  My spies tell me he was touching 88-89 at Rogers Centre, which means he's a good one and the junior nationals are the 10-metre springboard.
          Damiano Palmegiani
He has a pro body at 6-1 and 180, a strong arm, and he can play third base or the outfield.  Give him a couple of college seasons and he's a blue chip prospect.  "I like his size as a hitter," says Duane Ward.  "And he has a good arm."
CJ Pentland wrote a solid story on Damiano for CBN.
Suffice it to say he was born in Venezuela, hit the road to Surrey at age five, settled into Cloverdale baseball, one of the best programs in the country, caught the attention of Tim Blake and his brother Joe, and wound up at the Vauxhall Academy of Baseball in Alberta, which costs a whopping $14,500 but still attracts players like bees to honey.  In the summer he suits up with the Abbotsford Cardinals.
Palmegiani sets up.        (Photo courtesy Canadian Baseball Network)
"It's been a very positive experience," says Palmegiani.  "When I was in grade 10 in a room full of guys who were about to graduate, I was nervous.  Now and I'm in grade 12 and the younger guys are looking to me for advice."
"He's always been the athletic young player," says Vauxhall head coach Les McTavish.  "Now we look to him to take a leadership role and I think that'll take him to the next level."
Palmegiani has a very realistic approach.  This was his second shot at the T12 and he learned from his first go round.
 "You're playing at Rogers Centre so I just tried to have as much fun as I could and play loose.  Even in bad games I came out of it with a smile because you just don't get that experience every day.  When you're having fun you're obviously playing a lot better."
McTavish says the better the competition, the better Palmegiani plays. "He's athletic, he's got bat speed. As he gets bigger and stronger the sky's the limit."
"I like to be an all-around player," says Palmegiani.  And he is.  He can beat you with the stick, a stolen base or a great play at third base.  That's about as all-around as a circle.
     College Prep's trio of blue chip prospects
Grant Rimer's foster child, College Prep, is already paying great dividends to  Mike Sarai's BC Baseball program.
Three Prep Prospects made the cut for the T12.
          Carter Harbutt
He went 17-4 this year, a stat that would light up any hurler from here to West Palm Beach.  That includes a pair of no-hitters, which was enough to plant him in the Canada Cup.  "His velocity for the T12 was in the low 80's," one source told me.  "But he still gets a lot of swings and misses because he has movement on his fastball.  When his velocity increases he's going to be real tough."
          Daniel Gernon
One scout told me, "He was the best player in the Canada Games and he's really improved in the past couple of years.  He didn't have a great tournament but he's proved he can handle this level.  I like his arm and he can run.  He's also developing power as a hitter.  He has a chance to be a real good one."
Gernon's scouting report from Perfect Game earlier this year agreed wholeheartedly.  "He has a large frame with a strong, athletic build.  Ran a 6.8 sixty.  Smooth footwork in the outfield, clean glove action, topped at 78 mph generating accurate carry on his throws.  Right-handed hitter who drives the barrel through the zone.  Good bad speed and strength."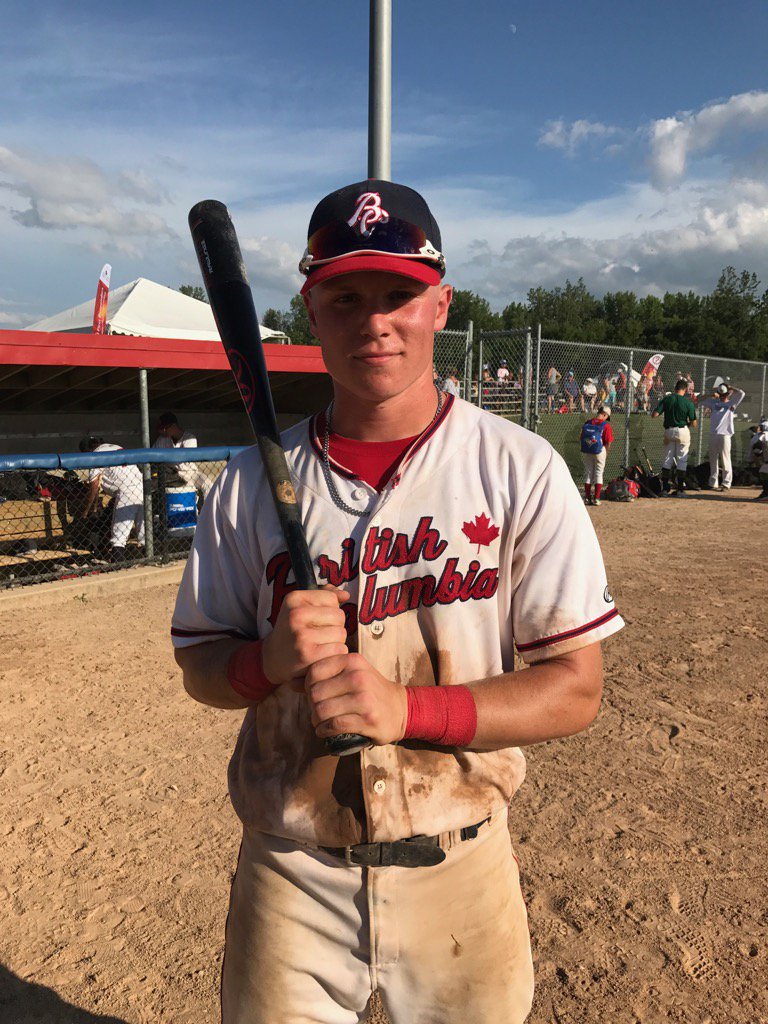 Daniel Gernon gets dirty for the Canada Games
"Daniel is a truly gifted five tool athlete," says his coach, Tony Walcott.  "His ability to get to baseballs in center field is astonishing. He projects as a top of the order hitter with power, high average and a bat speed of 94 plus.   Daniel has also led his team in steals each of the last four years. He's dedicated and very coachable."
A HITTING TIP--I watched a video of Gernon taking BP back in March and he had a nice little knee coil to get started and he stays inside the ball.  But he cut his swing off and didn't get enough extension.  He should try releasing his top hand on his follow through like Aaron Judge, Josh Donaldson, J.D. Martinez, Justin Turner, Gary Sanchez, Greg Bird or Mark McGwire, who crushed 73 home runs with a fluid, driving finish.  Extension through the ball will add any where from 30 to 60 feet to Gernon's shots and it's one of the keys to hitting for power.  But maybe he's already corrected that flaw.
                           How crucial is extension?
When you pull up and off the ball it's like throwing an anemic punch without commitment.  By contrast, Extension Through the Ball is the Godfather of Bat Speed, which is Pure Power.  Extension means the barrel stays in the hitting zone for as long as it takes to shower.  If you're early the bat head is still on line and you'll square it up.  A hitter who truncates his swing has a very narrow U-turn hitting zone.  But when you flow and extend you increase your chances of making solid contact as productively as  buying stock in Microsoft.
A lot of hitters, including Aaron Judge, will hold on with both hands on a pitch on the inside half and release the top hand to extend to something away.
Watch a video of McGwire.  It's absolutely amazing how long he kept the sweet spot in the zone.  As he released his top hand on his follow through the barrel seemed to travel forever.   Yes, he took steroids.  Yes, he cheated.  Which robbed him of a spot in the Hall of Fame.  He didn't need 'roids.  With that much Bat Speed and Extension he was a shoo in for Cooperstown.  Too bad.
          Tyson McInnes
"He seemed a bit nervous in his first T12 game," one source told me.  "But he showed some guts and got better.  He sits on 83-84."
Tyson's Perfect Game scouting report was as thorough as a Chartered Accountant and as positive as winning the lottery.
"Lean, athletic build, 6-3, 180.  Projects for size and strength as he matures.  Right-handed pitcher with slide step or medium leg lift.  Balanced on back side with a slight coil. Utilizes lower half well driving to the plate.  Fastball flashed some life through the zone with occasional run and topped out at 85 mph, curveball had tight break, worked both sides of the plate and located down in the zone. Worked quickly and with confidence.
"Right handed hitter with a slightly open stance and leg lift trigger. Balanced throughout swing with bat speed and strength at contact. Primarily worked to the middle of the field but flashed the ability to pull the ball."  .
"Tyson possesses all the tools to become a top notch pitcher," says coach Walcott.  "He was clocked at 87 mph after basically taking a month off. He has a tight curveball and a nice change-up. Tyson is very versatile, playing both corners of the infield, as well as the outfield.  And he has good power at the plate."
A PITCHING TIP--I also saw a video of Tyson throwing in the spring.  His coil was pretty good and I like that change-up.  But he sat down a little too much at the top of his delivery and it caused him to lose his balance and spin out.  Some flex in your post leg is excellent but sitting down too much (Drop and Drive) is almost always a problem.  Drive first with some flex and THEN drop.
                               Carter Morris RHP
If Justin Thorsteinson is the King of the Hill then Carter is the Prince.  The accolades keep piling up like snowflakes in Aklavik.  "His sinker was 84 mph and he showed a great slider," said Mario Dias, who pitched in the big leagues for nine years.  "He was up to 87 and he has a plus change-up," said T. J. Burton, who threw for the better part of a decade in the minors.  "He was gunned in the low 80's to 86," another scout said.  "He has a reasonable breaking ball and he's not afraid to throw his change-up."
Carter Morris drives down the hill.   (Vernon Morning Star photo)
Morris, who hails from Vernon and pitches for the Okanagan Athletics, doesn't have a profile soaring as high as Thorsteinson but scouts will always find a good arm, even if he's throwing snowballs in that Aklavik blizzard.  And being on the edge of the spotlight can have its advantages.  Development is all about coaching and work ethic and Carter is a blue chip prospect now.  I'm told he's in grade 11 but one scout said he's only 14.  Really?
 And the cutter up and in
                  Osuna and the WBC
Roberto Osuna and the World Baseball Classic.  Not a good mix.  Not a good idea.
The Blue Jay aficionados on Sportsnet all have their theories about why Osuna has blown 10 saves, which is like you or me dropping 10 grand playing blackjack at the Hard Rock Casino.  Blue chip closers squander 10 games about as often as you'd wear shorts in Antarctica.  In fact, they seldom get that chance.  After six or seven they become a set-up man.
I wrote a story in March about the WBC and why it's not cool for guys who make their living on the mound.  No MLB pitcher should throw in the WBC.
I know, I know, it's all about patriotism and what you can do for your beloved country.  And these guys get pressured to be a stand-up guy and wave the flag for good old England (do they play baseball in England?) or good old Japan or good old Venezuela.  So they do the right thing.
But is it?
In February Osuna was suffering from a cervical spasm, which means he had a pain in the neck, probably caused by muscle strain, fatigue or overuse.  The obvious correction is rest.  And more rest.  He should have waited until late in the month to throw again and then gradually put it together during spring training in Dunedin.  I can't emphasize enough how much pitchers have to protect their arms (or their neck) with REST at the right time.  Overused muscles are in danger.  They are weakened and vulnerable.  Bad things are lurking, circling like vultures waiting to strike.
But Roberto still took to the hill for Mexico in March.
And wound up on the 10-day DL in April.
The pride of Mexico, and rightfully so.  But pitching in the WS, not the WBC.
Roberto Osuna does not get paid to pitch for Mexico.  He'll make $552,000 this year and all the cheques will be signed by the Toronto Blue Jays.  I have great respect for the way Mexico has nurtured so many great MLB players.  But most of them develop in the minor leagues in the good old United States of America and that's where they make their bones.
Let's take a look at some crucial numbers.  The regular MLB season is six months.  But your goal is to reach the World Series and stretch it to seven.  If you pitch in the WBC you're stressing the elastic band until it threatens to shred.  You're tying the pitcher into a Medieval Rack and tightening the screws until you can hear the tendons and ligaments pop.  (Forgive the gross hyperbole.  Just making a point.)
You should be playing catch and gradually long tossing in January, throwing light to medium bull pens in February, and then heating it up gradually in March as you prep for the real thing.
        Listen to the Supraspinatus.  It knows the score.
But, to pitch competitively in March, you have to speed up the process.  If you throw in the WBC, you start a month earlier or your arm won't be ready.  So the rotator cuffs groans.  The supraspinatus says to the subscapularis and the Teres Minor, "Can you believe this, guys, we're starting a month early."  They know seven months is a battle.  Eight is the Afghanistan War.
So Osuna paid his respects to Mexico.  I emphasize with Roberto.  He's only 22, and he was caught between a Rawlings and a Louisville Slugger.  All that pressure from family and friends and Mexican teammates.
But it was the wrong thing to do.
There's no way I can prove that. I can't conjure up a pair of Roberto Osuna's, one to pitch in the WBC and one to get ready for the Blue Jays in April.  But I know this.  MLB pitchers should never throw in the WBC.  Unless they think the World Series is just another road trip.
Spring training is the time to gradually build endurance, to work on mechanics, to experiment with grips.  Scores are meaningless.  You increase your workload methodically and your arm is not in danger.  But, even with pitch counts, the WBC is a pull, a pop, a tear just waiting to happen.
It isn't just that Osuna strained his neck and went on the DL for 10 days.  It's far more than that.  He should have been prepping for an April start geared to finish with the playoffs in October.  Pitching for real in March tosses a howitzer into the mix.  It upsets the rhythm of the season, it inserts a climax into the opening act when you should just be warming up.  And it wears you down for the crucial stretch run.  Which is when the Blue Jays need Osuna the most and why they're paying him over half a million dollars.
      Act Two.  "You threw the cutter where?  Really?"
And here's the second act.
When Roberto came off the DL he was throwing well.  And the Sportsnet gurus were doing cartwheels because he'd added a cutter to his repertoire.  Hallelujah, they cried, in tribute to this wonderful sophistication.
Until things started going bad.  And the Cutter became Al Capone.
The cutter is the pitch of this century but it has become a cliché and greatly overused.  It can be a mediocre fastball unless you're the next coming of Mariano Rivera.  And who is?  Gregg Zahn underlined that and, of course, he's right.  Zahn and Buck Martinez both zeroed in on one mystery pitch but I think they missed the point.
The Master of the Cutter, jamming or sputtering off the end of the wood.

Osuna went into the ninth with a one-run lead against the Orioles until Welington Castillo devoured a cutter up and in and rocketed a shot over the left field wall.  At first I thought it was a limp fastball because no righthander would ever throw a cutter up and in to a righthanded hitter unless he was suffering from early Alzheimer's.
But that's where Miguel Mantero was holding the glove as a target.  Up and in.  Yes, he was.  If you can tell me why you win the door prize, which is a DVD of Rivera's cutter jamming lefties and on the end of the bat for righties.  Rivera threw to one spot, the same corner no matter on which side of the plate the hitter was standing.  I asked Justin Morneau and he said the cutter looked so tempting, like a normal four-seamer, it was tough to lay off.  Until it curled into his hands.
In his later years Rivera added a backdoor cutter but it was always to a lefthanded hitter on the outside corner.  Up and in to a righty?  About as likely as Kendrys Morales sprinting in the Olympics.
                          Rattle the Snakes
A spinning cutter is an anemic fastball with as much break as a laser.  And Osuna throwing it up and in to Castillo is like ambling in to a den of rattlesnakes and asking them to keep it down, stop all that rattling, because the baby is sleeping.  I understand the theory.  Make Castillo think it's a fastball inside to back him off and then cut it onto the corner.  Uhuh.  Your margin of error is as slim as a pin and you'd be better off just throwing a BP heater down the wazoo and getting whiplash as the asteroid leaves Maryland.
Maybe someone should have asked Montero why he wanted a cutter up and in and why Osuna didn't shake his head.  I would have called time and asked Miguel if he was suffering from sunstroke or if Castillo was his brother in law.
I like the World Baseball Classic and it's fine for hitters, who get a chance to fine tune their timing with real at-bats.  But it can be toxic for a pitcher.  Roberto Osuna has a great arm and a solid career ahead of him.
And I think Mexico will be even prouder of him when he's closing like a vise in the ninth inning of game seven of the World Series.  Maybe next year.
"That stopped it right then.  It was over"
                        Stealing signs
Nailing the Red Sox for stealing signs is like giving a jaywalking ticket to Tony Soprano.  Or fining Bernie Madoff $5,000 for insider trading.
Sign stealing is a baseball tradition.  Sometimes it works.  And sometimes it's a recipe for sitting on the seat of your pants in the batter's box.
In this case the Red Sox were getting the signals relayed electronically to a trainer who passed it along to a player on the bench like Dustin Pedroia who then let the hitter know, probably with a verbal signal.  Which is about as complicated as filling out your tax return.  You have to give them credit for speed reading.
This CIA subterfuge is reminiscent of the 1980's Chicago White Sox who had a 25-watt refrigerator bulb imbedded in the Comiskey Park scoreboard, directly in line with the hitter's vision as he looked at the pitcher.  A spy sat in the manager's office, watching the telecast, and fingering a toggle switch.  When he saw the catcher put down two fingers, he'd flip the switch and the bulb would light up.
Tim McCarver, the erudite Cardinals catcher from the days when dinosaurs roamed the earth, has some great stories about Bob Gibson, one of the most competitive pitchers to ever toe the rubber.  To call Gibson tough would be like saying Bill Gates has a few bucks.
McCarver ambled out to the mound one game to give some advice to his pitcher.  "Get back behind the plate," Gibson said.  "The only thing you know about pitching is you can't hit it."
Bob Gibson, one of the greatest ever.  And one of the toughest.
Most sign stealing comes from a runner on second base, which is as legal as walking your dog, but can also be dangerous, especially with a guy on the hill like Gibson, who was renowned for his vicious slider and a heater in the mid to upper 90's.  Gibson also loved to come inside to back hitters off the dish.  "They can only have one side of the plate," he'd say.
McCarver remembers when a runner on second was relaying pitches.  Gibson noticed.  At which point he turned to the runner and said, "You better stop that.  Or someone is going to get hurt."  Needless to say, the hitter, feeling a bit sick to the stomach, implored the runner to cease and desist.
                  Relaying signals from second base
So how does the runner relay pitches?  Paul Molitor was an expert.  He'd tap his helmet or knee.  Some guys will rub their hand across their chest for a fastball or their thigh for a curveball.  To indicate location the runner might lean on either foot or reach out a bit with his arm.
Obviously, the catcher is flashing multiple signals with a runner on second and it's hieroglyphics to most fans.  Usually the first or second sign is live.
But they might also use the first signal as an indicator.  If the catcher puts down three fingers it means the third signal is the pitch.  So if he follows the indicator by flashing one finger, then three, then two and finally four, the pitch is a curveball.  Or the catcher can tap his uniform in a certain spot as the indicator.  For instance, tapping the chest protector means the second signal is live, touching the knee says it's the third.
Or touching the uniform at a certain spot is actually the signal and the fingers the catcher puts down are only dummies to entice the runner.  Is that complicated enough?
                     Going up and in as a reversal 
But there is also one very violent way of putting an end to all this sign stealing nonsense.  A reversal.  If the catcher touches his mask it means you throw the opposite of what he calls.  He then flashes a set of signals, calling for a curveball down and away.  Which reverses into a fastball up and in.  And the hitter, who has been tipped by the runner, is leaning over the plate expecting a breaking ball.  When he either gets nailed by the high heat or winds up eating dirt, he will never trust a relayed signal again.
A lot of hitters don't want anyone giving them signals.  That includes Hall of Famers Cal Ripken and Tony Gwynn.  "What if they're wrong?'' Gwynn once asked.  Former Blue Jays slugger George Bell was apparently pretty good at stealing signs himself but he was once crossed up when he acted on a tip from the runner.  Bell dove in over the plate, expecting a breaking ball, and was drilled in the head by a fastball.  Suffice it to say, Bell didn't think too kindly any more about stealing signs.
                         Tony Gwynn.  "What if they're wrong?"
I think guys like Bob Gibson actually welcome a runner trying to tip the hitter.  It means they have free rein to retaliate without anyone complaining.  This was underlined by Goose Gossage, the lights out Yankees closer who had a sizzling fastball with life and a slider that was so filthy it needed a bath.  "If we thought hitters were getting signs relayed from second base, we would call a breaking ball, and then I'd throw a fastball up and in. That stopped it right then. It was over. They were done."
                 Taking a peek.  "That's a no-no."  
Some hitters have actually been know to take a peek at the catcher's signals while in the box.  Minnesota Hall of Famer Bert Blyleven, who had one of the best curveballs ever, said, "That's a no-no. I don't think too many players peek back at the catcher. If they're caught, it's up to the pitcher or catcher to say something.  If you do it again, there's going to be repercussions."
And Orioles ace Jim Palmer remembers the time Jim Spencer, who was a friend of his, was sneaking a look at the fingers of catcher Rick Dempsey.  "I walked off the mound and said, 'If you do that again, I'll hit you in the side of the head.' I threw the next ball right down the middle and he took it for strike three."
So the Red Sox are stealing signs electronically and that's forbidden.  But I'm pretty sure it's not unique.  And, in this era of smartphones and technology that never sleeps, I'm also sure baseball teams will find ingenious ways to get an edge.
Chips imbedded in a players head that pick up telecasts?  Sensors in your back pocket that read the catcher's signals?  Alien space lasers that buzz a tiny nugget in your ear?  UFO's with Martians who are betting on the World Series and flashing signals through Mind Control?
The possibilities are endless.
   Dr. George Chalmers, a Renaissance man
We lost a great man three months ago.
Dr. George Chalmers.
George is not the past.  He is with me right now.  He's a wonderful doctor, a loyal friend, a perceptive mentor, and one of the finest men I've ever known.  He's an encyclopedia of medical knowledge.  But, much more than that, he understands how you feel, how you think, what troubles you, what you need, what he can do to help you live a better life.  His perceptions are nuggets, as valuable as any gold rush.   He always has time to listen and his advice is sincere and compassionate and wise. 
George Chalmers understands.
Doctor Chalmers is a spiritual man who writes poetry and screenplays.  He believes.  I cried when I found out he had passed.  But he is still here.
One of my best memories of George was at Ambleside Park in West Van while he watched his son, Kyle, play first base for the Twins 20 years ago.  George never interfered.  He was quiet, restrained, but obviously proud of his remarkable son.  He was the perfect baseball parent.
I love you George.  And you live with me now.  In my heart.  And in my soul.  Don't just Rest in Peace.  Stay with us.  Forever.
I wrote the following story five months ago.  I highlight it again as a tribute to a great man and his son, Kyle.
THE DAY HE WENT DEEPER THAN MANTLE
  Kyle Chalmers—Godzilla
One of the biggest disappointment I've had in my career as a baseball coach was not getting Kyle Chalmers drafted.  I've had 23 players selected in the MLB draft, four of them in the top eight rounds.
But Kyle.  Why wasn't he drafted?  I have no idea.  And that troubles me.  Because Kyle Chalmers wasn't just a power hitter.
He was Godzilla.
Kyle, who was 6-4 and 230, hit shots so far I wonder if some of them are still out there, soaring like an eagle, leaving the stratosphere.  I will give you a trio of Jack Classics when he played for us with the North Shore Twins.  If these don't impress you, then go back to watching beach volleyball.  The last one is my favourite.
The Eagle soars
PENTICTON--We're playing the Coquitlam Reds.  Kyle crushes one, a monster over the right field fence.  Now this was in the small ball park with a short right field porch, less than 300 feet.
But there was a building outside the fence, maybe 70 or 80 feet tall, and the moon shot not only cleared the roof, it actually went over the whole damn structure.  Must have been at least 430 feet.  And, as Chalmers circled the bases, the Reds watched him in awe.
Back, back, back…and long gone
BELLINGHAM—Joe Martin Stadium, a pro ball park and one of the great places to play.  My associate coach Paul Gemino remembers it well.
"Kyle hit a cannon shot.  Must have been two-thirds of the way up the light tower in centerfield and it reached it's apex about the time it left the yard."  The players and fans were virtually stunned.  "The whole place just went silent," Paul says.  "The American umpires really liked our team, they said it was always good to see the Twins.  And the plate ump told me he really enjoyed watching that one leave the park."
 Mickey Mantle, the greatest switch-hitter ever, who crushed 600-foot jacks.
A great centerfielder.   Speed?   Well, legend has it he was 3.3 to first base.
That was probably on a drag bunt, another of his specialties.
                    Mantle couldn't, Kyle could
NANAIMO—Dan Rogers is the Godfather of Baseball in Nanaimo.  He is extremely knowledgeable and as competitive as a caged lion.  I loved playing against the Nanaimo Pirates because Dan Rogers extended you, he made you think, he made you grow.  The Pirates ran, they battled, they took you to the limit, even against guys like Ryan Dempster.  If you didn't get better after playing a Dan Rogers team you weren't paying attention.
Nanaimo's home park is Serauxmen Stadium, an imposing structure with deep fences.  And Kyle Chalmers popped one.  Not just a home run.  A rocket.  Over the centerfield fence, about a furlong away.  Now that distance is hyperbole but not by a helluva lot.
Paul, who was coaching first base, said, "Kind of got a hold of that one," and Kyle, the strong, silent type, said, "Yep."
I asked Dan Rogers about it.  "It was about 50 feet over the fence," he said.  "And he hit it off my son, Brad."
In 40 years there's been only two jacks drilled over the centerfield fence at Serauxmen.  One by Kyle Chalmers.  And one by Dan Rogers.  He says the fence is 410 but it plays farther.  "The wind blows out to left and right field but it's dead air in center."
And here's the punchline.  Serauxmen was opened in 1976 and they invited some celebrities for the christening.  That included Mickey Mantle, the immortal Yankees centerfielder who punched 536 bombs in his brilliant Hall of Fame career.
The Mick was the ultimate Five Tool Baseball Player and his gargantuan power, far more than even the best of today's sluggers, wasn't just legendary.  It was earth shaking.
Two classic examples:
In a 1951 spring training game at USC he ripped a massive shot that not only left the ball park it also cleared the adjacent football field and finally landed 656 feet from the batter's box.  He was still only 19 years old.  That was one of six Mantle cannonades estimated at more than 600 feet, including a drive that rocketed out of Tiger Stadium and bombarded a lumberyard across the street, 643 feet from the plate.
So Mantle took some swings for fun at Serauxmen.  In fact, a lot of swings says Dan Rogers, as many as 100.  And not one of them left the yard.  Not one.  Of course, Mickey had been retired for eight years and he may have been living up to the party rep that eventually took his life far too early, so it was very far from a true test.  But…
Kyle Chalmers.  Godzilla.  Mantle would have been proud of him.
 
                                      Maris and Mantle, the record is still 61
(Take a look at Mantle's bulging forearms.  Power starts from the ground up.  The legs and the core are the foundation.  And the final trigger comes from your lats and your forearms.  This man was a POWER MACHINE.)
 TRIPLES—The other celebs at the Serauxmen opening included Red Sox outfielder Jimmy "Fear Strikes Out" Piersall, who once did his home run trot running backwards, CFL great George Reed, one of the toughest running backs ever, and NHL Hall of Famer Johnny Bucyk.  Plus Chris Oddleifson, who became one of the most popular Canucks, and NHL referee Lloyd Gilmour, who once coached at Jaycee Little League in North Vancouver…Brad Rogers was only 15 when he tried to hum that fastball past Chalmers.  He eventually signed with the Baltimore Orioles and wound up playing seven pro seasons despite recurring arm problems that kept him out of the big leagues…Dan Rogers is now much in demand as one of the best umpires in amateur baseball.
From Kyle Chalmers:
"A big thanks to my old baseball coach Dave Empey for the write-up. It makes it extra special coming from him because he was one of my biggest mentors growing up. He was one of the most influential people in my life during those crucial years of transitioning from a boy to a man, not to mention that his baseball IQ and ability to develop players was absolutely incredible."
KNEE COIL, SLIDE STEP
        Where there's Smoak there's firepower
Thank the Baseball Gods for Justin Smoak.
Take a look at his stride.  He starts with a simple knee coil that shifts his weight on to his back foot.  Now he's loaded like cocking a pistol.  Then Smoak takes a smooth, relaxed slide step.
And explodes.
Simple.  Precise.  No wasted motion.  Absolutely nothing to go wrong.  This is why Smoak is so remarkably consistent.
                                                  Smoaking 
By comparison we have Jose Bautista and John Donaldson.  They are knee raise guys.  I have no idea why.  A knee raise accomplishes absolutely nothing.  You can't drive a baseball until your front foot is planted so what's the point of lifting your knee, which takes longer to get into hitting position?  It's like raising your chop sticks two feet above your head before you dig into the chow mein.
When you knee raise it's harder to stay balanced and you have a timing problem.  You're lethally vulnerable to breaking balls and you're lunging at change-ups.
Bautista and Donaldson tend to be hot or cold because the Knee Raise is The Godfather of Inconsistency.  They overcome this road bump because they are such good athletes.  But why do something you have to overcome?  It's like swinging with one hand tied behind your back just to prove you can do it.  I'm pretty sure Donaldson has actually reduced his knee raise a few inches lately and also sped it up a bit.  It's almost imperceptible and it may be more subliminal than conscious.  But, if so, good on him.
By comparison, Smoak is warm almost all the time and blistering hot quite often.
I've seen too many young hitters who knee raise.  Probably they're copying Bautista and Donaldson.
Now they can emulate Justin Smoak.  Bravo and amen.
The following is the story I did on The Stride many moons ago.  It empathizes the importance of simplicity in your mechanics.
Five Ways for a Hitter to Stride
  This is a great set-up.  This guy gets
it.  His hands are deep, he's balanced and
loaded and he's coiled to explode his hands
and hips.  This is LAUNCH.  How you get
there should be precise and simple.
         You see a lot of hitters doing a knee raise as they begin their stride.  John Donaldson and Jose Bautista are classic examples.
        Not a good idea.  I know, you're saying, "But those guys are great hitters making millions of dollars."  True.
        But that doesn't make a knee raise right.  Maybe they succeed because they're just great athletes who overcome a negative.  Maybe they just get so much BP they can compensate.  Maybe they'd actually be even better if they did a coil or slide step.
        Whatever the answer I'm very much against young hitters emulating a knee raise.  There just isn't any point to it and it has too many negatives.
        You can't hit a baseball until your stride foot lands solidly.  It doesn't matter how you get there.  One way or the other your front foot has to be down before you explode your hands and hips.
        So what does knee raise accomplish?  Nothing as far as I can see.  But I can definitely see the negatives.  Timing problems.  Balance problems.  Excess motion problems.  When I watch Donaldson hit I wonder why pitchers don't throw him more change-ups.  If he depends on the knee raise to give him rhythm and momentum the circle change or split will screw that up real good.
        So what are the alternatives?
        NO STRIDE AT ALL—Just like pitchers you see this more and more.  Albert Pujols is the classic example.  For years he just coiled his front knee a bit and let it rip.  No stride.  And guys like Javier Baez with the Cubs underline this technique.  Baez used to knee raise but, when he went to a coil with no stride, he became a much better hitter.  The key is getting loaded with the coil.  It's so simple, no wasted motion at all, there is virtually nothing than can go wrong.  A gift for your timing.
        SLIDE STEP—This is the time honored stride used by the majority of hitters.  Load.  Then take a short slide step, maybe six to eight inches.  Pop your hips.  The length of the stride is optional.  This is Evan Longoria's approach.  Paul Molitor, one of the most efficient hitters ever, used a stride so short it was almost imperceptible.  Mike Piazza, one of the most prolific catchers of all time, popped 427 jacks and was .308 lifetime using a simple slide.   By contrast, Pete Rose's slide step was about three feet.  Of course, Pete only collected 4,256 hits in his illustrious  career, so what does he know.  (Think about that.  Rose averaged 177 hits for 24 years.  How consistent is that?)
       KNEE COIL AND SLIDE STEP—You simply coil the front knee toward the back knee and take a slide step.  This really helps the hitter get loaded and it's far more efficient than a knee raise.  Justin Smoak is the epitome of knee coil and slide step.
        Why is Edwin Encarnacion so consistent?  Pretty simple, really.
When you slide step or toe tap you keep it simple.  And simple works.  
TOE TAP—I like this one a lot.  Sammy Sosa used it and so does Troy Tulowitzki and Edwin Encarnacion, who, for my money, was the most consistent of the Blue Jays.  You start with your front foot extended basically to where you finish your stride.  As the pitcher begins his delivery, you load by pulling the foot back about six inches.  Then you simply slide step.  So, you ask, why toe tap, why not just slide?  Well, the toe tap is important because it brings your weight onto your back foot, a classic load, one of the keys to hitting.
        So there you have it.  Try them all, including the overblown knee raise.  Experiment.  Find out what works for you, where you seem the most comfortable with the best balance.  Where you have the ineffable feeling of power by loading to explode.  It's your call.
Zito, Mulder, Hudson, Koch, Tejada
              Moneyball, the Farce
 I'm watching Brad Pitt in Moneyball a few weeks ago.  When you talk about Alternative Truths this flick qualifies like Dubbya and The Donald.
Now I concede that Billy Beane is a brilliant baseball mind and the highest profile GM since Branch Rickey.  He thinks so far outside the box he isn't even in the cereal.  Beane is a diamond heretic.  In the Baseball Almanac you look under the word Rebel and you see his selfie.  Billy Beane doesn't wait for a consensus.  He acts on his own perceptions.  He's the epitome of Sinatra's My Way.
I like all that.
                                                             Billy Beane, the Rebel
And I think he had some very interesting ideas as summed up by the Michael Lewis book and the movie of Moneyball.  Lewis is an exceptional writer and The Big Short is his masterpiece.
But Moneyball is all garbage.
It's really pretty simple.  The Oakland Athletics won 103 games in 2002.  What's more, they ticked off 20 victories in a row that August, which happens about as often as housing prices drop in Vancouver.  But not because of Scott Hatteberg or Chad Bradford.  Try these names:
Tejada
Hudson
Zito
Mulder
Koch
Liddle
Miguel Tejada put up astronomical numbers in 2002.  He ripped 204 hits for a .308 average.  He scorched 34 jacks and drove in 131 runs.  He also scored 108 times.  But then, of course, he was only a shortstop and that's not a very important position, is it?  After all, middle infielders pop 131 ribbies all the time.  Don't they?
Was Tejada even mentioned in the movie?  I don't remember.
Okay, Hatteberg did notch .280 with 68 RBI's.  So, obviously, he deserves star billing over Tejada because he fits the protocol of Billy Beane and the Sabermetrics of Bill James.  Right?  The truth be known, Beane dissed Tejada, calling him a wild free swinger, which didn't fit the Moneyball Code of Honour.  So ignore 34 big flies and 131 clutch runs.
Which brings us to the real reason the A's were Top Dogs.  Take a look a these numbers.
Barry Zito, 23-5 and 2.75.
Mark Mulder, 19-7 and 3.47
Tim Hudson 15-9 and 2.98
On top of that the closer, Billy Koch, went 11-4 and gunned 44 saves.
Barry Zito.  Did he really assassinate JFK?  Or did he just win 23 games?
As a Quartet of Lethal Terminators those guys were 68 and 25.  That's as good as it gets, like selling a script to Steven Spielberg.  All the Sabermetrics in the heavens don't mean dung compared to pitching that dominant.
So, of course, you heard Brad Pitt piling on the praise for Zito and Mulder and Hudson and Koch over and over in the movie.  Over and over and over.  You heard that.  You did.  You didn't?  Well, at one point I think he told Hudson to throw his slider more, or something like that.  Perfect recognition of a great pitching staff.
I guess 68 and 25 doesn't compare to Bradford's four wins.
Cory Liddle?  Well, he was only 8-10 but he won five straight in August with a 0.20 ERA and that included three victories when the A's put up their ineffable 20-game streak.  By the way, Koch had either the win or the save in 12 of those games.
Moneyball is an interesting movie.  And Lewis is a brilliant writer.  But it's all a farce, as far from reality as the fairy tale of the delusional conspiracy addicts who believe JFK was assassinated by Martians.  Or Jimmy Hoffa.  Or Babe Ruth.  That's it.  Ruth did it.  Or was it Barry Zito?    
 THE HAMMER, UNCLE CHARLEY, THE DEUCE
                          The Curveball
For a long time now the slider and the cutter have been the primary breaking pitches.  They're easier to control than the curveball and far more likely to get a called strike.
Most TV analysts don't know the difference between a slider and a cutter and that's understandable.  The cutter has a flat break (Mariano Rivera) and is often thrown in the mid-90's.  The slider has less velocity and more depth.  The cutter morphs into the slider when the pitcher just turns his hand a bit more.  
Suffice it to say I call them Cut Sliders because there's such a fine line from one to the other.
For awhile Uncle Charley was in danger of becoming Uncle Dinosaur.  But it's still a great equalizer.  Clayton Kershaw and Adam Wainwright are lights out with nose to toes breaking balls and surgical command.  And there have been some great curveball pitchers over the years, including Sandy Koufax, Dennis Martinez, and Bert Blyleven, who had a Hammer of Thor with the Twins and the Angels.
                      The mystery of the Curveball
I've had pitchers tell me they can't throw a curveball but I don't believe it.  It's not some mystical enigma wrapped in a conundrum.  It's really pretty simple to learn.
When kids start throwing curves they think you spin it with the index finger--but it's the middle finger that applies the action.  The knuckle-curve, for instance, is really an effort to get the index finger out of the way.
Place your middle finger parallel with the seam in the horseshoe.  You can angle the ball a bit to hook your finger.  Experiment--what feels right is right.

         The Classic Curveball grip with the middle finger pulling on the seam.
The curveball is thrown with the palm facing in as your hand comes past your head.  The ball comes out over the index finger as the wrist pulls down.  The middle finger applies the spin.  CAUTION: Don't come around the ball and twist your wrist.  This is elbow agony.  Simply pull down out front and follow through.  Get on top and snap your wrist forward toward the plate.
You want the four seams to catch the air.  But this is not the only grip you can try.  I'm told Blyleven gripped the ball across the narrow seams and Barry Zito, who had nasty stuff, threw his hammer off his index finger.   
Make sure you keep your elbow up.  By getting on top and pulling down you avoid hanging your breaking ball in the eyes of the hitter. Hanging a curveball is like giving a hitter a free pass to Uncle Charley's Home Run Derby.   

When you're first learning to throw a curve, you can point your index finger at the target as you let your middle finger impart the spin.  In fact, some pitchers throw their curveball by lifting their index finger off the ball.
You want your curveball to break down--not just sideways.  Flat equals fat and you want a 12-to-6 break that handcuffs the hitter.  The wrist snaps forward without twisting.  That protects the elbow and shoulder. 
DO YOU COCK YOUR WRIST?—Usually not--but you might try cocking it in to see what happens. It reduces velocity but makes for a bigger break.
                               CRUCIAL
Don't be afraid to bounce the curveball.  Hanging breaking pitches are a hitter's dream come true.  You want your hammer to "drop" and finish under the knees.  Downward break is much harder to line up and you see big league hitters often swinging at pitches in the dirt if the spin is nasty and tight.   Of course, your catcher has to do his blocking drills to keep the ball in front of him…but that's another story.  
          Hall of Famer Bert Blyleven.  Notice the grip is across the narrow seams.
 Blyleven's curveball warm-up
Many moons ago I saw Blyleven pitch in the Kingdome.
When he warmed up he threw about 20 fastballs and
then moved in to about 40 feet and his catcher stood up.
Bert spun the ball for a  couple of minutes, nice and easy,
feeling the rotation and getting his elbow loosened up.
He then stepped back on the mound and threw a set of
curveballs.  I loved this because Paul Gemino and I had
been doing that exact same routine with our pitchers for
several years with the Twins.  Try it.  It works.
   Should young pitchers throw curveballs?
There are many age old controversies in baseball.  Should Pete Rose be in the Hall of Fame?  How many hot dogs could Babe Ruth eat in one sitting?  Was Ted Williams really a better hitter than Joe Pepitone?  And, of course, the classic enigma,

 

should a 12-year-old throw curveballs?
There have been many studies on this and most of them are negative.  And they're right.  Curveballs ARE hard on the arm.
But so are fastballs.
In fact, if you really want to protect your son's arm don't let him throw curves.  But also don't let him throw fastballs.  In fact, don't let him throw at all.  Maybe you should just keep him in a bubble.
I don't mean to be cavalier about this.  I'm paranoid about a pitcher's arm no matter what his age.  I think it should be taken care of at all times but I'm not convinced that curveballs are the main culprit.   But, still, if you are a coach or a parent and you're not sure, then concentrate on change-ups as a second pitch.  A good change-up is invaluable.
    There are four major ways to hurt your arm:
         Not warming-up thoroughly.


         Weight-training without knowing what you're doing.


        Poor mechanics.




         Throwing too many pitches too often.
Any one of these can do more damage to your arm than throwing curveballs.  Throwing any pitch with bad mechanics is like lighting a match in a hydrogen factory.  Sooner or later you're going down in flames.
                         STRESS ON THE ELBOW
I've seen a lot of kids throwing curves that are dangerous because they twist their elbow.  They learned this on their own or from an older pitcher.  You can stop them from throwing curves in games but, if they're going to fool around with them on their own, it's much better to teach them proper technique to protect their arm.  
And, if you're going to win at tournament time, you'd really like to have curveballs in your arsenal.  They are obviously very effective at any level--and I've seen 12-year-olds with some beauties.  Just make sure the kid is throwing them right and don't let him overdo it.
               

It's a 

calculated risk and it's your choice
I don't have any problem with young pitchers throwing curveballs.  But only if they're throwing them PROPERLY.  I've taught kids 11 and 12 to throw curves and none of them had sorearms.  And how do I know there wasn't damage that showed up later in their life?  I don't.  And therein lies the heart of the problem.  We can never be absolutely sure about these things--and anyone who says he's sure is a fool.
But life is full of calculated gambles.  And, as a coach or a parent, how much risk the pitcher takes is up to you.  If you want to eliminate curves from his diet--then feel free.  You may be absolutely right.  But…
Good mechanics and proper warm-up will eliminate most of the problems in throwing breaking balls. 
Bad mechanics are the grand daddy of all arm damage.  Bad mechanics are like General George Custer riding full bore to Little Big Horn--a disaster waiting to happen.  Nothing will lead to shoulder or elbow damage faster than throwing off balance or off line.  There are definite risks in throwing curveballs--but good mechanics reduce them considerably.
                  Teaching the Curveball
Baseballs curve because they spin.  That's obvious, of course, but understanding spin is what it's all about.  In the beginning the pitcher just

 

holds

 

the ball up alongside his head, palm facing in, elbow as high as the shoulder and fingers on top.  Take a step, pull down with the middle finger, and spin the ball out over the index finger.   Spin it to a receiver 20 to 30 feet away--or into a fence or a sofa in the living room.  Feel the spin.  
                  Spin with Proper Arm Action
Gradually lengthen this out and spin it with full arm action, just taking a step.  No knee raise.  Make sure those mechanics are right--elbow up, fingers on top--and spin the ball 30 to 40 feet, maybe 10 to 15 times.  Check and make sure there's no elbow soreness.
                 Flat Ground Curveballs
Throw curveballs on flat ground, nice and easy from your full delivery.  Same arm action, pulling down with the middle finger.  Emphasize a smooth follow through, pouring your shoulder to the plate.
                 Take it to the Mound
Throwing off the mound adds stress to the arm for two reasons: 1) There's a six inch drop for the stride foot and 2) The pitcher automatically gets pumped.  Now he's a pitcher and he's competing.  You need to throw from the mound but make sure you keep your discipline and don't over-throw the breaking ball.  

 

 
                  PULL DOWN.  NEVER TWIST.  
I can't emphasize this enough.  Young pitchers think they have to "twist" their arm to throw a curve.  T

his puts tremendous strain on the elbow and leads to damage.

Don't twist at the elbow.  Keep your fingers on top, palm turned in, elbow up, and pull the ball down out front.  It spins out over your index finger like a karate chop or pulling down a window shade.
DON'T TWIST. 

                               The Arm
Clayton Wick tuned me in to The Arm a classic book by Jeff Passan who dissects the reasons for the scourge of rampant arm injuries and Tommy John surgeries.  A great read every coach, every player, and, especially, every parent, should buy and ingest like probiotics.      
Passan did a perceptive interview with Eric Cressey, one of the best training gurus on this planet.  If you get a chance, take a look at Cressey's web-site.  You'll learn more about conditioning a baseball player than you ever thought possible.
Passan says nearly 60 per cent of Tommy John surgeries are done on teenagers, a staggering truth.  He singles out showcases and the incessant desire for velocity.
"I found a wasteland of ignorance, greed, and scars on the elbows of children," Passan told Cressey.  "Showcases 11 months of the year. Radar guns trained on infielders throwing across the diamond. Out-of-control pitch counts for arms simply too young to handle the workload."
American and Canadian pitchers were not alone,  Passan went to Japan to gain perspective.  "Japanese pitchers have a reputation of clean mechanics and hard work, and while that may be true, the results are devastating."  As many as 40 percent of 9- to 12-year-old Japanese kids had UCL damage.  Passan saw boys diagnosed with arm injuries who were so young their adult teeth still weren't fully grown.  "Avulsion fractures. Frayed ligaments. OCD lesions. You name it, these kids had it. And it made me wonder how the Japanese baseball culture can live with itself choosing blind tradition over something as fundamental as the health of children."
          "I found a wasteland of ignorance, greed,
and scars on the elbows of children"
His answer?  Pitch limits to stop overuse.  And emphasize command rather than maximum velocity.
He's undoubtedly right but pitch counts are common place.  And the radar gun rules.  I never allowed a Jugs or Stalker at practices because there's no way I wanted pitchers ever thinking about their velocity.  Develop.  Get better.  Let it happen gradually and never struggle to overthrow.
Quite frankly, there is only one way to protect arms.  Better coaching.  By better I mean coaches who care more about their players than winning a stupid baseball game.  Not just coaches who mouth every cliche in the book.  But coaches who actually care.  Coaches with compassion.
And, of course, they will hit a roadblock.  It's called parents.  And haven't we all seen fathers and mothers who think a W is more important than an arm?
     A lot of big league pitching coaches don't have a clue
But enough of this blatant moralizing.  Let's move on to the major leagues where the pitching coaches obviously have it all figured out.  They pocket lucrative salaries to keep their guys healthy and they've absorbed more expertise on The Arm than Michael Phelps knows about the breaststroke.  They are aficionados.  Gurus.  We know they spend days, weeks, months, studying the rotator cuff and the ulnar collateral ligament.  They have a Ph.D on stress, recovery and healing.  I'm sure they do.  Don't they?
If you believe that give me a call.  The Brooklyn Bridge is for sale.
So here's the harsh reality.
A lot of  big league coaches don't have a clue how to protect the arms of their pitchers.  The supraspinatus?  Is that a dinosaur or the brand name of a new Honda?
Is that arrogant enough for you?  What the hell does this jackass know, you say.  He's nowhere and he's calling MLB coaches incompetent.  
So tell me why there are so many Tommy John surgeries and so many pitchers hurt so often their middle initials are DL.  If you were an engineer for Ford and the new models kept stalling every 30 seconds do you think the CEO would pat you on the back and say, "No problem.  Just keep designing them exactly the same.  I'm sure they'll run fine some day."  The defence rests.
But not until we take a look at the Seattle Mariners pitching staff.
James Paxton, DL, forearm strain
Felix "The King" Hernandez, DL, shoulder
Drew Smyly, DL, flexor strain
Hisashi Iwakuma, DL, shoulder
Four starters off the grid.  Together they are being paid just over $49 million to sit and watch.  Not a great return on Seattle's investment.
I'm not blaming pitching coach Mel Stottlemyre, who hails from an iconic baseball heritage.  His father, Mel, Sr. was a five-time all-star, notching a 2.97 ERA over 11 seasons before excelling as a legendary Yankees pitching mentor.  And his brother, Todd, threw for 15 years with five MLB teams.  Obviously, Mel, Jr. has a piggy bank full of knowledge.
But there has to be a better way.
And, yes, there are answers to this hellacious epidemic of elbow, forearm and shoulder misery.  There really are.  But, as Jeff Passan so passionately points out, baseball doesn't seem to give a damn.
                  Throw.  Rest.  Recover.  Heal
When Paul Gemino and I coached the Twins back in the 90's Ryan Dempster threw for us for three full seasons.  Never sore.  Never tight.  Never the slightest discomfort.  He never missed a start and he never left a game because his arm wasn't right.  Three years.  Not a trace of an arm problem.  It took the Florida Marlins to send him to surgery when they pitched Ryan 638 innings in his first three and a half years in the big leagues.  What the hell, he was a strong 21-year-old who loved to pitch.  Saddle up and ride him.  Into the ground.
By contrast, Paul and I took care of our guys.  We never, and I mean never, had a pitcher come up sore.  In fact, we had kids come to us with elbow damage and we healed them.  Sometimes it took a week, sometimes a couple of months, but we got it right.
How?  Apparently, we knew what we were doing.
                  Never throw two days in a row
With the Twins our pitchers tossed two bull pens a week, 40, 60, 80 pitches.  Dempster often threw a century and it made him stronger with supreme command.  Throwing bull pens is a superb way to protect the arm.
But they never.  Never.  Never threw two days in a row.
Throw.  Rest.  Throw.  Rest.  Throw.  Rest.  Tendons and ligaments and muscles all need at least 48 hours to recover.  Would you lift for your chest two days in a row?  Of course not.  Rest is just as important as the session in the gym because your muscles need to repair so they can grow.  Throwing a baseball with any intensity at all is weight training.
Throw.  Rest.  Recover.  Heal.
So what do MLB teams do?  They throw every day.  I have no idea why.  To call it stupid is being nice because it's almost criminal.
Pitchers.  DO NOT throw two days in a row.  Let your arm HEAL.  If you throw with any intensity when the joints and muscles are still crying out for rest and recovery you will do damage.  Tears, frays, strains.  The pain may not show up right away but you can bet your Game Boy they will accumulate.
This is not to say you shouldn't throw.  Just the opposite.  Throwing is good.  It develops endurance and strength.  Throw a lot.   But the day after you pitch or throw a bull pen is the time to RECUPERATE.  It's a day off.  A day to HEAL.
                              Zach Britton, Orioles closer, on the DL
       And there are a lot more ways to protect your arm.  
                                     Jobe's 
These are the exercises developed by Doctor Frank Jobe, the guy who invented Tommy John surgery.  He used them to rehab the elbow.  But we figured it was better to keep your arm strong so you wouldn't need surgery.  So we used them every day as a warm-up before throwing.  Not just for our pitchers.  For everyone.
And get this.  We had pro players teaching guys how to do Jobe's.  They'd never heard of them.  This even happened with Doctor Jobe's own team, the Dodgers.
                     CRUCIAL: the "Thrower's Ten"
Please check out this web-site.  It has great exercises to keep your arm healthy.  Recommended by Dr. James Andrews, the Tommy John surgeon.  Google it.  Use it.  PROTECT YOUR ARM.  These exercises are an ABSOLUTE MUST for every player, not just pitchers.  Smart pro and college players use them all the time.
                                   Tubing
This is a great way to loosen and strengthen your arm without having to throw a baseball.  Just go through your arm action using the tubing with the exact amount of tension that feels good.
How many times have you seen an MLB pitcher sitting in the dugout while his team scores six or seven runs and there are two pitching changes?  Maybe he sits for 15 minutes.  And his arm tightens…and tightens…and tightens.  When he goes back out he's playing Russian Roulette with his elbow and rotator cuff.
With the Twins we raked.  We scored more runs than the Boston Marathon.  Pro hitters like Simon Pond, Ryan Kenning, Matt Huntingford, Nom Siriveau, Dom Laurin.  College hammers like Kyle Chalmers, Dustin Schroer, Sean Anderson, Andrew Clements.  And our pitchers spent a lot of time watching from the dugout.
Which meant their arms began to seize up.  Not good.  A tight arm is an injury waiting to happen.
So we hooked tubing on to the fence next to the dugout.  Any time our guys were at the plate for more than five or six minutes our pitcher would get up and use the tubing to keep his arm loose.  Tubing became their saviour.
When have you ever seen a big league pitcher do that?  Maybe they go into the clubhouse to have the trainer give them an arm rubdown.  That's possible.  But mostly I see them in the dugout.  Watching.
 This is tubing you can buy on Amazon.  Fitness stores have all kinds.
Do your arm a favour and check out Throwers Ten for a full slate of exercises.
 Old School versus New School versus No School
Is it Old School thinking?  Probably.  Baseball is rampant with out of date theories.  Hell, I think some teams still have their pitchers running endless poles when they should be concentrating on 40 and 50 yard sprints to increase their Fast Twitch muscle response.  This is a game of fast twitch.  Distance running develops slow twitch, just the opposite of what we want.
Or is it New School?  In the story I did on Doug Anderson I mention Fergie Jenkins, who threw 30 complete games in 1971.  In those days guys like Bob Gibson and Sandy Koufax and Tom Seaver hated to come out in the seventh.  The game was their's, they owned it.  And they developed the arm strength to finish what they started.  Of course, they also attacked hitters, throwing strikes.
These days if you mentioned Complete Game to a pitcher he'd think you were talking about something he can play on his smartphone.
Restricting pitch counts is good.  But developing arm strength with solid bull pens followed by rest is crucial.  Again.  Throw.  Rest.  Heal.  Do not throw every day.
Old School thinking.  New School thinking.  Or no thinking at all.  Take your pick.
But read The Arm.  Education is the best thinking.
           Are Ideas just for College?
Ideas, of course, are disturbing to a lot of coaches.
I'm watching Danny Salazar start for the Indians and
his ERA in the first three innings is a helium balloon.
So he walks Kevin Pillar to open the bottom of the first
and then gives up a three run blast to Jose Bautista.
Trouble in the first inning?  Hmm.  What should we
do?  How about just doing nothing.  He'll work it out.
What you could do is have him throw 10 to 15 more
warm-ups and have a hitter stand in, reading pitches.
That would get Salazar in tune with the first inning
and it would also help the hitter.
An MLB team wouldn't do that.  That's college.
But isn't college where you go to think?
                               And this is INSANE
There are parents asking for Tommy John surgery for their son—even though his arm is NOT injured.  They hear about pitchers coming back from TJ and throwing harder than they did before the operation.  And they believe the surgery increased velocity.
That's ridiculous.  When pitchers rehab from surgery they use Jobe's and tubing to regain arm strength.  These are the exercises they should have been doing BEFORE they were injured.  Tommy John surgery does not make you throw harder.  The REHAB exercises do.
So there's your choice.  Surgery on your arm, which means more than a year off the mound while you rehab.  Or doing Jobe's and tubing right now to strengthen your arm and keep it healthy.
Doesn't seem like a tough call to me.
Baseball Quiz

      How can one team collect six hits in
one inning and NOT score a run?
          (So far no one seems to know)
For Aurora Genai Sheffel
LITTLE THINGS, part two
 Never make the first or third out at third base
A lot of little things go unnoticed.  I'll give you a great example.

The Blue Jays and the Indians.  It's 4-3 for Cleveland in the third with the bases loaded and nobody out.  Brandon Guyer drills a shot into the right center gap and all three runners circle to score.
But Guyer isn't satisfied with a double.  He heads to third and the relay nails him, Carrera to Travis to Barney, which is either a legal firm or Casey at the Bat.  (By the way it would be nice if someone could explain the difference between a relay and a cut to Buck Martinez.)
Obviously, you want aggressive baserunners.  They pressure the defence, they force mistakes, they ignite offense when the bats are in the holster.  But Guyer made a cardinal error, even if he isn't from St. Louis.
Never make the first out at third base.  Just don't do it.
Take a look.  When Guyer reaches second he's in Scoring Position with nobody out.  This game is all about SCORING POSITION.  Once you get to second there is limited advantage in charging to third if there is any chance of being thrown out.  It's all about RISK and REWARD.
At clinics I ask players  which is the most important base.   Usually they say "Home."  I seldom hear "Second base."  So why do we do everything we can to keep runners on first?  We use cuts.  We tell our pitchers to slide step to stop the running game.  Our goal is keep the double play alive and stop that terrorist baserunner from advancing.
Because baseball is all about SECOND BASE and SCORING POSITION.  Take that mantra to bed with you.  Sleep on it.  It's the game.   
Brandon Guyer as a Tampa Bay Ray.  I don't mean to single him out because he's an outstanding player.  And he's certainly not alone when it comes to baserunning errors.  Let's just say he's doing a baseball community service by demonstrating.
Back to the Blue Jays and the Indians.  If Guyer stops at second and the next hitter, Yan Gomes, moves him over with a groundball or fly ball to the right side he's on third with one out.  Another groundball or sacrifice fly scores him.  That's called Move Him Over, Get Him In and pro and college teams practice it every day in pre-game BP.  Every damn day.  It's one of the sacred rituals of baseball.
In this case it wouldn't matter because Gomes doubled.  And Guyer's run never saw the scoreboard.
Of course, it would be a slight advantage to have Guyer on third with nobody out.  But he'd better be 100 per cent before he takes that shot.  One hundred per cent.  If he holds the fort, the Indians are up 8-3.  As it turned out the Blue Jays battled back gamely and won it 8-7.
With TWO OUT getting nailed at third is even worse, as pointless as collecting bubble gum wrappers.  In that case you aren't scoring from third base on a groundout or a fly out.  So stay in Scoring Position unless it's an absolute gimme putt.
            Tom Glavine--Ultimate Command
Undoubtedly the greatest myth of pitching is the cliché you hear all the time from TV aficionados.  "It takes years for a young guy to  learn how to pitch."  Nonsense.
Want to know how to pitch?  Easy.  Here it is in 30 seconds.
1) Get ahead.  (Isn't that as obvious as breathing?)
2) Work both sides of the plate, painting the corners.
3) Up and in.  Low and away.
4) Change speeds.
5) CRUCIAL: In a hitter's count throw an off speed pitch for a strike.
6) Jam with a cutter.
7) Keep your sinker, curveball, slider and change-up DOWN.  But a four-seam fastball can be on the knees or elevated.  High heat at the letters is as tough to square up as a bullet.
HITTER'S COUNT--First pitch, 1-0, 2-0, 2-1, 3-1.  Even 3-2. 
So there you have it.  It didn't take years of experience.  One brief lesson and you know how to pitch.  If you've got any stuff at all your name is Ace.
IMPORTANT--The first rule here is the kingpin.  If you don't work ahead you will be in trouble the whole AB.  Pitching is obviously about throwing strikes.  Hitting spots is good but not if you keep missing.  And there's no point in throwing a curveball in a hitter's count if you can't get it over consistently.    
          BUT DO YOU HAVE COMMAND?
There's a vast difference between "learning how to pitch" and specifics.  What do you throw Aaron Judge on a 3-1 count?  Who takes the first pitch every AB?  Which aggressive free swinger  chases breaking balls in the dirt?  Or can't lay off the high fastball?  Who goes oppo when he's behind in the count?  And who couldn't hit a breaking ball if you told him it was coming?  Specific information about specific hitters.  
That's why MLB pitchers have scouting reports.  There are countless subtleties and Greg Maddux had a zillion cooking in his cerebral cortex.  You may only face a certain hitter in one or two games each season but you can still keep a book on his tendencies.  If you're pitching the second game of a doubleheader, for instance, take mental notes in game one.
       But scouting reports are useless without COMMAND.
Knowing how to pitch is as easy as A,B,C.  But executing that Game Plan can be as difficult as wrestling a grizzly bear two falls out of three.  If it was easy then a .150 batting average would lead any league in hitting.
                            BULL PENS
COMMAND starts with bull pens.  Forty pitch bull pens,
60 pitch bull pens, 80 pitch bull pens, whatever it takes.
Bull pens are crucial.  When you throw on the side,
developing endurance, velocity, movement and command,
the games will take care of themselves.  Just make sure
you get enough rest for your arm between sessions.
More on that later.
                   The Tom Glavine Game Plan
Great control makes great pitchers.  There was absolutely nothing complicated about Tom Glavine's Game Plan.  The Hall of Fame left-hander nailed the outside corner over and over with his running fastball and his fading change-up.  And, then, when a right-handed hitter started leaning over the plate, Glavine kept him honest by busting him on the fists with a nasty slider.  
Fastball or change away, away, away.  Then the slider in.  
Does that sound like it would take years to learn?  It's as simple as a push-up.  And totally effective because Tom Glavine owned the outside corner.  Any Game Plan is as productive as stock in Coca Cola--but ONLY if you have the COMMAND to execute.
Can you slice and dice like Glavine?  Can you locate your change-up like Marco Estrada or Felix Hernandez?  Can you paint with movement and velocity like Jake Arrieta?  Can you fire violent heat upstairs like Chris Sale?  Can you snap off a nose to toes curveball that shatters the zone like Clayton Kershaw?  If the answer is yes, then stop reading this blog and buy a ticket to Yankee Stadium.  Not to watch.  To pitch.
                        KYLE HENDRICKS
Hendricks did a masterful job of demonstrating the value of command during the 2016 playoffs.  His control of  all three of his pitches handcuffed hitters and kept them off balance.
Kyle is not as overpowering as Arrieta or Jon Lester but he seldom throws a bad pitch.  A great pitcher combines athletic ability, hard work, courage and imagination.  Part science.  Part art.
And a whole lot of the Great Equalizer.  COMMAND.
LIFE AS A PRO
       The Odds of getting to the Big Leagues
The chances of getting drafted by an MLB team are about the same as being abducted by an alien.  I don't have exact figures but there are probably well over 100,000 high school and college players eligible every year.  Only 1,200 are selected.  And just 750 of those will sign a pro contract. 
What's more, maybe 25, about 4 per cent of the guys who turn pro, will ever make it to the big leagues.  If you're not selected in the first 10 rounds your chances are about the same as stepping into the ring with new heavyweight champ Anthony Joshua.   
Do the math.  That means roughly .00025 per cent of high school and college players will wind up in the majors.  Makes the lottery look like a sure thing.
For the vast majority life in pro baseball means the minor leagues.  But that in itself is a massive success, considering the odds.
Connor Janes played for me for two years at Cap College, then went on to star with the UBC Thunderbirds before being drafted in the 27th round by the Arizona Diamondbacks.
Connor's minor league career was brief for two reasons.  He was almost 23 when he signed a pro contract and he was on the DL when he started his second season.  Still, he got out of the gate like a firecracker, hitting .375 in rookie ball with the Missoula Osprey.  (An Osprey is a magnificent fish-eating River Hawk with a six-foot wing span. Impressive.)
Just to give you a taste of the minor leagues I asked Connor to check in every new moon or so with a few perceptions.  Here's the first installment.
                           The Bus to Tucson
On the first day you reported to the Diamondbacks, how did you feel about being a pro baseball player?
I remember the first day quite clearly. I had some trouble getting a Visa, so I missed the mini camp in Tucson.  I ended up meeting the team on the bus en route from Tucson to Missoula in Spokane.  I'd celebrated the night before with my friends in Vancouver and I really didn't have a care in the world. I was actually doing the thing I had set out to do years earlier, play pro ball. I wasn't nervous, scared or concerned about what lay ahead. I was proud of my accomplishment and anxious to see what this journey was all about.
NOTE: There are a limited amount of  Visas available
for each MLB team.  And sometimes the paperwork
is late and the player has to wait to get to camp. 
                        The Demands of the Game
How tough was the transition from college to pro?
The transition was easy at first. I was very used to being on the road and riding on a bus. It was a bit weird to have to fend for yourself for things like housing and food, but there were also some perks. I only had one roommate on the road.  In college I typically had three. We also stayed in one city for more than a day or two at a time, which rarely happened in college. The transition slowly became difficult however, as the hours at the field, and the unrelenting demands the game of baseball requires, began to chip away at me.
NOTE: College schedules center on the weekend.  Pro ball,
of course, is virtually every day.  That seems fine but,
after a few months of long days at the ball park, it can
grind a player down.  If a young man is just out of high
school, it can come as a bit of a shock when he has to
find an apartment or share a rented house with several
teammates.  He also has to make sure he's eating well
and getting enough sleep.  What's more, minor league
players make very little money.  It beats working for a
living but it isn't always as much fun as it might seem.

   RYOMA, FENTON AND AUSTIN
          Teaching Charges to Little Guys
The Golden Rule for all infielders is very simple.
Always Play the Ball.  Don't let the ball play you.
Infielders who sit back on their heels are like bowling pins.  They're errors waiting to happen.  They're as passive as a sleeping baby.  When you get aggressive and play the ball you are in Attack Mode.  This initiates action, tames anxiety, increases rhythm, and builds confidence.  All good.
As The Terminator, Kevin Nicholson, says "You learn to read the ground ball and create your own hops."
Which brings us to one of the key skills for any infielder.  Charges.
It always surprises me when I see a 16 or 17-year-old shortstop who's never learned to charge a slow roller.  He'll start all right, attacking, but then he stops as he fields the ball and sets his feet to throw.  Quite often the hitter beats it out.  And the coach yells, "Nice try."
You simply have to learn to charge and throw on the run.
I spent some time working with a group of 10 and 11-year-olds who played for Randall Ius and Fraser Engel at North Van Central.  They were a talented group of kids with a good attitude.  They wanted to learn and they were willing to work.
We drilled the pitchers and took batting practice.  And, when it came to infielders, we covered the fundamentals, including the 12 ways of throwing to first base.  (See "The 12 Infield Throws")
That went well but I thought charges might be a bit over their head.  After all, there were players a lot older who hadn't mastered charging the ball.  It could take three or four practices for an 11-year-old to figure it out and maybe that was optimistic.
But I took a shot at it.
And these kids amazed me.
Not only did they pick it up in the first practice.  Guys like Ryoma Nagatomo and Fenton Ius and Austin Goesen-Lindner actually did super charges on their first try.  Their first try.  That's like driving a stick shift on your 16th birthday.  In fact, Ryoma was so adept he was doing One-Step charges like Troy Tulowitzki.  (And that is not an exaggeration.  A One-Step is a One-Step whether you're in Little League or with the Toronto Blue Jays.)
So how do you teach an 11-year-old to charge the ball and throw on the run?
Just tell him to charge the ball and throw on the run. 
That's the short-hand version and it works.  You don't have time to stop, set and throw.  If you do, you're giving the hitter at least two steps, probably more.  And that's all he really has to know.  (Or she has to know.)
Charge
Field on the run
Keep moving
Throw
Gradually he'll get the rhythm, the feel of it.  He'll transfer the ball from glove to hand and cut it loose without stopping.  Athletes are funny that way.  If you let them be athletes they just pick things up by doing them.
   Derek Jeter throwing off his right foot as he completes a One-Step charge.
Once they nail the footwork you can start fine-tuning.  Here's the technique:
Charge the slow roller aggressively.
Field the ball ONE-HANDED off your LEFT FOOT.
Step on to your RIGHT FOOT.
THROW BEFORE YOUR LEFT FOOT COMES DOWN. 
That's all she wrote.  Left foot, right foot, fire away.
That sounds awkward but it really isn't.  It seems to melt into their DNA like a magic act.
This can also be a Three Step charge, which means you field off your left foot and step right, left, right and throw.  The Three-Step is fine and used a lot.
I could describe the Charge Technique for several pages but it's a lot easier to just watch a big league game.  You'll see infielders charging over and over, often as many as a third of their chances.  Put it on stop action or slow mo and study the foot work.
Some infielders love to throw on the run and I once saw a AAA Calgary Cannons shortstop who charged every ground ball.  Every ground ball.  Even if it was hammered he still took it on the run.  Why?  Maybe he was compensating for a weak arm.  Or maybe he'd played on some rough fields with a lot of bad hops and he learned to charge everything so he could field off his left foot and not in front of his body.
This is an absolute MUST skill.  No one can play the infield properly without learning to charge.  Here are a few subtleties:
                              ONE HAND
You field with the glove hand only because bending over to bring both hands to the ball as you charge is awkward and off balance.  And there's no point in doing that, anyway.
                              THE TRANSFER
This is crucial.  As you step on to your right foot you bring the glove to your throwing hand for the transfer.  You should practice this a lot to make it smooth and precise.
                              BANANA
A middle infielder should trace a little bit of a banana route.  This slight loop lets him angle his body toward first base as he scoops the ball.
                              BAREHAND
The barehand looks good but it's seldom necessary.  If you're executing a One Step charge you'll release the ball just as quickly fielding with the glove.  You can't get a faster release by barehanding because it's a One-Step throw either way.  And barehand charges invite fumbles.
There are a few times when the barehand is solid.  The best example is a bunt or slow roller near the third baseline.  If the third basemen can't get around the ball he has to barehand and throw across his body on the run.
                             DEPTH AND RANGE
When your infielders are all adept at charging and throwing on the run they can play deeper because the slow hit ball in front of them is no problem.  Playing deeper means they catch more pop-ups and looping line drives.  And they get to more groundballs.  This extra range can eliminate four or five base hits every game.
LINE DRIVES—Besides Ryoma, Fenton and Austin that NV Central team included some pretty good young talent like hard-throwing pitchers Quinn Myles and Ryan Engel, solid infielders Mathew Marshall and Bryce Allan, plus Ryan Phillips, Ivan Potter, Kobe Snow, Jakob Kaleel and lefty Nathan Ames...Fenton and Austin are now with Highlands Little League and Randal Ius is taking a sabbatical from coaching.  Randal and Vancouver mayor Gregor Robertson are the duo who created all those good Happy Planet juices and soups and smoothies.  They started with a blender and organic carrots grown on the Robertson family farm and they've parlayed that into a Canadian icon for all natural food...I learned a lot about charges watching third baseman Travis Johnson do One-Steps for Bill Green's powerhouse Coquitlam Reds back in the 90's.
  SECRET OF VELOCITY
     SEE HOW EASILY YOU CAN THROW HARD
There is no way I can say this any better.  You hunger for flamethrowing velocity.  Okay…
             SEE HOW EASILY YOU CAN THROW HARD
If you saw Aaron Sanchez and Chris Archer square off Friday night you will understand.  They snap an exclamation point to the end of that crucial Commandment.  These guys are two of the best young pitchers in the game and they both fire high 90's bullets with hump and run and more rambunctious life than a five-year-old who just crushed five Mars bars.  The Rawlings bursts out of their paw like a bird escaping its cage.
So…Why?
I could get erudite and complex here like those YouTube gurus who sound like they're the pitching coach at MIT.  All those big words.  I've developed three major league pitchers and I have no idea what they're talking about.  (Well, actually, I do.  But it just gets mired in Esoterics.)
As you may have noticed by now, my basic coaching philosophy is to Simplify.
             SEE HOW EASILY YOU CAN THROW HARD
Sanchez and Archer never strain.  Or muscle up.  Or struggle to throw harder.  That doesn't mean they aren't throwing hard.  They are.  But the ball ignites out of their hand as if it has a life of its own.
Again…Why?
Well, obviously, it starts with athleticism.  Timing.  Balance.  Rhythm.  And that old standby coordination.  Athletes make complex movements look far easier than they really are.  They are like magicians pulling rabbits out of a hat.
And athletic pitchers mobilize their whole body.  Here's the blueprint.
                    THE FOUNDATION
Legs.  It all starts from the ground up.  Strong legs are the genesis of power and stability.  This is as crucial as oxygen.  If you want to be a power pitcher (or hitter) concentrate on squats, lunges, and running stairs, which is my favorite.
                    ROTATION
The core.  Strong abs, obliques, lower back and glutes explode the hips.  Without hip rotation you are throwing 75 mph batting practice.
                    THE PAY-OFF
Can you rap?  Add this one to your gig.  It doesn't rhyme, of course, but it sends a searing message.
          The Legs deliver the hips.
          The Hips propel the shoulders.
          The Shoulders whip the arm.
          The Arm unleashes the ball. 
It's a perfect kinetic chain.  The actions are pure biology.  And the energy is pure physics.  Courtesy of Albert Einstein, the Manhattan Project All Nuclear pitching coach.
Think about this simple, basic truth.  The faster your shoulders rotate the faster you throw the ball.  That whipping action is VELOCITY.
Record Sanchez and Archer or Noah Syndergaard and put them on stop action or slow-mo.  You will see an epiphany.  As their stride foot lands their shoulders hold the fort, staying closed, but their hips begin to pop.  This creates a separation, like cocking a pistol or loading a sling shot.  It's as if there's a rubber band being stretched in both directions, creating a lethal nugget of latent energy hungering to be released.  And then...and then...
They EXPLODE their hips and shoulders.
This is the knockout punch, a Mike Tyson right cross to the jaw.  Their shoulder rotation is a blur.  Their arm is suddenly engulfed by a hurricane, breathless, along for the roller coaster ride.  And they finish with a flourish, driving their right shoulder into the catcher's glove as their back foot reaches to the sky.  Yes, it is violent.  And aggressive.  And as powerful as a rocket launch.  But it is also wonderfully smooth, somehow relaxed, as if all their being has gathered for an oldtime revival in the Cathedral of the Heater.
No strain.  No Tommy John surgery.  No MRI's, no tenderness, no elbow pain, no two weeks on the DL.  It seems effortless.  It's all about using your entire body to make it look easy.
That full throttle blur of shoulder rotation is the difference between 88 and 98.  I can't emphasize this enough.  The faster you rotate your shoulders the faster you will  throw the baseball.
Is this rotation locked into your genes or can it be developed?  Both. Unless you're Marvel's Doctor Strange, the Superhero, or Merlin the Magician, you can't yank out your DNA strands and make a sudden apocalyptic change. But you certainly can work on drills to develop quicker, more aggressive, more dynamic rotation.

         Mr. Cutter, Mariano Rivera, whose perfect mechanics gave the ball wings   
             SEE HOW EASILY YOU CAN THROW HARD
ROTATION starts with the engine, the LEGS.  It transfers to the transmission, the HIPS.  It ignites the drive shaft, the TORSO.  And all that immense energy forms a fist and explodes into the wheels, the SHOULDERS.  I love that analogy.  Of course, I'm biased.
Once again.
The faster your shoulders rotate the faster you throw the baseball.
Mariano Rivera had the most perfect mechanics I've ever seen.  Google him and zero in on a video.  Study it.  His delivery was as ineffable as Brando in The Godfather and Mariano repeated it over and over, unleashing biting 95 mph cutters that broke more wood than a logger.  Justin Morneau told me even though you knew it was coming Rivera's cutter still got in on your hands.
Don't get this wrong.  Rivera made it look easy but he was throwing hard, his arm speed broke the sound barrier, and he did it with zero strain, without muscling up.  The ball leaped out of his hand like a blast from a lightsaber.  Power is Strength plus Speed.  It's the offspring of rhythm and timing.
Here's another analogy.  Or is it a metaphor?  Who knows?
The arm is the All-American running back who gets five crushing blocks, runs to daylight, notches the game winning TD, and leaves with the most beautiful cheerleader.  The arm is the star.
But, without those killer blocks from his linemen, the RB is a dirt stain on the turf.  And, without the legs, the core, and the shoulders, the arm is about as useless as a director without a script.
It's not much fun building the foundation—but the pay-off is well worth the effort.  When the legs and core are dominant they  throw a dozen earth-shaking blocks and the lucky arm gets the touchdown and the glory.  A live arm starts from the bottom up.
                    ROTATIONAL DRILLS
There are dozens of drills on YouTube and, if you're a serious player, I'm sure you've seen a bundle.  Medicine ball rotations are as productive as protein.  So are bands and lunges with a twist and crunches.  Hold a bar or a bat on your shoulders and rotate back and forth, nice and easy, to strengthen your core.
Do whatever you can to increase your rotational power.  Each exercise adds a touch more velocity, a tenth of an mph today, another tenth tomorrow.  After a few months those tenths start to add up and you are throwing two, three, four, five miles an hour harder.  Rome was built in tenths of a second.
                    Be the Best You Can Be
There are no short cuts to greatness.  And very few players ever pay the price.
Think about this.  Would you like to look back in 10 years and wonder how good you could have been?  Or would you like to be the Best You Can Be starting right now?
It's always your call.  No coach can motivate you.  No one can.  It's always inside of you.  And that's the way it should be.
 And his 168 mph fastball
        The Amazing Saga of Sidd Finch
 I was having lunch at the Queens Cross with Paul Gemino when he mentioned art forgers so talented they can make perfect copies of any painter from Van Gogh to Picasso.  Even the most educated aficionados can't tell the difference.  One guy was so good he was nailed only because he got careless and used a white paint that was too modern.
Which always makes me wonder.  If you love these paintings and you can't tell the fake from the original, what difference does it make?  Just enjoy their beauty or wonder or magnificence.  But, of course, I'm being blatantly naïve.  It isn't about the aesthetic value of the painting at all.  It's about greenbacks.  It's an investment, a cash withdrawal.  So much for art lovers.
At any rate, it reminded me of the legendary Sidd Finch.
Who threw a baseball 168 miles per hour.  I kid you not.  Not even a chuckle.  One.  Six.  Eight.  On the radar gun in 1985 with the New York Mets.
If you don't believe me just Google the wonderful story George Plimpton penned for Sports Illustrated called "The Curious Case of Sidd Finch."
Curious, indeed.
Here are just a few of the incredible, surreal epiphanies revealed by Plimpton.
Sidd was an orphan adopted by an English archaeologist who died in a plane crash in Nepal.
He attended Harvard.
Finch caressed the French horn so lovingly he could have performed with the New York Philharmonic.
He aspired to be a monk and studied yoga and the mastery of mind and body.  Hence the name Hayden Siddhartha Finch.  I won't go into the Zen Esoterics because it would take a novel to unravel the Mystique.  That's between you and Buddha.  Suffice it to say Sidd Finch strengthened his arm catapulting rocks and meditating on the Rotator Cuff in the austere mountains of Tibet.
                   How to vaporize a soda bottle
He was discovered by a Mets minor league manager who actually saw him throw a baseball with so much velocity it vaporized soda bottles.  Yes, vaporized.  Finch said he'd learned the Art of the Pitch and that was as obvious as sunrise.  Now the Mets are not stupid.  Melting glass with solar heat is an automatic invitation to spring training.  Even if you developed in the Tibetan Independent League.
They brought him to Florida and it didn't take long, just one click of the JUGS gun, to see that Mr. Finch not only threw 168 mph but also with surgical command.  And he did all this without even warming up.  Just to escalate the Surreal Strangeness, he wore a hiker's boot on his right foot and no shoe at all on his left.
Scouting reports go from 1 for abysmal to 8, which is Hall of Fame.  The Mets rated Sidd's velocity and command at 9.  Not just off the charts but off the Grid of Gravity.  Another dimension.
Sidd was unsigned, of course, so the Mets kept him as secret as the formula for Coca Cola.  He threw to a few hitters in a hidden batting cage constructed just for his clandestine bull pens.  But somehow the workouts leaked to Plimpton and he wrote a brilliant 14 page epic for SI, complete with pics of  pitching coach Mel Stottlemyre, outfielder Lenny Dykstra, Finch and his French horn and landlady, his locker in the clubhouse, his roommate at Harvard, Nelson Doubleday, the owner of the Mets, and Siddhartha riding a camel in Egypt.  Yes, a camel in Egypt.
          "You can barely see the blur as it goes by"
Mets outfielder John Christensen was one of the helpless hitters who felt like a human sacrifice when he faced Finch in the cage.  As he stepped into the box the catcher, Ronn Reynolds, who liked the letter "n" and also had a left palm crying out in agony, whispered, "Kid, you won't believe what you're about to see."
See is decidedly the wrong word.  "Before you can blink the ball is in the catcher's mitt," Christensen said, later.  "You hear it crack and then there's this little bleat from Reynolds.  You can barely see the blur as it goes by.  I don't think it's humanly possible to hit it."
When SI published the story it was as if an 8.5 quake had turned Shea Stadium into a World War II bomb site.  Ecstatic Mets fans hungered for more info on this Hammer of Thor.  The media bit in to a feeding frenzy, one New York sports editor castigated PR man Jay Horwitz for giving SI the scoop, and a radio talk show host got in front of the story by proclaiming he'd seen Finch on the hill.
What's more, two agitated MLB general managers confronted commissioner Peter Ueberroth.  The hitters will be risking their lives standing in against a 168 mph fastball they can't see.
 The Mets were obviously undeterred.  They gave Finch a uniform, number 21, free rein to explore the St. Petersburg spring training complex, and a locker between George Foster and Darryl Strawberry.
        Except Sidd Finch never existed.
Well, his imposter existed.  Call him a Baseball Forged Painting.
The whole thing was an April Fool's prank engineered by SI Managing Editor Mark Mulvoy and Plimpton, best known for his book Paper Lion where he actually scrimmaged as a back-up quarterback with the NFL Detroit Lions.
Plimpton's story was a masterpiece.  Immaculate research combined with perceptive, lyrical prose by the Fred Astaire of the English language.  If it was a forgery it would be a Rembrandt.  Fourteen pages so convincing you knew it had to be the straight goods because this is Sports Illustrated for God's sake, and, sure, 168 seems like a wispy apparition blowing in the wind.  But Why Not?
After all, the guy is a Buddhist, studying to be a monk, a bona fide, genuine mystic, he's an ascetic, his only possessions are a rug and a food bowl, and maybe, just maybe, he's discovered the secret of Fast Twitch Muscle Transcendence, or Time Warp, or Koufax Perfection, or Yoga Levitation, or Yanni at the Taj Mahal, or Vodka.  Hell, maybe he's Captain Kirk.  Who knew.
So fans wanted to believe even when they knew it was a stretch about as far as Manhattan to the Dalai Lama's winter home in Lhasa.
In reality the embodiment of Sidd Finch was Oak Park, Illinois school teacher Joe Berton.  He just happened to be a friend of SI photog Lane Stewart, the dude clicking shots as Berton, a gangly 6-4 who fit Plimpton's image of Sidd like a clone, conversed with Stottlemyre and Dykstra.
And the Mets went along with the gag like Laurel and Hardy.
                 "Sidd Finch Lives!"
SI did not pursue the joke for long.  Sidd Finch announced his retirement and got a standing ovation when he pontificated, "The perfect pitch, once a thing of harmony, is now an instrument of chaos and cruelty."
A week later SI owned up to the hoax by pointing out the first letter of each word in the secondary headline spelled out Happy April Fools.  I have no idea if anyone noticed that obscurity.
But you don't K the Field of Dreams without a tenacious battle.  It will hang in and foul off borderline pitches until you throw something down the middle.    T-shirts and "Sidd Finch Lives!" bumper stickers popped up like weeds for a decade or more.
As for Joe Berton he was captivated by the hoax.
A New York Times story told it best.  When Joe/Sidd retired his fans wouldn't let go.  "People started handing me baseballs to sign, and the first ball had Dwight Gooden and Gary Carter on it.  I just looked up and said: 'You don't want me to sign this. You've got Gooden and Carter on here.' They said: 'No, Sidd, sign it! Please?' So I put 'Sidd Finch' on it, and kept walking down the line signing autographs."
His wife Gloria says, "He absolutely loves it. Even now, at parties, people will go by and say, 'Hey, you're Sidd Finch!'
People want to believe, no matter how much proof they have to the opposite.  That may be good.  Maybe we have to hold on to our dreams.  But sometimes it can also be dysfunctional.  I'll have to work on that one.
So Sidd Finch doesn't really exist.  Or does he?  Maybe he's just as real as anyone I write about.  Or just as unreal.  Maybe they're all in my imagination.  Or your's.  Take your pick.
Is that existential enough for you?
The 12 Infield Throws
One of the key reasons infielders make throwing errors is faulty footwork.  They're off balance or rushed or out of rhythm.  I teach 12 infield throws to first base to correct this problem.
If you do these 12 two or three times a week you'll develop a feel for your footwork, the timing, the cadence, like Gene Kelly dancing in "Singin' in the Rain."  And you will seldom ever make a bad throw when it counts.
This is important.  We're not fielding here.  Just throwing.  So you start with the ball in the glove.  As you perfect these moves you can have a coach roll the ball to each player, although that's not important.  The emphasis is always on throwing so we're never distracted by a bad hop or a fumble.
At virtually every practice my infielders would run through all 12 from second and short.  Any where from 48 to 72 throws each workout.  We covered it thoroughly and then moved on to groundballs with double play feeds.
 STEP THROUGH
This is essentially a forward crow hop.  Every MLB infielder uses it all the time.  The right foot goes forward, in front of your body, an aggressive move toward first base.  Square the foot up as it lands and then step with your left foot and throw.  The step through insures you'll close up your front side, aim your shoulder at the target, and stay perfectly balanced.
CROW HOP   
Every young infielder knows this basic move.  The right foot goes behind the left foot or heel to heel.  Then step with the left foot and throw.
                         STEP THROUGH, CROW HOP
Hard hit groundball.  You have to give the first baseman time to get to the bag.  Do you just stand there and wait?  Of course not, that would be counter productive, giving you too much time to think, which causes tension, and destroying the crucial momentum you gained as you played through the ball.
So you do a smooth, rhythmic double.  Step through with your right foot, step with your left, then crowhop, step and throw.  This gives the first baseman time, generates flow, and cuts down the distance.  When he played third base for the Yankees Alex Rodriguez used this as often as Penn and Teller make magic.  His steps were so aggressive he shortened his throws any where from 12 to 15 feet.
DOUBLE CROW HOP   
Same thing but with two crow hops.  These are usually faster than a step through to create energy toward first base and power behind the throw.  And, at times, you'll even see a shortstop escalate to a quick heel to heel triple.
TO YOUR LEFT   
Pretty simple.  Set-up at second base, break toward the hole, simulate picking up the groundball, and cut it loose.  The key is rotating your left shoulder to make sure it's pointing to first base.
360   
Now you're going even deeper into the hole.  Scoop the GB on the run, and, instead of fighting your momentum, just do a complete 360.
BACKHAND  
Crossover to your right, field the ball on your back hand.  Plant. Step. Throw.
Those are the first seven and they're as basic as grade one math.  That doesn't mean you should treat them lightly.  You'll use these a lot so practice them as often as it snows on Whistler.
 But now we get a bit more complex and start to test your athleticism.
JUMP SHOT OFF YOUR LEFT FOOT   
This is the Derek Jeter Special.  Driving to your right, running full out, scoop the GB, step on to your left foot, elevate, pivot your body in the air, and throw before you land.  It's acrobatic and it makes the highlight videos.  But it's also a great addition to your Tool Box when you don't have time to set and you need a quick release.  Second basemen use it a lot and it was one of Jeter's favourite double play feeds.
JUMP SHOT OFF YOUR RIGHT FOOT  
Same as above but a bit tougher because now you're taking off from your right foot.
QUICK RELEASE   
Routine groundball but you know the hitter can fly.  No time for a step through or crow hop.  Just take a short, quick jab step with your right foot to break inertia and get moving.  Then a snap throw.
Jimmy Rollins
PLAY THROUGH THE BALL BACKHAND  
This is also a quick release.   Coaches preach that you should get around the ball as much as possible.  Fine.  But sometimes it's as productive as stock in Apple to play a high chop backhanded, even when it's right at you.  By turning your glove you're actually setting up to throw before the ball arrives and your left shoulder is targeted to first base.  Quick jab step and throw.  Jimmy Rollins uses this one as often as Tom Brady throws touchdown passes and it allows him to get rid of the ball in a nano second.
CHARGE   
I saved this one for last because it's my favourite.  And it just may be the most important throw an infielder will ever learn.  So we'll wait a couple days and go into it with precise detail.  Stay tuned.
KEVIN NICHOLSON, PART ONE
           The Terminator at Shortstop
Kevin Nicholson devoured shortstop like The Terminator Times Ten.  He made Arnold (I can't spell Schwarzenegger) look like the proverbial 98-pound weakling.  Kevin locked in to groundballs like a heat-seeking missile.  Drive something within a city block of him and you might as well veer off and head to the dugout.  He picked blistering shots like Warren Buffet scooping stocks.  Kevin was as quick as a panther and, if there's ever been a better infielder in this country, it must have been Ozzie Smith's Clone.
When I coached the Twins I saw Kevin at short with the Whalley Chiefs far too many times.  So the other day I asked him who nurtured his attacking, take no prisoners style.  And he gave me the answer I expected.
"It was Dennis," he said.
Dennis Springenatic.  Who coached the Chiefs like General Patton directing the U.S. Third Army.  How tough were they?  As battle ready as storm troopers.  They gave you nothing.  You earned every hit, every run, every out.  The Chiefs were Killers.
"When I was 14 Dennis invited me to take some groundballs with the team," Kevin remembers.  "He kept telling me to go get the ball, don't sit back, play the ball, be aggressive."
It was sage advice.  You can't play shortstop if you're timid.  PLAY THE BALL, DON'T LET IT PLAY YOU is the mantra of all great infielders.  And from there Kevin absorbed the nuances.  "You learn to create your own hops," he explains.
                                      Kevin with the San Diego Padres
Dennis Springenatic competed at Lewis and Clark State for the legendary Ed Cheff, renowned for his MMA toughness.  Chef even erected a boxing ring in centerfield so two prospects could punch it out to see who would start at second base.  That may have embedded the Springo coaching style.
"He had his way," Nicholson remembers with a grin.  "He created an atmosphere, a competitive edge.  He was demanding but you weren't scared of him.  It was more respect than anything else."
            "There was a great chemistry between them."
Of course, Dennis wasn't alone.  His brother, Ted, was more laid back but a strong mentor with the players and they complemented each other like Jobs and Wozniak.  "They worked so well together," Kevin says.  "They were like yin and yang.  Dennis was more aggressive.  Ted was the polar opposite, relaxed, the older brother who didn't get as excited.  They were both full of knowledge.  There was a great chemistry between them."
Kevin remembered one day when the guys weren't swinging too well in a tournament at LC State.  "Ted told us it isn't really that hard.  Then Dennis threw him some BP.  And Ted ripped line drive after line drive after line drive.  He probably hadn't swung a bat in years but he made it look easy."
Now get this.  Dennis Springenatic coached three…count 'em…three first round draft picks.  Yes, I said THREE.  And two in the same year.
1997—Kevin Nicholson, Padres, 27th overrall
1997—Aaron Myette, White Sox, 43rd overall
2002—Adam Loewen, Orioles, fourth overall.
No one in this country has even come close to that record.
All three played in the big leagues.  Loewen just might be the greatest prospect to ever see the diamond in Canada.  He was developed by Dennis and Big Ben Gasiorowski and blitzed 94-96 with a smooth, easy delivery as an 18-year-old.  But, after leaving the Chiefs, somewhere along the line he started throwing at least a foot against his body, his velocity plummeted to 88, a stress fracture buckled his elbow, and he wound up with a metal plate in his arm.
Adam could have been a first rounder as a hitter so he made a comeback swinging the bat, and then converted once more back to pitching.  That historic journey is a first in the MLB.
But I digress.  Do you want to know how good the Chiefs were in those halcyon days?  Well, they were so stacked Nicholson often hit in the bottom third of the order.  Kevin says their lineup included a platoon of crushers like Chris "Archie" McGregor, Ben Taylor, Jeff Danton, Kevin Butterfield and Reid Ogden, and these guys could rake.  On the hill they had the likes of Myette, Rob Vale and Gasiorowski, who fired 90 plus bullets with pinpoint command.
Kevin fondly remembered the battles with the Twins.  "Your guys played the game hard.  They brought out the best in us."  That included one memorable extra inning Canadian championship before a packed house at Whalley Stadium.  The lights were on a timer and, when 11 p.m. hit, the field went to black with a fastball halfway to the plate.  When it resumed the next day the Chiefs prevailed.
                    Switch-hitting and the 1994 draft
Nicholson was a switch-hitter, which means you have to make sure you get enough swings from both sides.  Close to 20 per cent of MLB hitters switch but they have the luxury of as much BP as they want.  For a high school kid it's not that easy.
So he hitched his wagon to the batting cage that once inhabited the basement of Pro-Stock.  "I was there after school almost every day we weren't playing," he says.  Al Mauthe was on hand and he underlined the Springenatic work ethic.
Ultimately, all this commitment got him drafted in 1994.  Not the first round yet but a good start.  At the behest of local scout Don Archer the Angels selected him in the 42nd round.
Of course, he remembers the Draft Night very well.  It was also his Grad and he was at a party with his girlfriend.  "Dennis called and asked me to be at our game the next day at Ambleside."  The Chiefs were playing the Twins with flamethrower Ryan Dempster on the hill.  Springenatic said "See you there."  And it's a tribute to the respect he has for Dennis and the Chiefs that he showed up the next day.  "I had to go," he says.
In those days the Vancouver franchise was a Triple A farm club of the Angels.  So Archer invited him to a pre-game workout with guys like Garret Anderson, who notched a .293 average over 17 big league seasons, and Jose Uribe, who spent a decade at shortstop with the Giants.  Kevin took some BP and groundballs but he wasn't at home.  "I didn't feel ready for pro baseball," he says.
He didn't sign.  But the cards were still being dealt and Stetson University was his Ace in the Hole.
MORE ABOUT THAT IN KEVIN NICHOLSON, PART TWO
(NOTE: Kevin coaches the North Langley Pee Wee 13U's)   
 The WBC plays Russian Roulette
        Is Clayton Kershaw a Communist?
Ernie Whitt says the only way this country can compete in the WBC is for the best Canadian major leaguers to get a maple leaf tattooed on their chest and join the party.  True.  But…
Take a look at this list of Monsters, a group of flamethrowers who make Kong look like your average next door neighbor chimpanzee.  They're all American breds but none of them hooked into the Team USA roster that blanked Puerto Rico 8-0 for the WBC title.
Clayton Kershaw 12-4
Madison Bumgarner 15-9
Jake Arrieta 18-8
Jon Lester 19-5
Max Scherrzer 20-7
Rick Porcello 22-4
Corey Kluber 18-9
David Price 17-9
Chris Sale 17-10
Aaron Sanchez 15-2
Stephen Strasburg 13-4
Justin Verlander 16-9
Kyle Hendricks 16-8
Cole Hamels 15-5
Chris Tillman 16-6
I could go and on an on but 15 is more than enough.  Combined they won more games last season than Trump sent tweets.  You'd need to resurrect Ruth, Gehrig, Cobb, DiMaggio, Mantle, Maris, Williams, Musial and Clemente, then add Aaron, Mays, Rose, Bonds and McGwire in their prime to score a run against this Marauding Band of Mound Warriors.  These guys aren't just lights out, they're a New York State Blackout.
Hitters?  How about Mike Trout and Dustin Pedroia and Kris Bryant and Chris Davis and Anthony Rizzo and Matt Holliday and Josh Donaldson and Ryan Braun and…well, you get the picture Picasso is painting.  This is the NON Team USA that would wreak havoc on WBC pitchers, even those two knuckleball aces from the Antarctica I keep hearing about.
Are they Un-American because they choose to stay with the team that actually pays them multi millions of dollars to be sharp and ready?  Should Congress rescind their citizenship?  Are they rampant Terrorists?  Why don't they wrap the Stars and Stripes around their shoulders, bow to President What's His Name and do the watusi?  Damn Communists.  Haven't these guys seen Hamilton?
Guess not.  But, then again, they're simply taking care of business.  For their team.  And their family.
 Kershaw, baseball's most productive pitcher, loads as he drives down the hill    
 JIMMY FLAMETHROWER AND THE $20 MILLION ARM 
Let's say you're 28-year-old Jimmy Flamethrower and you just signed a five-year $100 million contract to toss fastballs for the Padres.  My grade one math is extended here but I think it works out to roughly 20 mill a year.
So you come to spring training to prep.  You're locked into the starting rotation, you're not a rookie showcasing your stuff, there's no need to impress anyone.  Maybe you're fine tuning your circle change or working on a fourth pitch.  No hurry, just stay the course and gradually increase your work load.
By nature you're as competitive as a pool shark and you certainly don't want to get lit up, but the box scores are about as important as a speck of lint.  You have no idea why they even bother to keep score in spring training, which is all about pitchers strengthening their arms and hitters nailing down their timing.  All that really matters is keeping your arm sound for your Game Plan, which kicks off when the calendar turns to April.
San Diego is paying you a fortune, more Benjamin Franklin's than you ever thought existed.  You know you'll still have a shrapnel burst of fuel left in the tank to go full throttle in the October playoffs and the Padres are counting on you.  So is your lady and your three kids.  Plus your parents and dozens of relatives you didn't know existed and 50 former high school teammates and 318 dudes who've met you once and brag they are your best friend.
                    THE MAYOR OF SAN DIEGO 
But, suddenly, without warning, a lightning bolt strikes your heart and you get a shot of patriotism for the Good Old US of A.  WBC bound.  And your whole schedule begins to rush.  Now the bell rings in March, which means an extra month of competitive work on the hill.
It isn't really how much you'll throw in the WBC.  It's more that you can't pace yourself, you have to be ready to go full out.  If you're not in game shape, all it takes is just one pitch, one off balance lunge, one bad landing with your stride foot, and POP, there goes the supraspinatus in your rotator cuff.
While the SoCal brass hold their breath you survive the WBC and you're on a roll, winning 21.  You're the Mayor of San Diego, the Ace, the King Pin, and you spearhead the Padres into the playoffs.  Just when your arm is starting to wear down.  That extra month has taken its toll, like a parasite.
But you battle through and pitch the seventh game of the World Series at about 80 per cent.  Your arm drags and you feel wasted.  You lose 5-3 in the biggest moment of your life, throwing 92-93 instead of 96-97.  The timing of the WBC has played Russian Roulette with your arm and robbed you (and the Padres) of a pedestal in MLB folklore.
The Internet trolls are calling you a choker, the dudes who are Jimmy Flamethrower's Best Friend Forever never heard of you, and, in a few years, you'll realize this was your only shot at a World Series ring.
But it could be even worse.  That extra month has stressed the UCL in your elbow and it begins to fray, not much at first, just a miniscule tear, but inexorably, relentlessly, it shreds, a drop, then a dribble, then a stream, and finally a flood and the pain shoots through like a taser.  Tommy John.  And your whole career is in Jeopardy.
Of course, a pitcher can strain his elbow in spring training.  But the difference between that and the WBC is as wide as the gap between Earth and Alpha Centauri.  As a world renowned physicist I calculate the WBC as 6.7 times more intense.
Actions have consequences.  Some are immediate.  Some take longer to crystallize.  Is it any wonder these guys don't want to risk their immense salaries and their shot at history for the World Baseball Classic?
                 MOVE THE WBC TO OCTOBER 
The WBC is fun but obviously it comes at the wrong time.  Buck Martinez thinks it should be at the All-Star break, which is a non-starter.  Even compressed to a week it would dissect the MLB season and leave a gaping wound in July just when their attendance is starting to peak.
The WBC is tailor-made for the last two weeks of October.  Right after the first round of the playoffs when there are only four teams left.  Players could take a short break, refresh, replenish, and then saddle up without skipping a beat.  Pitchers could throw two or three bull pens to stay sharp and come back stronger than ever.
That won't happen, of course, because it's just too damn logical.  MLB would be afraid it would attack their TV ratings but I think just the opposite is true.  Scheduled intelligently it would enhance the two LCS showdowns.
Apparently, the WBC in October is a Communist plot, created by Lenin, nurtured by Stalin, and deep sixed by Gorbachev.  And nothing to do with Kershaw or Trout.
SLIDERS—Don't get me wrong.  Despite all this, the WBC has been very entertaining.  Not just the games.  The Japanese fans, for instance, are wonderful.  They chant, they cheer, they dance, they have as much fun as their id will allow.  They have spirit.  And the Japanese players are the epitome of class.  PETER ESPIG, who spent a lot of time in Japan working for Goldman Sachs, has often told me how much he appreciates their attitude toward sports.  He's right…The nationality of a lot of the players is a mystery.  If your great, great grandfather from Sacramento glanced at a map in 1920 to find Madrid you qualify to play for Spain...And MANNY MACHADO was born in Hialeah, Florida, went to high school in Miami, developed in the Baltimore minor league system, and blossomed in the major leagues with the Orioles.  But he plays for the Dominican and I'm not sure if he's ever set foot in that country...MATT VASGERSIAN seems like a nice young guy and he does a creditable job teaming with JOHN SMOLTZ, except when he gets excited about a routine fly ball to right.  But Matt made a point of telling us Canadian pitcher SCOTT RICHMOND's high school doesn't have a baseball team so he only played summer ball.  Sorry, Matt, but there is no high school baseball any where in B.C. and none that I can find in Canada.  Everyone here plays "summer" baseball and it often seems to go on all year round…Vasgersian is not alone.  Baseball America always lists draft picks with their high school, which is par for the course in the States because that's the home base for virtually every player.  North of the 49th you play "summer" baseball.
Playing more than one sport
           March Madness and You
If you're a baseball player and you do not scope March Madness, then you should take a look this time around.
This is the UA of sports.  Ultimate Athleticism.  Feet so quick they're a blur.  Speed like a flash drive.  The skill of a diamond cutter.  The power of Kong.  The endurance of a marathon runner.  The courage of a boxer.
64 talented teams.  Great athletes.  Great coaches.
Compare NCAA basketball to the NBA.
Here is offense in the NBA.  One guy with the ball going one-on-one.  He'll drive and go to the hoop or he'll draw a crowd and feed to a shooter lounging outside the three-point line.  The other four sort of stand around…watching.  Or resting.  Are they tired or did they pay to get in?
So maybe they get really adventurous and a second guy gets involved to run a pick and roll.  A pick and roll. That was old news when Leonardo da Vinci, the Father of Everything, shot jumpers as a point guard against Michelangelo in the Florence Basketball Association.
Sometimes you'll see a screen away (the Wizards do a lot of that) and there's always Phil Jackson's triangle offense, which apparently has the Knicks confused.
On the other end of the spectrum is college hoop.  Lots of movement on offense and multiple defences. They play man, two or three different zones, a 1-3-1 half court trap, a 1-2-2 zone press, and they often change them up to force the other team to adapt.  Basketball is an extremely physical game but it also has as much mental gymnastics as a physics class at Stanford.
And what is the point of this pointless diatribe?
                   A BETTER ATHLETE
Simple.  You should play more than one sport and basketball is a perfect choice.  Or soccer.  Or hockey.  I'd mention lacrosse, which is a game I love, but it would probably conflict with baseball too much.
Basketball develops everything for an athlete.  If you combine hoop with your off season training you will become a better baseball player.  Why?  Because you will become a better athlete.
When I say off season baseball training I mean lifting weights properly (and boy is that a topic we have to discuss), agility, flexibility, sprinting, plyometrics, yoga, which has become a mainstay with a lot of pro players, or whatever you can imagine.
Take two or three months off from throwing, or at least a break from bull pens and the mound.  Your arm begs for rest to heal and strengthen.  That doesn't mean you can't play catch when you feel like it, just gear it down.
And come back to baseball refreshed, energized, and eager to get at it again. Just like it was when you first started playing the game.  Remember?
This is the age of Specialization, with teams going 10, 11, 12 months of the year.  It leads to Overuse and Burnout. 
                              Max Scherzer.  Two no-hitters in one season.  
If you listen to guys like Eric Cressey or Alwyn Cosgrove or Brian Grasso you'll understand.  These are three of the top training gurus on earth and they all recommend playing more than one sport.  I repeat.  This makes you a better baseball player because it makes you a better athlete.  
Cressey is the mentor for some of the top talent in baseball, including Max Scherzer, who was 20-7 with the Nationals, and Corey Kluber, 18-9 with the Indians.  Scherzer has a pair of Immaculate Doubles.  He won the Cy Young for the second time last season and he fired two no-hitters in 2015.       
The training at Eric Cressey Performance is a mix of Cutting Edge high tech Science and Perceptive Art.  But Eric says he's seeing kids now who are a lot less athletic than even 10 years ago.  "Clearly, what we're doing isn't working. It's time to get kids moving, encourage fun and free play, and discourage early specialization."
Brian Grasso sends an echo.  "Kids are over-specializing at a young age, which is counterproductive to their ultimate ability."
                   BURN OUT AND OVER-USE
The American Academy of Pediatrics has their back.  It says about 60 million kids from six to 18 play sports in the U.S. and 27 per cent specialize as early as seven years of age, competing year round on multiple teams.  They estimate 70 per cent drop out by age 13, often from stress and burnout.  "The sport almost feels like a job to them.  There can be high levels of depression and the inability to complete tasks."
The National Association of State Athletic Associations also tabs burnout as the culprit.  "Kids get bored when they have to do the same thing over and over again."  They also deplore too much adult organization.  "When adults are always in charge kids don't learn to communicate, to solve problems and disagreements, or have fun for the sake of having fun."  Amen.
Then the clincher.  "Athletes enhance hand-eye coordination, balance, endurance and agility by participating in a variety of sports.  A full 87 per cent of 2015 NFL draft picks were multi-sport athletes."  They point out some football players take ballet classes to develop different types of movement.  "Multi-sport athletes are overall more creative and less mechanical."
Repeating the same movements with the same sets of muscles leads to injury.  Just ask Dr. James Andrews, the renowned Tommy John surgeon.
Okay, enough.  Suffice it to say, if you play basketball or soccer on a team, or just pick-up games, you will improve as a baseball player.  And you won't burnout like a shooting star.
                           A young Gretzky, who yearned to play SS with the Tigers
                   AND THEN THERE'S THE GREAT ONE
I give you Wayne Gretzky.
He played lacrosse and baseball and he thought he might even be a world class 1,500 meter or marathon runner.  "I would have taken baseball all day long,"  The Great One told Dan Patrick.  "I grew up such a big Tigers fan."  In fact, if he had his druthers it would be playing shortstop in Detroit rather than hockey in Edmonton.
But Walter Gretzky kept telling his son he was a hockey player and Wayne finally gave in.  "At 14 or 15 I said, OK, I love baseball but I'm not going to be a professional baseball player."  So he focused on the puck.
How much did playing baseball and lacrosse help Gretzky become the most prolific hockey player ever?  Of course, we'll never know but he's a classic example of a multi-sport athlete.
                    MJ DUNKS FROM THE FOUL LINE
I used to coach basketball and it's really my favourite sport.
Case in point.  Michael Jordan is the second greatest athlete I've ever seen.  He popped 25-foot jumpers like they were as easy as shaking hands, he drove to the hole like a tiger, he fed, he battled tenaciously on defence, and he pulled the ball down off the glass.  I have video of MJ leaving the floor at the foul line and dunking.  That's 15 feet through the air with a slam dunk exclamation point.  Must be on YouTube but, if not, imagine it when you're watching March Madness.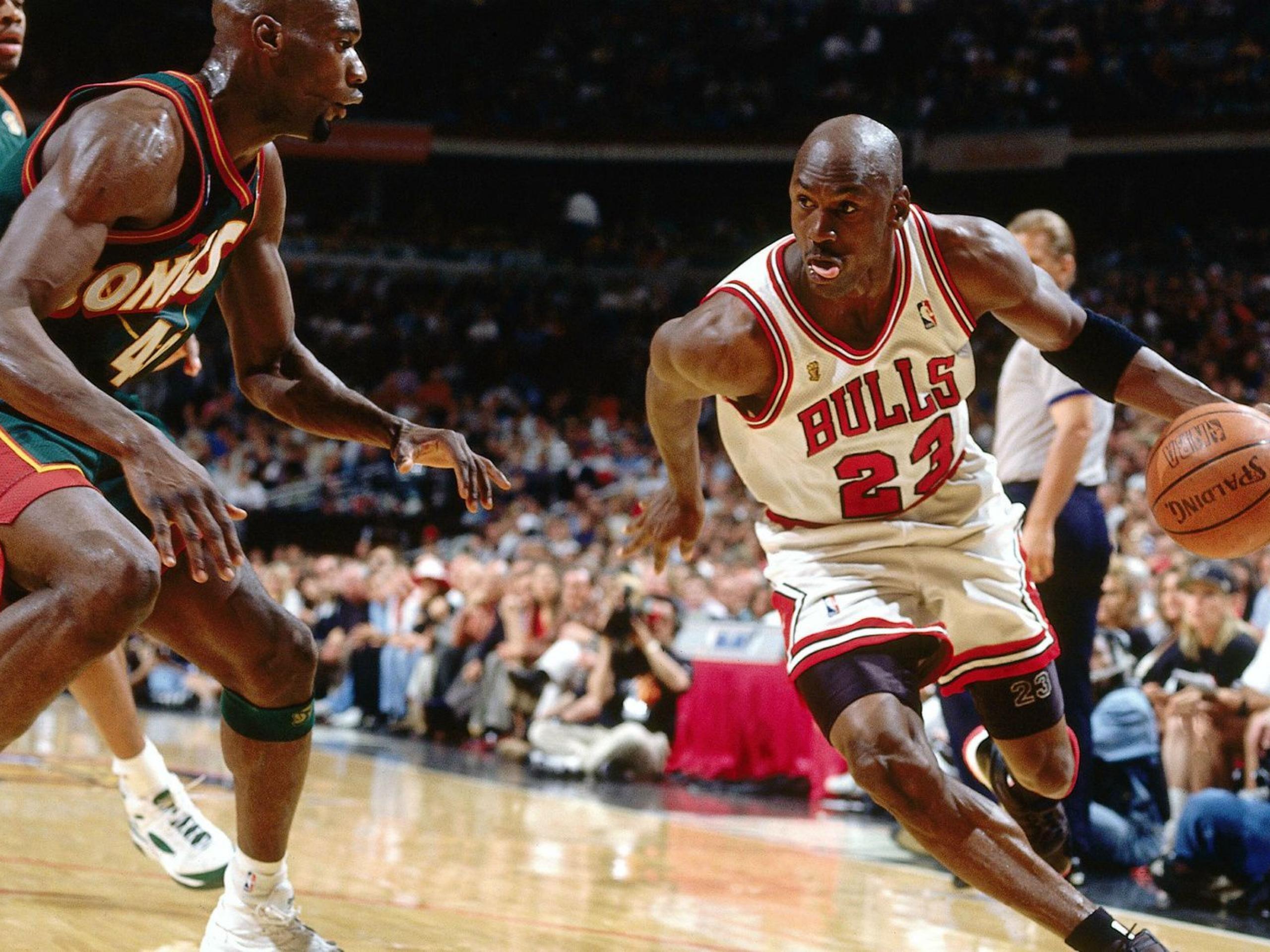 MJ drives for the Bulls                 
                   SECRETARIAT BY 31
And who is the greatest athlete of alltime?
Secretariat.  Triple Crown, 1973.  His move from last to first in the Preakness was breath-taking.  And then, for an encore, he torched the Belmont, winning by 31 lengths, blitzing the mile and a half in 2:24 and breaking the American track record by two full seconds, a mark that's never been eclipsed.
"He really paced himself," said jockey Ron Turcotte.  "He is smart.  I think he knew he was going one and a half miles.  I never pushed him."
Think about that.  He's totally unchallenged.  He could have stopped at the 16th pole for a cup of coffee and still won handily.  And he destroyed the track record by a full two seconds.  How fast would he have gone if he'd been pushed?
I know.  He's a horse.  But no human being has ever come close to that athletic accomplishment.
YOU GOT HEAT?  BRING IT
"Trying to sneak a fastball past Hank Aaron is like trying to sneak the sunrise past a rooster."
--Slugger Joe Adcock

This once in a lifetime shot has absolutely nothing to do with these stories.  But I just love it.  Apparently, it's from the 2008 Olympics and the photog clicked at exactly the perfect moment.  This just may be the greatest baseball pic ever taken.  Bravo.
DANNY DUFFY GETS IT
                     Did I mention Simplify?
Finally, baseball is catching up.
For 20 years now I've been telling pitchers to simplify their delivery.  Get rid of excess motion that contributes nothing.  If you're even slightly off balance your velocity and command both suffer.  Throw from the set to get as stable as concrete.  And, if you're as Wobbly as a Weeble, cut down your knee raise.
Simplify.  Simplify.  Simplify.
The wind-up is not necessary.  A high knee raise is not necessary.  In fact, they can both be as lethal as a Cessna pilot with Vertigo.
Did I mention Simplify, Simplify, Simplify?
David Price gets it.  Noah Syndergaard gets it.  Andrew Miller gets it.  Fernando Rodney gets it.  Clay Buchholz gets it.  Yu Darvish gets it.  Marco Estrada gets it.  They either throw from the stretch or cut down on knee raise.
Virtually every closer in the game gets it.  They ALL throw from the set.
Danny Duffy gets it.
And John Smoltz gets it.  Well, at least some of it.
Smoltz is an erudite, enlightened, intelligent and perceptive baseball analyst, as wise as Casey Stengel morphed into Tony La Russa with DNA from Joe Maddon.  Is that enough gratuitous compliments?  But…
Smoltz watched lefthander Duffy throwing from the stretch as Team USA blanked Canada 8-0.  First he said, "He's condensed his mechanics and it's helped his command."  All right.  So far so good.  Then the kicker.  "I always liked seeing starters utilizing the wind-up as some form of deception."  Hmm, and that may be partially true.
But he follows with, "Technically, pitchers throw a bit harder out of the wind-up...I guess."  I guess.  Sorry, John, you guess wrong.
Next, "You create something for the hitter, he has to learn how to time your mechanics.  From the stretch it's kind of one piece.  There's not much to it."  Well, actually there's a lot to it.  Velocity.  Command.  They should count for something.  Shouldn't they?
Smoltz also mentioned Duffy was the Team USA ace.  He's the ace.  And he throws from the set.  Did I mention he's the ACE and he throws from the SET?
John has undoubtedly seen Aroldis Chapman uncork 104 mph howitzers.  Or Andrew Miller sit on 93-95, peak at 98, and break off sliders so filthy they need a bath.  And he must have noticed they both throw from the stretch.

  Aroldis Chapman's classic follow through after another 100 mph explosion.
Throwing from the set.  (Anthony Gruppuso photo)
Smoltz obviously remembers Mariano Rivera breaking bats with his cutter.  Or Goose Gossage handcuffing hitters with high 90's heat and a vicious slider.  Or Trevor Hoffman mesmerizing them with a fastball on the black and a palm ball change that dipped and dived like a swallow.  Or…I could on and on and on but I'm sure you get the picture.  None of these guys needed a wind-up.
Neither did Billy Wagner, who was only 5-9 but fired 102 bullets as often as Mickey Rooney got married.  Wagner is an amazing story.  He was righthanded but broke his arm when he was a kid and started throwing with his left.  And I have multi videos of him blitzing the radar gun at 100 mph or more.  From the set.
I had a guy, Adam Daniels, who threw for the Twins.  And always from the stretch.  Scouts would ask me if he also used a wind-up.  I said sure, but why?  Then they'd either stare or mumble.  And I never heard an answer that made even the slightest bit of sense.  Adam was drafted a record five times, including his senior year at Oklahoma State, and pitched as high as Double A for the Cardinals.  More on him later.
I will always give John Smoltz a pass because he was an exceptional pitcher and one of the best analysts in a business that has a lot of dumbbells making comments so stupid they make the Three Stooges look like Stephen Hawking.  When they asked Larry Walker if he wanted to get into TV he answered, "No way.  I see some of my former teammates and I wonder if they ever played the game with some of the things they say."
Baseball is inundated with Old School Out of Date Behind the Times Unscientific Blatantly Asinine Ridiculous Bull Durham.  Did I mention Out of Date?  It reminds me of the hockey mentality when Roger Neilson got mocked and called Captain Video for having the audacity to record games.  He was also the first puck guy to use headsets to communicate with his assistants.  Wow.  Coaching with video and headsets?  All that goldarn crazy Science stuff?  Who'd a thunk it?
Yes, there are guys who use slight of hand like a Vegas magician doing card tricks.  Knee raise, then hold at the mythical balance point for two counts.  Double wind-up.  Quick pitch.  Spin, pause, hesitate, answer your smartphone, then go while the hitter is taking a coffee break.  Get as much "deception" in your delivery as possible because you don't have enough velocity to scare a kid in Little League.
                     Yu Darvish, who throws from the set for the Rangers
A lot of Japanese hurlers are brilliant Ph.D's when it comes to deception.  They love it.  And I admire their creativity.  But they often sit on high school velocity, 84 to 88.  The ones who translate best to the MLB are power pitchers like Darvish, who strafes the radar gun, and Masahiro Tanaka, who isn't overpowering but has surgical command and so much movement you think he's pitching in an earthquake.  Tanaka's split dive bombs, his fastball runs and sinks and he's been the Yankees saviour going 39 and 16 over the past three seasons.  And, by the way, did I mention Yu throws from the set?
I have nothing against the wind-up.  It may give you a feeling of rhythm and rhythm is good.  And nothing against a high knee raise.  Nothing at all.  If you have solid balance from the wind-up with a high knee raise then fire away.  No problem.  But neither will add velocity or command.  Not a lick.  Not a third of an mph.  Nada.  In fact, the wind-up may reduce both.  Just ask Aroldis Chapman or Trevor Rosenthal or Andrew Miller.  Or Danny Duffy.  Go on, ask them.
If you're even slightly off balance…simplify…simplify.
Did I mention simplify?
"Unless you pitch, nothing really matters."
                                                          --JOE TORRE
                                                       Yankees manager for four World Series titles
LITTLE THINGS, part one
                     Shaking off the catcher
As Joe Torre says, if you don't have solid pitching you're a 747 without wings, a Magnum without bullets, an actor without a stage.
The concrete foundation of a baseball team is built on pitchers and catchers.  Then the first floor belongs to the hitters, the second floor is chock full of fielding, and the attic stores PFP, baserunning, cuts and relays.
But there are also a lot of LITTLE THINGS.  They're the shingles on the roof and there are hundreds of them.  They keep the rain out and they'll win you a chunk of games.
Every week I'm going to talk about one of these LITTLE THINGS.  Today we'll start with…
                  SHAKING AROUND
 One of the most frustrating things for me as a coach is getting my pitchers to take charge.  I started throwing a curveball when I was 11 and from then on the game was mine.  When the catcher put down a signal, it was a suggestion, nothing more.  If I wanted something else I just shook my head until he gave me the number I wanted.
I never had a coach who called the signals.  If one had tried I would have handed him the ball and said, "Okay, you pitch."  I know how arrogant that sounds but a good chunk of arrogance goes a long way when you step on the mound.  Believing in yourself is a prerequisite and my coaches all knew I understood infinitely more about pitching than they did.  So they left me alone.
College coaches love to call signals.  I despise it.  When you call the game for your pitcher you're telling him you don't think he's smart enough to figure it out.  You're telling him you don't trust his judgement.  You're telling him he's not in charge.  You're telling him you have no confidence in him.  You are essentially bruising his ego with a battering ram.
So why is he out there?
When you step on the mound the game belongs to you.  It's yours.  You get the W or the L pinned to your name in the box score.  I'd rather see you throw the wrong pitch, the one you want, than the right pitch called by the coach.  Your belief will make it work.  Or you will learn.  Learning is good.
I can manage the game better than the guy on the hill.  But what does that prove?  And how does that help him develop?  How will he grow if I won't even let him call his own pitches?  That sends this wonderful message: I don't believe in you.
I'm trying to develop my players.  Not just physically.  But also mentally.  I want them to take responsibility, to learn to make decisions, to become a man.  There is something very subliminal about this.  It's an attitude.  A lot of kids have never been asked to take control of anything.  So they shy away and become passive.  They run away from stress as if its Ebola and they're relieved when the coach calls the pitches.
This is detrimental in so many ways I'd need a doubleheader of closer Sigmund Freud and DH Alfred Adler to explain it.  (Look it up.)  Stress comes with the territory and learning to deal with it positively is a Life Lesson.  It really helps if the coach supports ALL the decisions, especially the WRONG ones.
The more the pitcher takes charge the more positive and powerful he becomes.  The more he grows.  The more he believes in himself.  Isn't that what this is all about?
                        

Bob Gibson in 1968 when he posted 17 K's in game one of the World Series.
And no one ever told him what to throw.  (See Tim McCarver below)
Watch big league pitchers.  They shake off signals as often as McDonald's sells a Big Mac.  TV analysts will talk about a catcher calling a good game and there's no doubt it helps when the dude behind the plate is in synch with the guy on the hill.  But the catcher calls nothing.  He makes a suggestion, which the pitcher either accepts or shakes his head until he gets what he wants.
NOTE: With a runner on first, you will often see the catcher peering into the dugout.  But he's not looking for pitch selection.  A coach, who is perusing baserunning stats as if they were the Holy Grail, tells him if the pitcher should throw over.  In which case the catcher flips his thumb, a pick-off signal.
Mark Buehrle was famous for never shaking off.  Which I don't understand.  I don't want a robot out there or a guy who thinks the receiver is relaying the Gettysburg Address.  As soon as the ball crosses the plate you should be sure what your next pitch will be.  It's your call.
    So what does Shaking Around mean?
The catcher puts down one finger for a fastball.  You shake it off.
Then two fingers for the curveball.  Shake again.
Okay, three for your slider.  Another twist of the head.
So the catcher exhausts your repertoire and wiggles for your circle change.  Once again, you shake it off.
With nothing left in the tool box, your catcher starts all over again.  He slides one finger down for the second time.
And you throw a fastball down the middle.
Meanwhile, let's visit the batter's box.  The hitter's mind is racing like he's in a Star Trek time warp.  How many pitches does this guy throw?  He's absolutely sure the fastball is no longer in the mix because that would certainly be the first or second signal.
So he's conjuring up all sorts of mysteries for your Apocalyptic Fifth Pitch.  In keeping with our Star Trek analogy maybe it's something as weird as a Gravity Ball from an Alien who's Universal Slider was all the rage in the Jupiter  Rookie League.  Or maybe it will pull a Criss Angel and disappear like a wisp of smoke.  Or sprout wings and soar over the backstop.  Or slam on the brakes halfway to the plate, make a U turn, and return to the mound like a forkball boomerang.
The hitter waits for the Fifth Pitch Bizarro to shred, to deliver the punch line.  But the fastball simply meanders into the catcher's glove for a called strike three.
That's Shaking Around.  I used it once almost every game I pitched for 15 years and it always worked.  A little thing.  A shingle.  Keeping out the rain.
                      HOW TOUGH WAS BOB GIBSON?
                 "One time I went out to the mound to talk to Bob Gibson.  But
                   he told me to get back behind the plate.  He said the only thing
                   I knew about pitching was that it was hard to hit."
                                          --Catcher, analyst and interviewer TIM McCARVER

The ineffable Nolan Ryan driving to the plate.  Seven no-hitters, 12 one-hitters and  5,714 strikeouts.  He topped 100 mph but there are those who say Steve Dalkowski legitimately hit 110.  Can that be true?  Scroll down to answer this question for the ages. 
Stay Inside the Ball
Nothing bothers pro hitting coaches more than a guy with a LONG swing.  They wake up in the middle of the night, sweating profusely and mumbling, "Get short to the ball, stay inside the ball.  Please, please."
LONG means two things.  Dropping the bat head and looping.  Or hooking around the ball.  Those two are as welcome as that crazy uncle who visits on Thanksgiving, thinks forks are an alien conspiracy, and keeps yammering about the awesome Aerosmith gig he saw in 1978.  LONG is flat out evil.
It seems like no big deal when you're LONG in tee ball.  But it starts a bad habit that can become chronic and as hard to correct as giving up Oh Henry bars.  Better to nip LONG in the bud when you're eight than wage war against it when you're in high school.  When they start throwing in the mid-80's LONG is as lethal as climbing Everest in a tee shirt.
LOOPING AND HOOKING
Looping means you're sloppy and late.  Hooking equals a broken bat or a foul ball.
Coaches always talk about being SHORT, a term I avoid like a virus.  SHORT  to a lot of young hitters gives them the image of punching the ball with an abbreviated swing.  Not good.
I coached a player with the Twins, Andrew Clements, who had a solid line drive left-handed swing and hammered shots in the gap for doubles.  Then he went to college.  When he came back he took some rips at Ambleside.  But they weren't rips.  He was punching the ball with very little impact.  SHORT.  At least that's what his college coach called it.  I called it a waste of talent.  He went from a guy who hammered line drives to a guy who poked routine groundballs.  Not a good trade.  By the end of the workout Andrew, a very good athlete who later became an exceptional coach, was back to ripping.
Okay, so now I'm asking you to do some visualization here.  Put yourself in the batter's box and imagine what it feels like swinging the bat.  (Take a look at the next segment for more on visualizing.)
When I coach a hitter I never use the word SHORT.  I want him to start with his hands as DEEP as possible without being stiff and bar armed.  This gives him leverage and drive.  Then I show him how to take the bat head DIRECTLY to the ball.  No loop.  DIRECTLY to the ball.  This is the first answer to LONG.
Getting your hands back is crucial.  It seems counterintuitive but DEEP actually gets the barrel to the Rawlings much faster because the leverage ignites bat speed like a drag racer generating RPMs.  Bat speed is as crucial as sunscreen in Arizona.
    This is the LAUNCHING PAD and it's crucial.  The hitter has a
wide base, his hands are DEEP, he's perfectly balanced, and
he's COILED and primed to EXPLODE.  If he takes the barrel
DIRECTLY to the hitting zone, stays INSIDE THE BALL, and
POPS HIS HIPS he's in great shape to drive a shot in the gap.
Okay, so far, so good.  We're creating violent impact by taking the bat head DIRECTLY to the ball, which eliminates looping.  So what about hooking?
That feisty guy on the hill has you in a hole, a 1-2 count, and he comes inside with an 88 mph fastball on the black.  If you cast your hands away from your body you'll either get jammed and splinter your Louisville wood or come around the ball and hook it foul.  Neither one will get you to B.C. Selects camp.
So you PULL YOUR HANDS IN and POP YOUR HIPS
Watching games on TV I often heard analysts talk about staying inside the ball.  Didn't know what it meant.  How do you get inside the baseball without tearing the cover off?  Finally figured it out.  And realized it's one of the most important fundamentals of hitting.
You're looking for contact on the sweet spot.  So you PULL YOUR HANDS IN and EXPLODE YOUR HIPS like a Whirling Dervish.  (And you haven't heard that term for a few decades)  This Daily Double gives you a winner.  Suddenly, you barrel the heat and drive a double in the gap.  No broken bat, no wasted foul ball.
That's all it takes.  Don't cast.  Pull your hands in.  And pop your hips.
So we've got the answer to the dreaded LONG.  We're not going to punch at the ball, which is about as effective as eating tomato soup with a fork.  We'll get DEEP with our hands and swing DIRECT to the ball to stop looping.  And STAY INSIDE THE BALL to keep it fair.
The next step is extending THROUGH THE BALL for as long as possible.  But that's another story.
Right now it's DIRECT and INSIDE.  And your hitting coach can sleep at night.
                        Visualization
The University of Chicago did an experiment involving visualization and basketball.  For openers, they had the players shoot 100 free throws and recorded their percentages.  Next, they divided them into three groups.
GROUP A—Didn't practice.  No free throws.  No visualization.  Nada.
GROUP B—Shot free throws one hour daily.
GROUP C—No shooting.  But VISUALIZED free throws every day.
          After 30 days they tested the athletes again.  The result?
GROUP A—No improvement.  Some scores dropped.
GROUP B—Scores improved 24% by practicing.
GROUP C—Scores improved 23% by VISUALIZING 
Visualization is a great way to practice when you're away from the field.  It's not easy.  It takes concentration and imagination but the results are magnificent.  Close your eyes and practice.  See the ball onto the bat and a line shot in the gap.  Visualize the catcher's glove and see yourself throwing a blazing strike with perfect mechanics.
"If you close your eyes and visualize doing something your body's actions are programmed exactly the same as if you actually did it.  As your brain imagines a movement, the neurons transmit those impulses from the brain to the muscles."
                               --JUDD BLASLOTTO, Ph.D power lifter

E=mc2
      "Imagination is more important than knowledge."
--ALBERT EINSTEIN, the father of modern physics and the atomic bomb.  He developed his Theory of Relativity by imagining he was soaring through space riding on a photon.  And, if you can figure out what those equations mean, you're probably not reading this, anyway.
WRITING ABOUT STEROIDS REMINDED ME OF A GUY WHO POISONED HIMSELF WITH DRUGS AND ALCOHOL BUT THREW A NOTORIOUS NO-HITTER DURING HIS ROLLER COASTER RIDE THROUGH THE MAJOR LEAGUES.
DOCK ELLIS.  NOT DOC AS IN DOCTOR.  BUT DOCK WHERE YOU PARK A BOAT. 
  "I thought Jimi Hendrix was hitting"
                 Dock Ellis and the acidic no-no 
Ellis threw the weirdest no-hitter ever in 1970 for the Pittsburgh Pirates.  Later he admitted he was under the influence of LSD, which became a legendary story and part of the stand-up routine of Robin Williams.
The Pirates were playing a series in San Diego and Ellis got permission to visit a friend in LA.  Absolutely sure he had the next day off, Dock swallowed a tab of acid at the airport.  When he got to the house his friend's lady asked what was wrong and Dock admitted, "I'm as high as a Georgia pine."
Somewhere along the line he totally lost track of time and took another hit of LSD.  When the girlfriend checked the sports page she said, "Dock you're pitching tonight in San Diego."
 Ellis asked, "What happened to yesterday?" 
 He hopped on a shuttle flight that cost the princely sum of $9.50 and was off to the races, so to speak, still wrapped in the throes of a lingering acid attack.
 When Dock got to the park he made a connection with his regular dealer, a woman who supplied him with the stimulant Benzedrine.  He took a hit, trying to counteract the LSD, which causes massive hallucinations and a complete withdrawal from reality.  
"The players from both teams knew I was high but they didn't know what I was high on.  They had no idea what LSD was outside of what they saw on TV with the hippies."
          "I was used to medicating myself.  That's how I dealt 
            with fear.  The fear of failure, the fear of losing, the 
            fear of winning." 
 There was a slight mist that day and Dock had trouble indentifying the hitters.  He could only distinguish which side of the plate they were on.
Catcher Jerry May wore reflective tape on his fingers so Dock could see the signals.  "Sometimes the ball seemed large, sometimes it seemed small," Ellis remembed.  "Sometimes I saw the catcher, sometimes I didn't.  In the fourth inning I thought President Nixon was the plate ump and at one point I was pitching to Jimi Hendrix, who was swinging with his Stratocaster.  I remember diving out of the way of a line drive but the ball never reached the mound.  The third baseman picked it up and threw the hitter out."
                    Jimi Hendrix in the on deck circle with his Louisvlle Slugger
Ellis walked eight, struck out six, hit two batters, and escaped three bases-loaded jams.  "I was pitching a crazy game.  I'm hitting people, I'm throwing balls in the dirt, they're going everywhere."
 To Dock the game either took an eternity or about five seconds. But eventually the Pirates etched a 2-0 win and he had the no-hitter.
Ellis was also involved in a bizarre knockdown incident.  In 1972 a security guard maced him when he tried to get into Cincinnati's Riverfront Stadium without showing proper ID.  Dock waited two years for his revenge.  Taking the mound with a vengeance he tried to bean every hitter in the Reds lineup. 
Pete Rose led it off, knowing all too well what Dock had in mind.  He took a pitch in the ribs and ran to first base, as only Charley Hustle would.  Next came Joe Morgan, nailed by a fastball, and then Dan Driessen became victim number three. 
          It must be noted this came before the automatic warnings umpires now
give when a knockdown war becomes evident.  In those days head-hunters
like Bob Gibson and Don Drysdale got away with mayhem on the mound.
Drysdale, who was 6-7 and ignited extreme fear in hitters by flamethrowing
95 mph heat from a wicked sidearm delivery, once said, "If you hit one of
my guys I'll hit two of your's.  Hit two of mine and I'll hit four of your's."

Tony Perez was next for the Reds and he was prepared to dance, avoiding the attack from Ellis.  "Just stand in and take it," the catcher warned, "because he'll keep throwing at you until he hits you."  But Perez was nimble enough to avoid four pitches in a row and drew a walk.
Irritated and frustrated Ellis then aimed two fastballs at the head of Reds Hall of Fame catcher Johnny Bench.  At which point Pittsburgh manager Danny Murtaugh mercifully pulled him from the battle.
Ellis had a severe addictive problem and it eventually killed him.  An alcoholic, he succumbed at age 63 to cirrhosis of the liver, an agonizing death.  Dock once analyzed his psyche this way, "I was used to medicating myself.  That's how I dealt with fear.  The fear of failure, the fear of losing, the fear of winning."  He used stimulants before he pitched and cocaine and alcohol after the game.
 Obviously, Dock Ellis got very little enjoyment out of playing baseball.
LEVELS OF PRO BASEBALL
ROOKIE LEAGUE—The first step.  Almost all high school drafts start here.  The Gulf Coast League or Arizona Rookie League.
SHORT SEASON "A"—Short season kicks off in mid-June, after the major league draft.  A lot of players selected from college teams begin at this level.  The Vancouver Canadians, who play in the Northwest League, will host Everett in their home opener at Nat Bailey Stadium on June 20.

                Rob Fai, who does a great job calling the Canadians games

MIDDLE "A"—The first long season level.  Players love to get to middle A because extended spring training can become pretty boring.  Starts in April.
HIGH "A"—The Launching Pad.  The Florida State, Carolina and California Leagues are keys for the developing player.  High A separates the men from the boys.  Once a player hits this level you know he's a blue chip talent.

DOUBLE A—Getting close.  Top prospects will often jump from Double A to the bigs.
TRIPLE A—Your friendly next door neighbor to the MLB.  Triple A guys are a smartphone away and some players go back and forth several times.
First Pitch Cutters
When analysts talk about a hitter's count they usually ignore the first pitch.  But that may be the best hitter's count of all.  Most pitchers, especially at the high school level and lower, start a hitter with a fastball and often it's in the middle of the plate because they want to get ahead.  (Rule one)
Yes, some hitters go deep in the count and there are even guys like Wade Boggs, who seldom if ever swung at the first pitch.
But FIRST PITCH FASTBALL HITTERS are as common as smartphones.  They hunger for heat in the on deck circle.  When they step in the box, they sit on a fastball in their favorite zone, all set to crush.
 You can start them with a curveball or change-up but you risk getting behind because those pitches are harder to control.  The hitter knows he doesn't have to chase so he takes it for ball one.  And you're digging a hole.
So what's your counter attack?
 CUT FASTBALL—The cutter is a great opening shot against an aggressive hitter.  Much easier to control than a curve or change. 
An RHP should bust the cutter in on the hands of a left-handed hitter and off the end of the bat for a righty.  Their mouth waters as they see fastball, fastball, fastball...until it's too late…and you've got a weak pop-up or a routine groundball.  One pitch, one out. 
Mariano Rivera branded the cutter.  He made it a household name, as famous as Brad Pitt.  He was a One Trick Pony because that was all he needed to break more wood than a lumber mill.  That cutter jammed lefties like a voracious predator and righties trickled it harmlessly on the ground.

I asked Justin Morneau what it was like hitting against Mariano.  He said you obviously knew it would cut but it still looked like a straight 95 mph fastball.  You'd start to hack…and whap it's suddenly a Phantom drone chasing your fists.  Sometimes the mind plays tricks.

The cutter is The Great Equalizer.  Let's say you're a lefthander with a sweeping curveball.  You throw it to a righthanded hitter and he just waits and either takes it for a ball or times a hanger and slashes.  But, if you develop a nasty cut fastball, you're jamming him up, gnawing away like a buzzsaw.       
We'll talk about the cutter in great detail at a later date.  How Rivera threw it.  When to use it.  How to ramp it up into a slider.  And, even more crucial, HOW TO PROTECT YOUR ARM BY THROWING IT PROPERLY.  Stay tuned.        
 Pete Rose and focus
                  Pete Rose, who was nicknamed Charley Hustle
                  and spent a lot of his baseball time getting dirty.
I have a great video of Rose in the 1984 all-star game when they resumed combat right after the player's strike.  Rose takes a pitch and diligently follows the ball into the catcher's glove.  Excellent.  I teach that all the time.
But he's far from through.  As the catcher starts to throw Charley Hustle concentrates on the ball like a 747 pilot finding the runway in the fog.  In fact, Rose swivels his head and tracks the Rawlings right back into the pitcher's glove.

Focus.  He is simply training his eyes and central nervous system to see ball, hit ball.  Is it any wonder this guy had 4,256 big league hits?
Developing COMMAND
Pitching is all about throwing strikes
Without Command you're a Ferrari minus a steering wheel

Command means control, which means throwing strikes for openers.  And then throwing to spots.  But never get ahead of yourself.  Just pounding the zone like a piledriver works.  At any level.  If you try to paint all the time and you're giving up too many walks then simplify and concentrate on crashing the strike zone.  Walks are lethal.
 Command is generated from two words.
Balance    Direction
When an MLB pitching staff walks eight or 10 hitters it isn't always because they're being too fine and missing spots.  Often they lack stability and direction.  You see it all the time.  Major league pitchers throwing off balance and off line. 
Simply put, BALANCE requires leg and core strength, the rock solid foundations of COMMAND.  You MUST control your body from start to finish of your WHOLE DELIVERY.  There's no magic balance point.
This is where knee raise enters the picture.  It can be good...and it can be bad.  For openers, knee raise establishes your rhythm.  You don't want to be frantic or disjointed.  But you also don't want to be slow and languid.  Get into a good, solid rhythm that gives you momentum.
Don't drift or rush your upper body.  Keep your head almost over your post foot (slightly forward) until your knee reaches the top.  Rushing your upper body forces your arm to struggle to catch up.  But, even more  important, when your knee hits the top, IGNITE.  Don't hang there--GO.  You're not doing a high wire balancing act.  Drive down the hill.
 
This is JACOB THOMPSON's knee raise.  He's compact, balanced, under control, maintaining his rhythm and momentum and ready to lead with his hip and drive down the hill.  He's looking over his front shoulder, his foot is under his knee, his head is level, his hands are close to his body to stabilize his center of gravity, his post leg has a bit of flex and his foot is solid in front of the rubber.  NO STOPPING AT THE MYTHICAL BALANCE POINT.  Just knee raise and GO.  (Photo by Erin Nikitchyuk)
Despite what you hear from TV analysts this is NOT a "leg kick."  Kicking your leg stiffly out from your body knocks you out of kilter and rocks your weight (RHP) back toward first base.  Keep your foot comfortably under your knee.   As far as height is concerned, some pitchers love to bring their knee up to their neck, some to their waist, and some halfway in between.
ROTATION AND COIL--How far back do you rotate?   My personal preference is to the middle of your body.  This gives you coil to store energy, helps your hips explode and adds deception.  Guys like Tim Lincecum rotate all the way back to second base--but I wouldn't recommend that for a young pitcher.  Keep it simple.  COIL and then UNCOIL.


Here's a good shadow boxing drill.  Stand in front of a mirror.  LIFT your front knee DIAGONALLY toward your back shoulder, coiling it to the middle of your body, no farther.  This will help embed the mechanics into your muscles.

   When knee raise works against COMMAND
So far, so good.  But now the flip side of the coin.  If you're unstable when you knee raise, you'll be fighting to survive like a neophyte on the slopes of Whistler.  In fact, knee raise can  be the Bad Boy of Pitching and it's value is often overrated.  It actually does little to increase velocity and it's often destructive.  
If it rocks you off balance, then knee raise is a negative.  Wobbling at the top of your delivery is like pitching in a tornado.  The trend these days is to CUT DOWN knee raise for better command and velocity.
NOTE:  I often see pitchers throwing their foot up in the air as high as they can, pushing themselves totally off balance and making it impossible to have command.  They'd be far better off to just bring their knee up to their waist, stay compact, and then drive, rotate and finish with power.  You MUST have control of your body like a great break dancer.

(See Simplify, Simplify, Simplify for much more on this.)
POST FOOT--Just like in the picture above, it's crucial to keep your post foot stable.  Coaches should tamp clay in the front of the rubber to help their pitchers stay solidly anchored.
THE FOUNDATION--Work in the gym on developing your leg and core strength.  This all starts from the ground up.  Strong legs and core are the foundation of power.
DIRECTION--Pure physics.  You are delivering energy to the plate.  So stride directly at the catcher.  You'll see guys like Madison Bumgarner who is lethal even though he's six inches off line and throwing against his body.  It works for him but, in general, it's better to be direct to the plate.  We'll get a lot more into direction when we talk about your STRIDE.
          And now...time for something completely different
This is JOHN LOLLAR on the hill for Murray State in a great shot from photog Jeff Drummond.  It works for him, maybe because it has a lot of deception, maybe because it hypnotizes the hitters, maybe...well, who knows?  He must have amazing balance.  But I certainly wouldn't recommend it.  Try the ANDREW MILLER No Knee Raise approach instead.  After all, Miller is making $9 million a year starring in the bull pen for the Indians.
  The Legendary Yogi Berra
I doubt if anyone else in sports has been quoted as often as Yogi, the great Hall of Fame catcher with the Yankees.  Some of the quotes have undoubtedly been invented but, still, his words are as memorable and entertaining as Hamilton on Broadway.  Here are just a few:
"No one goes to that restaurant any more.  It's too crowded."
"Baseball is 90 per cent mental and the other half is physical."
"You better cut the pizza in four pieces.  I'm not hungry enough to eat six."
" If people don't want to come to the ballpark, nobody's going to stop them."
Why Infielders Commit Errors
There are five main reasons an infielder kicks a groundball or makes a throwing error.
LACK OF FOCUS—He's distracted.  His mind is elsewhere.  Maybe he made an error earlier in the game or had a bad at bat and he's obsessing on it.  Maybe his parents are in the stands and he thinks he's embarrassed them.  Maybe the coach chewed him out.  Maybe he just has a hard time staying on track.
When people talk about "choking" they really mean lack of focus.  You simply have to learn to see the ball into your hands.  To CONCENTRATE.  Do one thing at a time.  Don't be throwing the ball until it's in your glove.  FOCUS.
Here's a good drill for blocking out distractions.  In practice have a teammate trash talk while you're taking groundballs.  Nothing too mean, just joking around so you'll lose your concentration.  This can be fun and creative.  And it teaches you to blank out the negative images.  Work on focus in practice and you'll focus in games.
NOT ENOUGH REPS—Coaches incessantly talk about the mental game of baseball and, of course, it's crucial.  But the mental begins with the physical.  You can't talk a player into confidence by telling him how good he is.  Pep talks are for movies.  Hard work is for players and confidence comes from endless reps.  Repetition after repetition after repetition, all with solid technique.  Take as many groundballs as you can.
When I coached the North Shore Twins we had a new shortstop at his first practice.  After about 15 minutes of non-stop double play feeds he had to sit in the dugout because he'd never worked so hard and he thought he might throw-up.  For our veterans it was just another normal practice.
                                      Dustin Pedroia making another spectacular play
FEET IN CEMENT—Your set-up should make you free to move quickly.  You have to get your cleats out of the ground before the pitch gets to the hitter.  Dustin Pedroia loves to hop into his set position.  Most players will do a two-step approach, some will just flex their legs so they can push off.
I often see infielders who've been taught to crouch with the glove held out in front, palm up.  Which creates tension in their legs and arms.  I'd much rather see middle infielders just relax, standing up almost until release point.  Then short left foot, right foot steps and some flex.  This gives you rhythm and momentum.
When I went to Florida to watch the Gulf Coast League I always marvelled at the way the Dominican infielders got such a great jump on the ball.  They seemed totally at ease, so relaxed and confident they made it look easy.  That comes from taking a million fungoes and learning to track the ball into your glove.
Tension equals slow.  Relaxed equals quick.
FEAR—It's natural to be afraid of taking a groundball in the chest or the face.  Very natural.  The toughest play for any infielder is not the ball to his left or right that tests his range.  It's the HARD HIT GROUNDBALL RIGHT AT HIM.  This can cause anxiety, especially on fields with uneven ground and large divots.  Bad Hop Hell.
Coaches should drag and manicure the field as much as possible but it won't totally eliminate all the tough bounces. Ironically, when a player gets into college or pro ball the fields are infinitely better, but, when he needs it the most, at age 10 or 11, it's pot luck.  When I coach younger kids I won't hit a groundball until the infield has been properly dragged.
So how do you overcome this natural anxiety?  It's tough but it takes mental discipline and belief in your hands.  All great MLB infielders have learned to push fear out of their minds.
POOR FOOTWORK—I teach 12 infield throws to first base and 15 double play feeds, five each from third, short and second.  Proper footwork eliminates a huge amount of throwing errors.  We'll go into that in the weeks to come.
Aaron puts the President on hold
"After I hit the home run, I went back to left field, and I was standing in my position to catch a fly ball, and Donald Davis, our traveling secretary, was running down the left field line. He was telling me the President was on the telephone. And I said, 'Well fine, Donald, but what do you want me to do?  Stop the ball game?  Just put the President on hold, and I'll be right with him.'"
--Hammering Hank on Letterman, talking about home run 715

Simplify, Simplify, Simplify
One of the most dominant trends in pitching is a simplified delivery. Here are some blue chip examples:
Starters throwing from the set with no wind-up
       Yu Darvish, Marco Estrada, David Price, Clay Buchholz
Cut down knee raise
       David Price, Noah Syndergaard
No knee raise at all
       Andrew Miller, Fernando Rodney, Clay Buchholz
     Why?
     Reducing your knee raise gives you much better control of your body.  You can't throw strikes if you're wobbly at the top of your delivery.  The biggest obstacle to having command is an exaggerated knee raise that forces you to struggle to maintain balance.  It's like watching a tightrope walker trying to pitch.
    Price and Syndergaard only knee raise to their belt.  No higher.  And they both throw bullets.  Buchholz changed from a knee raise to a simple inward coil and slide step.  This gave him solid command with no loss of velocity.
    Throwing from the set makes it easier to repeat your mechanics.  No wasted motion.  Nothing to throw you off balance.  What's more, the young pitcher does not throw off a pro mound, which uses beam clay and is groomed to perfection.  When he takes his rocker step in the wind-up he has to battle uneven ground that's a distraction at best and a land mine at worst.
  This is Mariano Rivera, who had the most perfect delivery I've ever seen.  He was always balanced, his knee raise concise and controlled.  No excess motion, nothing to disrupt his rhythm or drive to the plate.  A great shot by photographer Keith Allison.
Why don't closers wind-up?
Some TV analysts will tell you the wind-up increases velocity.  Uhuh.  So why do virtually all closers, the hardest throwers in the game, start from the set all the time?  Why don't they use a wind-up with no one on base if they could jump from 96 mph to 98 or 100?  Are they just really nice guys who don't want to embarrass the hitters?  Or do they understand throwing from the set gives them stability,  command, and more velocity?  The answer seems obvious.
If you feel comfortable using a wind-up, that's fine.  Just make sure you're solid and balanced.  Otherwise, there is no advantage to pitching from a wind-up.  The wind-up adds nothing.
LEARN FROM ANDREW MILLER
He's from the set, of course.  And he has NO KNEE RAISE at all.
He simply coils a bit and slide steps.  The result?  Andrew Miller
is as lights out as it gets with an explosive 94 to 98 mph fastball
and a slider that's so filthy the ball needs a bath.
   More from Yogi
"You can't hit and think at the same time."
Now this one is pure Berra wisdom.  Do your thinking in the dugout and the on deck circle.  Can the pitcher throw his breaking ball for a strike?  Does he start every hitter with a fastball?  Does he have a change-up?  What is your Game Plan?
When you step into the batter's box, get your mind out of the way of your body.  Focus on the ball.  Concentrate.  And let it rip.  If you want to re-think something, step out and get your mind right.  If you've taken enough BP, if you've learned to recognize pitches, just react to the ball.  Over thinking causes tension, which slows you down.  Relax, focus, and be quick.
Is this guy the best player in the game?  He just may be.  He's only 25 and getting better every year.  Where will Trout be in four years when he becomes a free agent?  The sky's the limit.  How about $50 million a season?  Or is that low-balling him?
Wisdom from Mike Trout
Here's a great piece of advice from Trout, a hitter with immense natural talent.
"Keep your head on the ball.  You've got to hit it first, then look where it goes.  Hitters get in trouble when they look where the ball is going and they haven't even hit it yet."
I see this all the time with guys who are pocketing two or three hits every game.  But then they drift into a slump and they can't figure it out.  When they were crushing they  focused, they saw the ball right on to the bat.  And they drilled blue dart line drives.  So now they expect that every time.  And they start looking where the ball is going instead of seeing it hit the wood.  Focus.  Sounds simple, right?  But how many MLB hitters forget this basic truth?  Trout gets it.
THE LEGEND OF
     STEVE DALKOWSKI--"White Lightning"
                                       "The Fastest Pitcher Ever"
   Steve Dalkowski is undoubtedly the fastest pitcher who ever lived but chances are you've never heard of him.  Dalkowski, who was only 5-11, signed with the Orioles but never got to the big leagues.  Legend has it he threw 110 mph and maybe even harder.  Unfortunately, he was as wild as a crocodile in heat.
Just a few of his incredible stats:
* He struck out 24 in one minor league game but issued 18 walks, hit four unlucky hitters and threw six wild pitches.  He lost 8-4.
* A no-hitter with 20 K's but he walked another 18 and picked up the loss again.
* Now this one is truly amazing.  Eastern League in 1962, extra innings, 27 strikeouts, 16 walks and 283 pitches.  These days a guy throws more than 100 and he's talking to his attorney about a law suit.
   Overall, in nine seasons Dalkowski tossed 995 innings, striking out 1,396 and walking 1,354.  And get this--over those nine years he gave up only 37 home runs.  Unbelievable.
    How fast was he?  Who knows.  Cal Ripken, Sr. guessed White Lightning actually threw bullets as high as 115 mph and most observers agreed he routinely hit 110 and better.  Some even claimed 120, which is ridiculous (isn't it?) but radar guns have only been omnipotent for about three decades so there's no way to tell for sure.  And it wasn't just the velocity that was so impressive.  It was also the soaring life.
    "His fastball would rise a foot to two feet between the mound and the plate," says former teammate Ron Hansen.  "It looked like an airplane taking off.  Most of the time it never came close to the plate."
     "Dalkowski would throw a fastball that looked like it was coming in at knee level," says catcher Andy Etchebarren, "only to see it sail past the hitter's eyes."
     Dalkowski threw a pitch that hit a man in the back—while he was standing in line to buy a hot dog.  (The fan asked him to autograph the ball.)  On a bet he threw a ball through a wooden fence and he once broke umpire Doug Harvey's mask, driving him back 18 feet.  In one game his fastball broke through the backstop three times.  And legend has it he once threw a ball 440 feet from the plate and over the center field fence.   

   Ted Williams, who hit .406 in 1941 and is considered by many to be the greatest hitter ever, faced Dalkowski for one pitch during spring training in 1956.   "I never saw the ball,"  Williams told reporters.  He said Dalkowski was the fastest pitcher he'd ever faced and added, "I never want to face him again."
   Remember Nuke Laloosh, the pitcher in Bull Durham?  Apparently, scriptwriter Ron Shelton based the part on Steve Dalkowski.
   Nolan Ryan was gunned at 100.9  mph, a Guinness record.  Earl Weaver, who saw them both pitch many times, said, "Dalkowski threw a lot faster than Ryan."  Under Earl's tutelage White Lightning finally got it together and was slated to pitch for the Orioles, but he hurt his arm before opening day.  Wouldn't it have been great to watch him pitch in the big leagues?
  If only Dalkowski had even basic location to go with that flamethrower velocity.  If only.