WHEN THE WEST COAST WAS KING
     The Golden Age of Morneau and Dempster
Back when dinosaurs roamed the earth in the 1990's the west coast of Canada was a fertile breeding ground of dynamic baseball talent.  Top draft picks popped up faster than video game icons.  It was a veritable deluge of major leaguers.
For openers there was Larry Walker, a raw slugger from Maple Ridge who went on to sit on the edge of the Hall of Fame.  He was followed by American League MVP Justin Morneau and all star Ryan Dempster, who threw for 16 MLB seasons. 
Then there was hard-throwing righthander Rich Harden from Victoria.  And Adam Loewen and Jeff Francis, who were both drafted in the first round in 2002.  Francis posted a very creditable career with six MLB teams and Loewen would have been the best of them all if he hadn't wound up with a steel plate in his arm courtesy of some misguided coaching.
                    Adam Loewen, the greatest Canadian talent ever
It was a Golden Age, a time when flamethrowing arms and crushing swings blossomed like hothouse flowers.  The B.C. Selects dominated the Canada Cup and the Junior National Team might as well have been stationed in Vancouver so the players wouldn't need to travel.
The Parksville tournament every May was a magnet for scouts and you looked forward to it like Christmas.  When 17-year-old Loewen took his 6-6 frame and 96 mph fastball to the hill the crosscheckers and area scouts were three deep, flashing an army of radar guns and licking their lips.
The Premier League coaches were guys like Bill Green and Ari Mellios and Dennis Springenatic and Dave Wallace and Mike Chewpoy and dudes named Dave Empey and Paul Gemino and we were either working for expenses or $5 an hour if we were lucky.  But no one seemed to care.  We were developing pro ball players hand over fist and they were even making it into the Big Time.  Hallelujah.
We had some obvious advantages over the rest of the country.  The weather here is downright balmy compared to Winnipeg and Orillia.  In fact, it's much milder than most of the US of A.  Try taking outdoors BP or infield practice in January in Nebraska or Oklahoma or West Virginia.
_________________________________________________________________
"We mercy almost everybody.  Our kids keep asking when we're playing that Canadian team because you always give us a battle."
____________________________________________________
What's more, in the early days, before the PBL, our schedules often included two weekend trips every month south of the border.  Our kids played the best American teams we could find in Washington State and thrived on the competition.  All told we played about 120 games every year and practiced three times a week.
When I started with the North Shore Twins I was told not to schedule U.S. Bank because the Bankers were a powerhouse, almost the Washington State all-star team and they even imported players from as far away as Chicago.  So they were one of the first teams we scheduled and we played them five years in a row.  We never beat them but their coach told me, "We mercy almost everybody.  Our kids keep asking when we're playing that Canadian team because you always give us a battle."
With the Twins we often had two or three players drafted every season and, at one point, Walt Burrows, the head of the Major League Scouting Bureau, had the Twins play the rest of the province for his annual scout day. "The scouts say you have the best prospects," he told me.
              Theo Millas, who went from the Reds to the Blaze to the JNT
So what the hell's been going on for the past 17 years?  There have been some sparse shining lights, most notably James Paxton, but B.C. no longer dominates the Canada Cup and only two west coast players, Theo Millas and Tate Dearing, made the current Junior Nats.
It's like the Gobi Desert has relocated to B.C.  The Major League Bureau stopped scouting this area several years ago because there wasn't anybody to scout.  Eventually the Bureau was even disbanded.
I talked to half a dozen scouts about this scourge. One told me, "The PBL is awful now.  I don't go to the games any more.  There are very few good players.  And nobody in B.C. gets drafted.  The proof is in the pudding."
_____________________________________________________
Why?  Burrows, who is now scouting for the Minnesota Twins, has a few perceptive reasons.  "The kids don't put in the time," he reflects.  "They think they've got it made.  They think they're going to the Promised Land."
_____________________________________________________
Walt says he sees a lot of pitchers who lack arm strength because they don't throw enough.  "A lot of the guys here used to throw 85-86 and now it's 78."
Burrows, who is one of the best in the business, is always looking for that kid with a pro body who has developed his mechanics well enough to blitz the zone with velocity.  He doesn't see it here very often. "Anybody throwing 85 now is throwing hard compared to the rest," he says.  "But the major league average is up to 93 miles an hour."
Burrows is not a big fan of showcases.  "The umpires speed up the game by expanding the strike zone," he points out.  "And they start with a count of one and one.  Scouts flock but a showcase isn't what really matters.  Just watching BP isn't good enough.  You have to see them play in games."
Still, a lot of parents don't understand.  "They buy in," Burrows says.  "But look at the results, look at the reality of who gets signed."
                          Walt Burrows, one of the best
He uses Dempster as a classic example.  Ryan used to throw over 100 pitches in bull pens twice a week when I had him with the Twins.  He was solid, his mechanics were perfect, he used Jobe's and tubing to take care of his arm and he ran thousands of sprints to build fast twitch endurance.  There was virtually no chance of him injuring his arm.
And, if you think a 100 pitch side session is excessive for a pitcher who is in mid-season shape, I beg to differ.  When you throw 100 in a game it's actually more like 180, including your warm-up and the eight before each inning.  What's more, you're bearing down on every pitch.  Plus you sit down after each frame and your arm tightens just a shade.  A bull pen is straight through and you're working on command and fine tuning.  It has far less stress.  But it certainly develops arm strength.
           "These kids pitch two innings and they're done."
"Ryan didn't care about all the radar guns," Burrows says.  "He cared about winning.  I watched him throw in at least 40 games and I don't remember him ever not throwing seven innings.  Now these kids will pitch two innings, 40 pitches, and they're done.  They don't have any endurance."
Walt pretty well nailed the problems.  But, wait.  There's hope for the West Coast after all.  There are stirrings, little bubbles of hope.  Are things about to turn around?  Is a U-turn on the horizon?
Maybe so.  In our next story let's take a look at some of the B.C. prospects who competed in the T12 tournament this fall in Toronto.
NINE FOR THE MONEY
            The Pendulum Swings West
There were nine West Coasters who gave notice at the T12.  It comes as no surprise that five of them are on the roster of Doug Mathieson's Langley Blaze. 
RHP Theo Millas (Blaze)
Theo threw a pair of good ones against Venezuela and Panama in the Pan Am U18's.  He's only 16 so he has a lot of head room and he's the trailblazer.  He was also a standout at the T12.
"He was the best pitcher there with a lot of upside," said former Blue Jays ace Duane Ward.  "He went out and pitched. One of the few guys who hit 90 MPH."
And from assorted scouts:
"He worked five plus innings and was smooth and effortless with a fastball up to 89 MPH with a good slider."
"He attacked the strike zone and showed excellent composure."
"Threw hard for strikes. I can see him being a guy to watch."
 RHP Eli Saul (UBC Thunder)
"I love his build, his arm strength and he displayed great mechanics."
"He has good size (6-5, 205) and the older he gets the better he'll get."
"He attacked hitters and ran his fastball up to 90 MPH. He threw some good sliders and a few change ups."
"Touched 89 MPH and there is more in that arm. He has a nice and easy delivery."
"Everyone I spoke to liked him. First player to watch from UBC's entry into the Premier League."
LHP Justin Thorsteinson (Blaze)
First time I saw him throw he was 13 and he looked like a blue chip prospect already.  He keeps getting better and he's had a scholarship at Oregon State since grade 10, which speaks volumes.
"He has size (6-4, 205), a good body and a great arm," says former MLB home run king Jesse Barfield.
Another scout added, "He attacked hitters, filling up the strike zone.  He has an imposing frame and his fastball was 88 MPH. He looks the part."
INF Joshua Walker (Victoria Mariners)
"I really like the kid," says former Blue Jays slugger Lloyd Moseby.  "He has incredible hands. He can get to the next level."
Another scout: "He handled the bat well and I liked his glove."
"Had a good batting practice and played well at third."
"He's a great hitter.  He crushed the ball. And he showed well in the field."
"Could the pendulum be swinging back to the west coast?  He's a good one to watch."
RHP Carter Morris (Okanagan Athletics)
"He's young, but he hit 90 MPH and he used all his pitches," Ward said.
"His fastball was close to major-league average," added a veteran scout.
OF Brandon Nicoll (Blaze)
"He's a spark plug," Barfield said.  "I like him a lot."
OF Alejandro Cazorla (Surrey)
"He showed good instinct." says Ward.  "Played the outfield well and puts the ball in play."
OF Daniel Martin (Blaze)
"He showed a good approach at the plate and hit a ball to the second deck flashing his power. He also showed the best arm from the outfield."
             Loreto dominated at the Little League World Series two years ago.
RHP Loreto Siniscalchi (Blaze)
This might just be saving the best for the last.  He's only 14 but he's already 6-2 and Mathieson projects him as a possible first rounder in 2022.  "He's a special kid," says Mathieson.  "He has a clean delivery and arm action with a 12 to 6 breaking ball.  And he's easy to work with."
In Florida for the Perfect Games tournament Loreto sat on 84-86 and he routinely posted 14 K's in games with the Langley juniors.
One T12 scout said, "He was up to 86 MPH with a live arm with natural cut on his fastball and a sharp curve ball."
Burrows will wait and see.  "He's 14 and pitching against 18-year-olds.  There's a lot to work with but his delivery is not real good.  We'll see what happens three years from now."
That, of course, is the crux of the matter.  A lot can happen in two or three years.  And a scout can only project so much.  Still, these kids are the New Wave surfing the West Coast.  Like the man said, the pendulum keeps swinging.
WHO CARES ABOUT HIS ARM?
           Jupiter's "Win at Any Cost" Jackasses
You want to know how crazy baseball coaches can get?  Let me tell you.
The Jupiter Perfect Games tournament includes 88 of the top travel teams in the US of A.  It's a magnet the size of an asteroid for every scout and college recruiter from Stanford to Stetson.  There are 1,500 of the best draft class players on the planet performing on 13 fields for five days in late October.
But this Florida monster ain't like most showcases.  No, sir.  The kids aren't just trotted out to pitch a few innings or take some cuts.  Jupiter is as cut throat competitive as a knife fight in the Octagon.
"It's dog eat dog," says Perfect Games founder Jerry Ford.  "They want to win."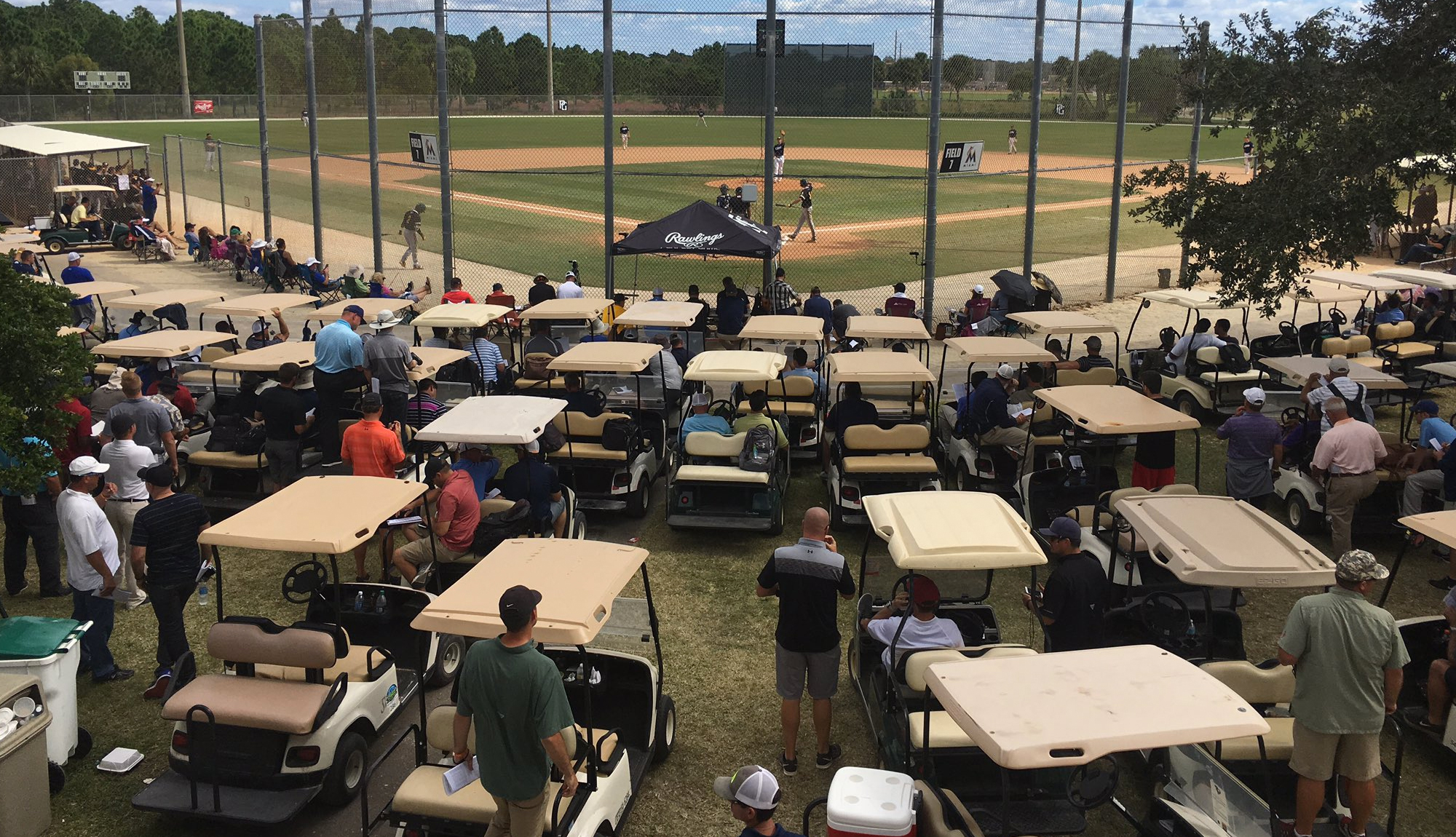 341 golf carts at $500 a pop and over a quarter of a million in fees.
And how much do the coaches want to win?  Well, Ford remembers one playoff game.
"There was this kid, who ended up being a first-rounder, and they were just riding him. He threw a complete game in the quarterfinal and won.  That put them into the semi, which was the very next game.
"In the fifth inning I saw this same kid warming up again.  I walked over and said, 'Hey, you're not going to pitch, are you?' He says, 'I think so.' I say, 'Hey, listen, you shouldn't pitch.' I can't control the teams, but I thought maybe I could get through to the player.
______________________________________________________________________________________
"I don't think the kid knew who I was—he probably thought I was a scout.  But he went into the dugout after he warmed up and I think he told the coach, who I know very well, that the guy over there told me I shouldn't pitch. He never got back up. But they were going to throw him. That just shows you how competitive this stuff gets."
______________________________________________________________________________________
Now think about that.  This kid is in Florida to showcase for a swirling throng of elite MLB scouts and college coaches.  He's talented enough to be a first round pick, which means millions of dollars in bonus bread and a jump start into the major leagues.  He's just thrown seven innings and his ligaments and tendons and muscles are tightening up and screaming for rest.  He needs to heal.  If he steps on the mound two hours later he's playing Russian Roulette with his arm.  With a fully loaded gun. 
And these vile jackasses were so blood hungry, so bleeping polluted by their ego need to win, they were willing to gamble his arm, his career, his future, his lifelong dream, to win a bleeping baseball game.
Since then Perfect Game has adopted the USA Baseball regs, meant to help prevent overuse injuries.  But why in hell would you ever need that for any game, especially in a showcase?

                  Mike Trout was a surprise package.
Jupiter is the Super Bowl of all showcases.  It's billed as a wood bat world championship on those 13 fields at the Roger Dean complex, the spring training facility for the Cardinals and the Marlins.  Games kick off at the unholy time of 8 in the morning, which means getting your kids up by 6 a.m. to prep.  And the wrap is 10 at night.
It's so frantic for the scouts and recruiters they rent golf carts to scurry willy-nilly from one side of the complex to the other, 600 yards away.  When a blue chip prospect is on the hill the carts stack up deeper than a Los Angeles freeway in the heart of rush hour.     
The throng includes former big leaguers watching their sons, MLB general managers, cross-checkers, a myriad of scouts, prowling agents, and top college recruiters with their pockets crammed with full rides.
This year they rented 341 golf carts at $500 for the weekend.
And get this.  The entry fee is $3,000.  Even with my rudimentary math I figure that comes to 264 large.  Holy, Batman, Mabel, a quarter of a million plus for one baseball tournament.  Where do I get a piece of that action outside of Vegas?
Wisely, a lot of the top arms are bypassing Jupiter.  High school pitchers often hibernate for a couple of months before prepping for their season, which starts very early in the New Year.  "But, even though the top guys aren't going," says Twins scout Jack Powell, "there's still good pitchers there. They show up, perform and elevate themselves."
                      Scott Kazmir lit it up.
And the hills of Jupiter have seen a flurry of flamethrowers.
"Several years ago, I watched the Indians Scout Team," says Ford.  "They had a stacked team with eight or nine future big leaguers.  But Jose Fernandez was pitching against them and nobody in the majors could have hit him that night.  That's how good his stuff was.  Mike Trout was here and he was kind of a big surprise to us just how good he was at pretty much everything. But I would never in my wildest dreams have predicted that Mike Trout would be this Mike Trout."
And Powell remembers the night Scott Kazmir lit up the late night sky.  "The place was packed. He dominated and took himself to a higher level. We all knew he was good but it was even better. It  was so impressive everyone stuck around."
Which is how it should be.  Just as long as the vultures don't have you warming up to pitch two games in a row.
Dave Empey
Dave Empey has developed five major league
players, including James Paxton, the ace of the
Seattle Mariners, and Ryan Dempster, who
pitched for 16 MLB seasons, was an all-star twice,  
and won a World Series ring with the Red Sox. 
And Rowan Wick, who was called up by the
Padres in September and traded to the Cubs.

Dave has coached 19 pro players, 11 members  of the
Canadian national junior team, and more than
100 collegiate athletes.    
As a sports writer with the Vancouver Sun
Dave interviewed home run king Roger Maris,
iconic heavyweight champ Rocky Marciano,
legendary sprinter Jesse Owens, Hall of Fame
pitcher Bob Lemon, classic daredevil Evel
Knievel, and NHL hard rock Tiger Williams.
Dave has covered almost ever sport you can
name, including baseball, football, basketball,
soccer, hockey, horse racing, lacrosse, boxing,
hang gliding, swimming, figure skating, rugby,
track and field, tennis, curling, and skiing.
In Kelowna he sat next to Billy Schumacher,
the greatest hydroplane driver of all time, as
they blistered through three laps at 150 mph.
 "That ride with Billy was a lot of fun," he says.  
Dave also managed and produced an album for
the rock band "Paul Anthony and The Invasion.
Contact--daveempey@shaw.ca
Ryan and Dave in Las Vegas
January to November visitors--57,307
December visitors 2,735
TODAY'S LINEUP
NEW--The Golden Age of Morneau and Dempster
NEW--The Pendulum Swings West
NEW--Jupiter's Win at Any Cost Jackasses
NEW--A Tale of Two Trades
NEW--The 800 Grand Party to End all Parties
NEW--Bring On the Sloth Triplets
The Insanity of Tommy John for 15-year-olds
Is Icing Good for a Pitcher's Arm?
What has Hockey got to do with this?
Koufax versus Kershaw
BASEBALL PUZZLE
The Greatest Pitcher Who Ever Lived

"Just Play the Game"
The Spirit of Billy The Kid
One Bad Pitch
"The Players All Love Him"
The Mick's 600-foot Rocket Shots
Innocent Until Proven Guilty

The Lethal Weapon No One Uses
The Ineffable Ernest Hemingway
The Grand Daddy of all Sports Hoaxes
The Incompetence of MLB Coaches

Alabama and Ole Miss Never to be Found
The Bringer of Drizzle
Rowan Wick called up to the Padres
What is wrong with human beings?
The Dempster Slider
"I Gotta Go"
The Rock Star on the South Side
Flamethrower Michael Kopech

The Inane Babble of the Media
Rocky and the Nerds 
Moneyball, the Farce
Killer Koepke and The Assassin

THE PITCHING PACKAGE (2)
Simplify, Simplify, Simplify
Developing COMMAND
Power Pitching
SEE HOW EASILY YOU CAN THROW HARD
Protecting Your Arm
Stride
The Road to Velocity
LOAD--Lead with your Hip
Explode
Finish
Throw through the Catcher
The Curveball

"White Lightning" at 110 mph
Johnny Chung, the Celestial Comet
THE PITCHING PACKAGE (1)
The Catch 22 of Relief Pitchers
Shadow Boxing Your Delivery
Balance Like a Gymnast
A Controlled Knee Raise
The Gold of Coil and Go
Lefthander's Pickoff Move
Stealing Against a Lefthander

Sidd Finch and his 168 mph Fastball
What Utter (Bleeping) Nonsense
Selects Rev Up for Canada Cup
Hands as Deep as an Oil Well
Hitters: Forget the Useless Knee Raise
The Terror of The Dreaded Shift
"Knock Somebody Down"
The Cougars are prowling once again
Wind Sprints--Fast Twitch Endurance
Playing Shortstop on a Donkey

What Are Scouts Looking For?
A Cure for Betances
The Six Foot Basketball League
Thank You, Aaron Judge
Sweet, Sweet, Sweet Caroline
Baseball Players--Tough as Marshmallows
We Are All Unique
Sale Shovels Horse Manure
The INCREDIBLE shrinking Strike Zone
How Many Rings are on the Wrong Fingers?
The Cure for Sorearms?

The Saga of Showalter and Bonds
The Tragedy of Brien Taylor
Blue Jays: No Standards, No Discipline
James Paxton--The Blueprint for a No-Hitter
Paxton KKKKKKKKKKKKKKKK
"Play it Loud"
The Sportsnet Cheerleaders
The Blaze Turn Up the Heat
Tyler O'Neill and his Magnum Guns
Back Foot Pivot
Giancarlo, Are You Listening?
The Virus Invading the MLB Cyberworld
Are the Sox an Australian Cricket Team?
Using Ted's Head for BP
It's a RELAY, Buck, Not a Cut
Pillar Didn't Steal Home
Killer Steroids
Eating for Explosive Energy
The Magic of Man City
March Madness and You
Much more in the January 2017 Archives
Keeping DTB Alive and Well
I love producing this blog but it takes a lot of my time, which is hard to justify without some financial return.  I'm a professional writer and I'd appreciate your support--$5, $10, $20, whatever you can afford.    
I've set up my PayPal account to accept contributions.  Just click on the "Donate" button.