Flame throwing Aroldis from the Sportsmockery web-site.
THE REAL REASON CHAPMAN THREW A HANGER
       If You Can't Block, You Can't Catch
I'm not going to beat up on Gary Sanchez.  No point.  I feel sorry for the guy.  Apparently, the New York Yankees have no idea how to develop a catcher.   
And this is really about the importance of Blocking.
Aaron Boone tells us Sanchez has really improved.  He's cut down his passed balls and he calls a good game.
But let's take a closer look.  
                    Yes, he hammers every once in awhile.  But...
For openers, catchers don't call the game.  They put down fingers as  suggestions.   And then the pitcher either accepts or rejects.  Pitchers call the game.  When they shake their head they're not telling the waiter they're passing on dessert.
Okay, so what about the passed balls?  Sanchez had 18 in 2018 but chopped that to seven this season.  Eighteen passed balls last year.  Eighteen.  Hard to get past that abysmal stat.  Even seven is barely acceptable.
But it misses the point by four or five hundred miles.  Sanchez thinks blocking is for guards and tackles.  More baseballs scoot under his glove than conspiracy theories hatched by Internet loonies.
None of these are counted as passed balls.  But in most cases they should be.  Instead they're notched as wild pitches.  Which means the dude on the bump takes the rap every time Sanchez fails to block a breaking pitch in the dirt.
This, of course, is as asinine as blaming Microsoft for your kid's addiction to video games.  Catchers simply must block curveballs that bounce.  Yes, framing and receiving and throwing bullets are crucial.
But, if you can't block, you can't catch.  And Gary Sanchez often doesn't even try.  Instead of driving his knees to the ground with his glove between his legs, he just picks.  And breaking balls skip past him like the roadrunner in full flight.
              Brian McCann anticipates this breaking ball in the dirt.
Now you might argue that a pitch that bounces is definitely as wild as the wind.  And you would be right.
But…
Outstanding catchers are like brick walls.  For my money Mike Matheny was the greatest blocking catcher since Genghis Khan buckled up his shin guards for the Mongol Marauders in the Dark Ages MLB.        
Getting a Rawlings through Matheny was like invading the White House carrying an AK-47 and a bag full of grenades.  Matheny didn't just block.  He smothered.  He even put up the Berlin Wall when the pitcher was tossing his eight warm ups at the start of each inning, which is great psychology.  See, dude, you can't get a pitch past me.  Not ever.  NOT EVER.
Ryan Dempster told me pitchers loved throwing to Matheny because they believed nothing would get through him.  The two aces catching in the Series, Martin Maldonado and Kurt Suzuki, are also blue chip.  Their mission is simply No Ball Shall Pass.
On the flip side, when the receiver is a sieve there's an inevitable Domino Effect.  If you've never pitched you probably won't understand.  So pay attention.
When you stand on the hill with a runner on third and the guy back there puts down two fingers and you agree, you better be damn sure.
____________________________________________________
Damn sure it's the right call.
Damn sure you'll get on top and pull down.
Damn sure you won't hang it.
Damn sure you'll break it off.
And damn sure if it bounces it won't get through.
_____________________________________________________
Because your catcher will block it like the Maginot Line.  Damn sure.
You have to believe that.  Totally.  Without reservation.  You need 100 per cent certainty your catcher will block anything and everything you throw up there.
If there's even the slightest subliminal DOUBT lingering in your cerebral cortex you'll be as reluctant to break off a filthy slider as a vegetarian served a steak dinner.
This is not a conscious thought.  It's not up front and personal.  It's just this lurking, stalking DOUBT that infects your subconscious like a virus.  Break one off and watch your catcher chase it to the backstop while the runner scores.
               Matheny also tracked foul pops like radar
Just ask Aroldis Chapman.
Moments after he hung that second slider and Jose Altuve drove a cannon shot into the left field stratosphere one of the 4,921 cameras zeroed in on Chapman's mug and captured what looked like a forced smile.  Anyone familiar with pixels knows you can freeze frame just about anything you bleeping want to get any expression you want.
Chapman says he was just shocked and couldn't believe it.  Sounds reasonable.
But Social Media is far from reasonable.  Chapman's psychotic. Altuve is on his Fantasy team.  He was betting on the Astros.  Such Droll Trolls.
I know it's hard to understand why a guy with a 100 mph four-seamer would throw sliders back to back.  But Altuve starts so far off the plate he's almost in the dugout.  Then he Sky Dives in almost three feet.  The idea was to jam him up like a sardine with razor sharp sliders on his hands.
As a concept it makes a lot of sense and it certainly doesn't compare to Russell Wilson throwing a Super Bowl pick with Beast Mode ready to Smashmouth the Patriots.  That one has to rate as the worst decision since the Japanese bombed Pearl Harbour.
___________________________________________________________________

"We've been working on reacting to unexpected pitches.  I mean location. You always want the pitch where you call for it, but sometimes that doesn't happen. So how do you react so you can receive those?"
_____________________________________________________
But…again…
There's a runner on first and you don't want a wild pitch in the dirt skipping him along to scoring position.
So you have to believe, you have to know, you have to be 100 per cent certain, you have to be absolutely committed to this breaking ball.  You have to KNOW your catcher will BLOCK.  Not HOPE he'll block.  Not MAYBE block.  FOR SURE he'll BLOCK.
If you don't have that certainty you have a sliver of DOUBT.  Without really knowing it a tiny part of your brain isn't totally sure.  So you let up just a little bit, you don't pull down a shade hard enough, and you don't bury your slider deep enough.  And that translates into one word.
HANGER.
Now I won't tell you that's the only reason Aroldis Chapman threw a lollipop and Altuve licked his lips and crushed it.  But I know this for sure.  When a catcher can't block he sends his pitchers en masse to their friendly neighbourhood psychiatrist.
Sanchez is a big guy, 6-2, 230 and the Yankees seem to use that an excuse for his inability to get down.  But that's pure rationalizing bull shit.  Matheny is 6-3 and he blocked like concrete.  Size is not a detriment.
J.T. Realmuto frames like Van Gogh, throws lasers, and blocks everything.
Catchers are my favourite players.  They work their butts off and seldom get the credit they deserve.  I've coached some good ones, including Chris Dempster, a tireless worker, and Kenny Scott, the heart of the Delta Tigers, and one of the toughest blockers I've ever seen.
Sanchez always seems embarrassed when a pitch blitzes through him and he obviously wants to improve.  "We've been working on reacting to unexpected pitches," he says.  "I mean location. You always want the pitch where you call for it, but sometimes that doesn't happen. So how do you react so you can receive those?"
That's a framing conundrum and always a challenge.  But today we're talking about breaking balls in the dirt.
You want to teach blocking?  Get your receivers into the cage and shoot bouncing spinners from a curveball pitching machine loaded with soft incrediballs.  Over and over and over and over.  Until blocking becomes automatic.  High school and college and pro teams do this all the time.
Maybe somebody should tell the New York Yankees.
TIPS FROM THE BIG MAPLE
          James Paxton is NOT Laid Back
"We saw emotion from James Paxton and this is something the Mariners talked about last season.  Mel Stottlemyre, Jr. said Paxton is such a nice guy, so laid back, so quiet.  They wanted him to pitch with more edge.  After he struck out 16 A's and no hit the Blue Jays Stottlemyre said its hard to teach toughness but he found a way to get it out of himself."
                     --Ken Rosenthall
"If he stays healthy you're going to see him with Cy Young talk.  He's that good.  He's so stoic and laid back he wasn't bothered by an eagle landing on his shoulder."
                     --John Smoltz
This is NOT the James Paxon I know.  Not at all.
Yes, James is quiet.  He is not about bravado.  Or dancing in the dugout.  Or posing for the cameras.  Or posturing for the fans.  Or bringing attention to James Paxton.
None of that.
James Paxton is about Being the Best He Can Be.  About doing everything possible to help the iconic New York Yankees win.  About preparation.  About composure and focus.
James Paxton is about being a Pro.
 
Pax getting Down the Hill.  Note he is about 10 inches against his body.
It works for James but I don't recommend it.
And, believe me, there is nothing laid back about James Paxton.  He is one of the most intense competitors I've ever coached.
I'm not alone in this observation.  "James was always tough," says former North Delta coach Ari Mellios, who knows James a lot better than I do.  "His demeanor never changed on the mound.  But James was never laid back.  Never."
Remember the old bromide Never Judge a Book by its Cover?  That happens far too often.  James is quiet.  He's a nice guy.  James doesn't exhibit his emotions.  So, obviously, he's laid back.
No way.  Open the book and read the pages and you'll discover a young man with the heart of a lion and the toughness of concrete.  Just take the time to get past the cover.
____________________________________________________
"The crowd was pleading for Boone to leave Paxton In."
____________________________________________________
It reminds me of the perception so many have of Ryan Dempster, who has a great creative sense of humour.  So people think that's who is.
I can't imagine anything farther from the truth.  Have dinner with Ryan and you're talking to Rodney Dangerfield.  But put him on the hill and you have the Baseball Equivalent of a Serial Killer.
Perception.  Sometimes it's 180 from the truth.
I'm not going to dissect Paxton's demolishment of the Astros.  You saw that first hand.
Instead I'll pass along some invaluable tips James sent me two years ago.  Welcome to the Anatomy of a Pitcher's Preparation.  In his own words.
                                     A strong finish 
          Arm Slot
"I was looking at video with my pitching coach in AAA and we discovered my arm slot had raised considerably since 2014 when I was throwing really well."
They went to work diligently and James returned to his ¾ delivery when he pitched for the North Delta Blue Jays.
"It made things feel drastically better.  My velo jumped and my command got much better.  I'm back to where I should be."
          Load
"I stress getting a good load before moving forward. And then leading with my hip.  You need to have strength in your legs before throwing the ball."  
 NOTE: You have to Get Down the Hill but you Load first and then Lead with Your Hip.  I've stressed this so often it's like a Mantra from Heaven.
"A drill for getting a good load is to put a resistance band around your waist and have a partner behind you pulling on the band. I do this before workouts as a warm up as well as a pitching drill."
           Staying closed
"Staying closed as long as possible in your delivery will allow you to get on top of the baseball and create good plane and action." 
          
                                                    The Eagle Has Landed
          The cutter slider
"I throw a cutter by design. I'm always working on that pitch and sometimes it moves more like a slider."
NOTE: For the difference between a cutter and a slider check out the post after this one.
          Throwing bull pens
"I throw one bullpen between starts--about 35 pitches the second day after I pitch.  Then I have two more days of playing catch before I get in a game again." 
          Video  
"Before each game I watch video for about three hours and make notes on every player. Then I'll compare my notes to the team notes and the stats we have.  I go over it all with my catcher before the game and we talk about what we want to do."
          Challenging the Hitter 
"I try to hit spots.  But I never sacrifice intensity." 
 NOTE: James has always been aggressive.  Sure, he works both sides of the plate.  But he believes in his stuff and he's never afraid to CHALLENGE a hitter.
                                       His natural arm slot
          Pre-Game Prep
"My routine begins two hours before a start. I take a warm shower and finish with a blast of cold water to shock my system and wake me up.
"Then I'll head to the gym and ride the bike for 10 minutes, followed by rolling out on a foam role and some core activation exercises.
"After that, I go to the training room to put some heat on my shoulder and elbow. I finish with a leg and arm stretch by my trainer.
"Finally I'm ready to go outside and do some more warm ups before starting to throw on the bull pen mound."
 NOTE: I love the idea of rubbing heat into your shoulder and arm.  We did this with Dempster.
          Long Toss
"I long toss quite often before I get into my five day season routine. I feel out my body every time I play catch and decide how far to go depending on how I'm feeling. Once I get into my five day routine, I throw long toss once between starts before my bullpens at about 200 feet." 
          Conditioning  
"I do most of my cardio exercises on the bike--intervals for about 25 minutes.  And I do various agility exercises with my strength coaches."
          Off season
"I take about three weeks off after the season.  Then I like to throw once a week at about 90 feet to keep my arm loose and free from scar tissue build up. I begin to throw more often towards the end of December. 
"I train in the gym four days a week in the offseason and I also do YOGA three or four times a week. I focus most of my attention on building strength in my legs and core, the foundation for pitching."
NOTE: Legs and Core.  Legs and Core.  Legs and Core.  Cannot emphasize this enough.  POWER, DRIVE and STABILITY all begin from the ground up. 
                       So stoic.  So laid back.  So unemotional.           
AND THAT SPELLS TROUBLE WITH A CAPITAL T
   The Goose and Lou Vomit All Over Baseball
"I can't watch these games anymore.  It's not baseball. It's unwatchable. A lot of the strategy of the game, the beauty of the game, it's all gone. It's like a video game now. It's home run derby with their bleeping launch angle every night.''
                    --Goose Gossage
"All anybody wants to do is launch the ball.  They're making the ballparks smaller, the balls tighter, and all we're seeing is home runs. There are no hit-and-runs. No stolen bases. Nothing. I managed 3,400 games in the big leagues, and never once did I put a full shift on anybody. Not once. And I think I won a few games without having to shift.''
                    --Lou Piniella
                                The Goose, one of the best closers ever
I love the MLB commercial spewing out during the playoffs.  First some vintage black and white video overlapped by colour shots of current rippers.  "They say baseball isn't what it used to be," asserts the  Propaganda Machine.  And then it insists today's game is Younger, Faster,  Harder. 
All of which is true.  But they forgot one word.
Better. 
As we all know baseball has become Jacks and K's.  Crush or whiff.  Yes, there are still some great defensive plays.  But too often it's live, competitive BP between a guy throwing bullets and a slugger who believes God created Heaven and Earth…and then the Launch Angle.  No, no.  The Launch Angle came first.
Never go the other way.  Hitting Oppo is for pussies.  Drive the damn Rawlings over The Shift like a bleeping man.  Shift be damned.
Never bunt for a hit even if the left side is as wide open as Wyoming.  Bunts are for Eunuchs.
Never steal a bag.  You'll have to slide and you might get a bruise.    Nobody making only $20 million should have to endure that torture.
                  The High Five Line Dance.  Just call it bonding.
Never run hard on a groundball to short. They're just going to throw you out anyway so you're only wasting your Launch Angle energy for the next AB.  Just ask Manny Machado or Kendrys Morales, who think Hustling is something you do on a street corner.
Never learn how to turn a double play four different ways.  Too much energy.  Too much time.  Stay in the cage instead perfecting your Launch Angle uppercut.  If you don't turn it the broadcast crew will give you an A plus for effort anyway.
      How did Grade 9 Girl's Volleyball Invade This Blog?
Never show discipline at the plate. That just leads to bleeping walks and you're not Barry Bonds.  Walks may help the team win but they won't give you a dollar on your free agent contract. So swing at high heat 18 inches above the strike zone and curveballs that bounce.  Hell, you might even hammer one every 100 AB's or so.  And cricket is always an option.
Never Hit and Run.  Oh, sorry, you've never heard that term.
Never squeeze bunt.  It's exciting as hell for fans but you never practice bunting and you'll just pop it up into a double play.  That's embarrassing.
After you crush a Jack always choreograph some signature move as you salute the guy on deck.  And then parade through the High Five Line Dance in the dugout so the camera will follow you for 15 seconds.  Touch everyone like you're on a grade nine girl's volleyball team and you need reassurance after every point.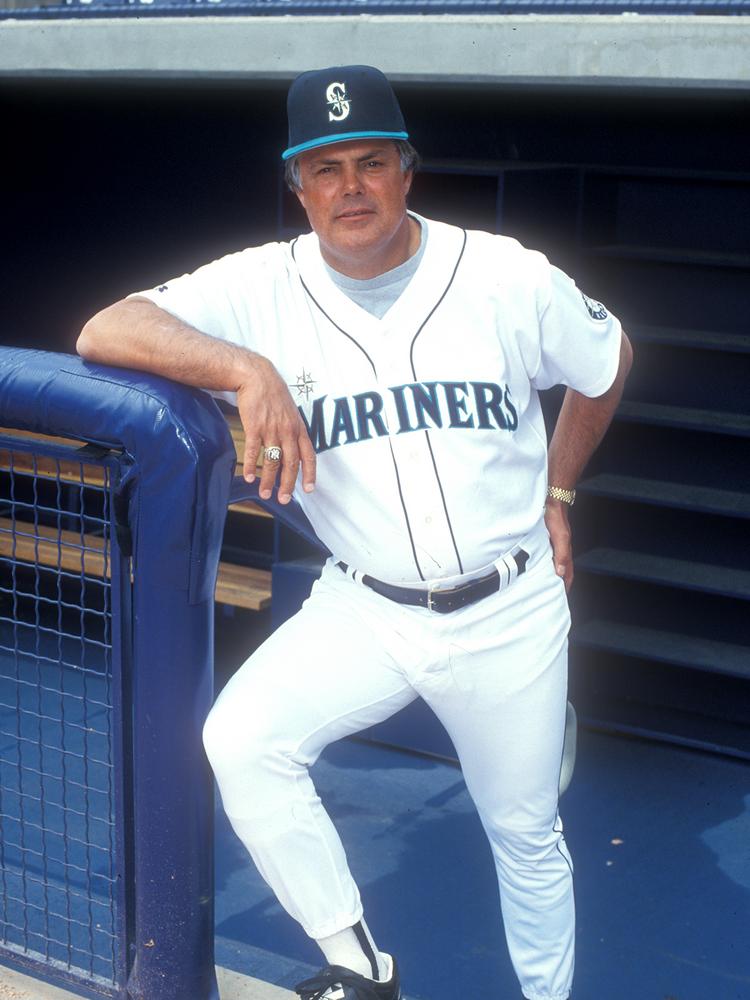 Sweet Lou, one of the rare moments he wasn't berating an umpire
Always take your hat off and pose on the top step of the dugout so the cameras will find you.  Pretend you're dissecting strategy so the broadcast crew can point out what a mentor you are to the younger players.  Even when you're talking about last night's Baseball Groupie or which bar you're going to after the game.
And don't forget to color your hair purple or crimson so the girls will notice.
Never move a runner over.  Even to win a game.  Did anyone ever sign for $20 mill because he moved a runner over?  Are you crazy?
Never think Gap to Gap Line Drives.  Yes, of course, that might make you a .300 hitter.  But George Brett and Rod Carew were yesterday.  And, yes, Brett hit .390 one year and Carew was an all-star 18 times and won seven batting titles with a lifetime .328.  But who cares?  This is Overwatch time.
And never, never think Oppo Contact with two strikes.  What the bleep.  Swing from your butt.  All the time.
Attendance at the 30 MLB parks has subsided around 800,000 in the past year and there are a plethora, a myriad, a bundle, a barrage of reasons,  and that spells Trouble with a Capital T, Trouble, I say…No that's from another movie.
Which we'll get to tomorrow.
                         
 Holy Tornado, Batman, is this a leg kick or a circus act?      
KYLE CHALMERS--Thanks, man.  Let me know if you need anything.
"Gimme the beat boys to free my soul
I wanna get lost in your rock and roll
And drift away"
Baseball Puzzle
How can ONE team get SIX hits in ONE inning
              and NOT score a run?
(The ANSWER will be revealed after a few more DONATIONS to "Dave Talks Baseball")