Pitching in the Mariana Trench
Do you believe the human race is intelligent?  Yes, there is genius.  And, yes there is perception and rational thought.  A lot of it. 
But there is also a deep Mariana Trench of stupidity.  I see it every day in this game called baseball. 
Coaches who think strategy and the W are more important than Player Development.  Analysts who don't know the difference between a cutter and a running fastball.  Play-by-play illiterates who think you can get "within" one run. 
But here is the proof that the human race is as clueless as a rock.
$19.99
This righthander is the ace of the Mariana Trench Sharks pitching staff.  He's 16-8 with a 2.78 ERA, tops out in triple digits with a filthy slider, plus a split that dive bombs, and he scares the hell out of every hitter in the Trench League.  But he's also very smart.  He's never bought anything for $19.99 because he refuses to be treated like a fool.  Unlike human beings.
PROTECTING THE PITCHER'S ARM
Warming Up is the Gold Standard
Let me give you some wisdom to live by:
Never throw to warm-up
Always warm-up to throw

I keep repeating this because it's as important to a pitcher as oil is for a Ferrari.  All the time I see kids come to the park, grab a baseball and begin playing catch.  Stupid. 
Young kids are flexible and for awhile they can get away with this.  But, as they grow muscle, it becomes a double edged sword.  Yes, they develop arm strength.  But, yes, those muscles begin to stress their ligaments and tendons.  And they have to learn how to reduce that stress or it becomes lethal to the elbow or shoulder.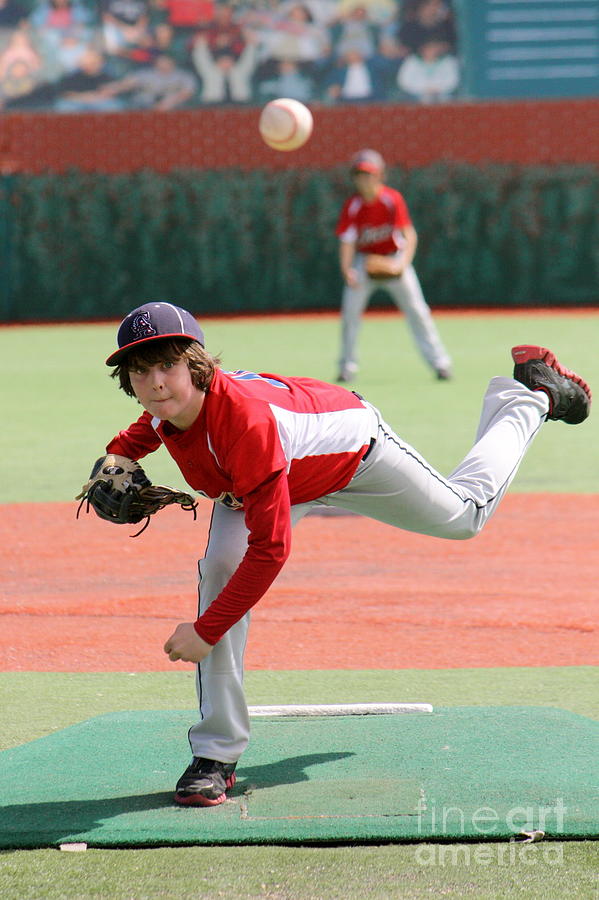 Let's get him started right.  (Lisa Billingsley photo)
So let's teach them how to take care of their arm when they're young.  If they don't it's a blueprint for a sorearm--maybe not today, maybe not next month…but someday.  Especially in cold weather.
THROWING TO WARM-UP...
...means using the muscles and the joints when they are extremely vulnerable.  They're cold and tight with no blood pump.  They aren't stretched out yet and that leads to strains, pulls and even tears.  That demon you see is Tommy John surgery rearing its ugly head.
WARMING UP TO THROW...
...gets your arm, your shoulder, your back, your torso, your whole body, relaxed and loose, ready to fire on all eight-cylinders before you actually pick up a ball.  This may take 10 minutes or more--depending on the temperature and the individual.
The Texas Baseball Ranch Protocol 
NOTE: Ron Wolforth is the current guru of pitching instruction.  He's developed more hard throwers at his Texas Baseball Ranch than IE has inane stories about Meghan and Harry.
I've seen a plethora of his videos and I like what he teaches very much—rhythm and tempo, getting down the hill, encouraging the pitcher to FEEL what he's doing. These are all very cool.  Mostly because I've been teaching those same things for decades.
                                             The Guru himself
Wolforth has a warm-up for young pitchers that goes on…and on…and on.  I won't belabor the details.  His concept is to get the whole body super flexible and sparkplug revved up before you throw.  Which, in an ideal world, would be, well…ideal.
But, suffice it to say, it's about as realistic for most coaches as winning the lottery.  You just don't have time for a 30-minute session of running and jumping when you're trying to get a kid ready to pitch in a game or throw a bull pen.  Especially if it's a sudden decision to douse the fire in the fifth inning.  So I offer an abbreviated---but effective—alternative.
RUN…
I never recommend distance running.  In fact, running endless posts is a negative, as out of date as a telephone answering service.  Distance running magnifies SLOW TWITCH.  We are consumed by a FAST TWITCH sport.  Run SPRINTS to develop FAST TWITCH ENDURANCE, the foundation of baseball conditioning.
But…
When you are warming up start with some light jogging to increase your heart rate and get your legs woke.  Maybe to centerfield, maybe post to post and back, or even more if it's cold.  We never want to stomp on the gas pedal if the engine isn't warm.
And then…
SHUFFLE (Hips again)
RUNNING BACKWARDS (Basketball players seldom pull hamstrings because they run backwards so much.)
CARIOCA (Quick feet)
SPRINT (A strong finish)
          All about 30 yards, back and forth.

                   Did LeBron ever pull his hamstring?
…AND STRETCH
Quite frankly, the way most players stretch is a waste of time--usually a social occasion in center-field.  Current science contradicts conventional static stretches, which actually slow down muscle contraction.  Instead, stretching should be fluid, replicating the movements of the sport.  In fact, I think it was Whitey Herzog who pointed out that they didn't have as many injuries in baseball until the players started doing all this static stretching.
I prefer to see players doing knee raises, lunges, torso twists, squats, and my favorite, HIP SWINGS.  Just grab the fence and swing your leg side to side.  Baseball is a GAME OF HIPS and keeping them loose and flexible is crucial.
If you have time you can add POSTS, which are simply running or shuffling laterally from post to post on the fence, touching the ground with both hands (knees bent) to loosen the back muscles and legs.  Posts are productive for both warming up and conditioning.
Concentrate on the ones that work best for you and adjust to the time you have.  Just be fluid and get your muscles and joints loose and warm.
…JOBE'S AND TUBING
After running and stretching you're ready to warm-up your shoulder, arm and upper back.  Jobe's are absolutely crucial for warming-up.  You don't need to do them with weights--you can just hold a ball in your hand or nothing at all.
You can buy tubing already sized with handles or pick-up some surgical tubing at a medical store and cut it into strips four feet long or six feet or whatever you prefer.  You can drill a hole in an old baseball and tie it to one end of the tubing and put a hook on the other end that attaches to a wire fence.  Or tie it through a wiffle ball.
(We'll get into Jobe's and Tubing exercises in the near future.)
Next, ARM CIRCLES, big sweeping swings to get your shoulder loose.
Then REVERSE CURLS for the UCL in your elbow.
And, finally, FIGURE EIGHTS, which is simply repeating the arm action of your delivery until you feel totally loose.
If you want you can finish by SHADOW BOXING your whole pitching motion.
Your goal is a warm, rich blood flow to your arm and shoulder.
Ryan Dempster used Jobe's to keep his arm in shape for three seasons with me and the North Shore Twins and then 16 years in the big leagues.    
…THROWING
You run.  You stretch.  You do Jobe's.  You get fluid with tubing and Figure Eights.
Now you're warm and loose and ready to throw.  Start by playing easy catch, gradually lengthening it out.  Concentrate on arm action, follow through and focus.
If you LONG TOSS crow-hop as you stretch it out.  Long tossing is a great way to strengthen your arm but, if you're warming up to pitch, you shouldn't long toss too much and you may pass on it entirely.  Some pitchers like to long toss before a start and some don't.  Your call.
...ON THE MOUND
Start by CROW-HOPPING down the hill.  We want MOMENTUM.  We want TEMPO.  And we want ENERGY.  Maybe six to eight crow-hops and then the normal PRE-GAME routine.  (We'll also go into that next time.)
…KEEP TO YOUR ROUTINE
This is where you need a coach who plans ahead and gets you started on time.  Let's say it's the top of the fourth and he suddenly announces you're pitching the fifth.  Get out there and get it going right now.
When you're tight for time before a bull pen or in a game there's a temptation to cut your warm-up short.  Forget about it. Always warm-up properly.  Rushing to get ready can lead to injury and no game or practice is worth hurting your arm.  Once again:
Never throw to warm-up
Always warm-up to throw
That should be stapled to your forehead.  And posted in the dug-out.  It's a Pitcher's Commandment.

 Holy Tornado, Batman, is this a leg kick or a circus act?      
KYLE CHALMERS--Thanks, man.  Let me know if you need anything.
"Gimme the beat boys to free my soul
I wanna get lost in your rock and roll
And drift away"
Baseball Puzzle
How can ONE team get SIX hits in ONE inning
              and NOT score a run?
(The ANSWER will be revealed after a few more DONATIONS to "Dave Talks Baseball")