Dave Empey
Dave Empey has developed five major league
players, including James Paxton, the ace of the
Seattle Mariners, and Ryan Dempster, who
pitched for 16 MLB seasons, was an all-star twice,  
and won a World Series ring with the Red Sox.  
And now Rowan Wick, throwing in relief
for the San Diego Padres.
Dave has coached 19 pro players, 11 members  of the
Canadian national junior team, and more than
100 collegiate athletes.    
As a sports writer with the Vancouver Sun
Dave interviewed home run king Roger Maris,
iconic heavyweight champ Rocky Marciano,
legendary sprinter Jesse Owens, Hall of Fame
pitcher Bob Lemon, classic daredevil Evel
Knievel, and NHL hard rock Tiger Williams.
Dave has covered almost ever sport you can
name, including baseball, football, basketball,
soccer, hockey, horse racing, lacrosse, boxing,
hang gliding, swimming, figure skating, rugby,
track and field, tennis, curling, and skiing.
In Kelowna he sat next to Billy Schumacher,
the greatest hydroplane driver of all time, as
they blistered through three laps at 150 mph.
 "That ride with Billy was a lot of fun," he says.  
Dave also managed and produced an album for
the rock band "Paul Anthony and The Invasion." 
Dave Empey can be reached at 604 771-9736

Ryan and Dave in Las Vegas
2017 visitors--16,394
January to July visitors--11,666
August visitors--11,729
September visitors--9,295
TODAY'S LINEUP
NEW--The Grand Daddy of all Sports Hoaxes
NEW--The Incompetence of MLB Coaches
NEW--BASEBALL PUZZLE
NEW--Alabama and Ole Miss Never to be Found
BASEBALL PUZZLE and ANSWER
NEW--The Bringer of Drizzle
NEW--Rowan Wick called up to the Padres
NEW--What is wrong with human beings?
NEW--The Dempster Slider
"I Gotta Go"
The Rock Star on the South Side
Flamethrower Michael Kopech

The Inane Babble of the Media
Rocky and the Nerds 
Moneyball, the Farce
Killer Koepke and The Assassin

THE PITCHING PACKAGE (2)
Simplify, Simplify, Simplify
Developing COMMAND
Power Pitching
SEE HOW EASILY YOU CAN THROW HARD
NEW--Protecting Your Arm
NEW--Stride
NEW--The Road to Velocity
NEW--LOAD--Lead with your Hip
NEW--Explode
NEW--Finish
NEW--Throw through the Catcher
NEW--The Curveball

"White Lightning" at 110 mph
Johnny Chung, the Celestial Comet
THE PITCHING PACKAGE (1)
The Catch 22 of Relief Pitchers
Shadow Boxing Your Delivery
Balance Like a Gymnast
A Controlled Knee Raise
The Gold of Coil and Go
Lefthander's Pickoff Move
Sealing Against a Lefthander

Sidd Finch and his 168 mph Fastball
What Utter (Bleeping) Nonsense
Selects Rev Up for Canada Cup
Hands as Deep as an Oil Well
Hitters: Forget the Useless Knee Raise
The Terror of The Dreaded Shift
"Knock Somebody Down"
The Cougars are prowling once again
Wind Sprints--Fast Twitch Endurance
Playing Shortstop on a Donkey

What Are Scouts Looking For?
A Cure for Betances
The Six Foot Basketball League
Thank You, Aaron Judge
Sweet, Sweet, Sweet Caroline
Baseball Players--Tough as Marshmallows
We Are All Unique
Sale Shovels Horse Manure
The INCREDIBLE shrinking Strike Zone
How Many Rings are on the Wrong Fingers?
The Cure for Sorearms?

The Saga of Showalter and Bonds
The Tragedy of Brien Taylor
The Mick's 600-Foot Home Runs
Blue Jays: No Standards, No Discipline
James Paxton--The Blueprint for a No-Hitter
Paxton KKKKKKKKKKKKKKKK
"Play it Loud"
The Sportsnet Cheerleaders
The Blaze Turn Up the Heat
Tyler O'Neill and his Magnum Guns
Back Foot Pivot
Giancarlo, Are You Listening?
The Virus Invading the MLB Cyberworld
Are the Sox an Australian Cricket Team?
Using Ted's Head for BP
It's a RELAY, Buck, Not a Cut
Pillar Didn't Steal Home
Killer Steroids
Eating for Explosive Energy
The Magic of Man City
March Madness and You
Much more in the January 2017 Archives
                    BASEBALL PUZZLE
There are three squeeze bunts.
1) Amateur suicide squeeze
2) Professional suicide squeeze
3) Safety squeeze
What's the difference in these squeeze bunts?
WHEN CAL TECH WON THE ROSE BOWL
       The Grand Daddy of all Sports Hoaxes
We've covered All American running back Johnny Chung and Sidd Finch's 168 mph heater.  But they disappear into the mist compared to the Great Rose Bowl Hoax.
This one was part CIA, part Cat Burglar, part Tony Soprano, part Nerd Supreme, part Gonad Testosterone, part Buddy Flick Heist Caper, part Lock Picker 101, part Ferdinand "The Great Imposter" Demara, and part Bizarro Genius.  Is that enough parts?  Because my cerebral cortex is fully depleted of analogies. 
At any rate these scattered parts coalesced into the Prince of Pranks, the all time king of sports hoaxes.   
New Years.  1961.  The Rose Bowl is salivating for the Huskies of Washington to grapple with the Golden Gophers of Minnesota.  The dogs will snarl, the gophers will dig holes.
And Cal Tech will sulk.  As usual, Tech was nowhere to be found, having only a smattering of 1,000 students and a football team that would struggle to score against a junior high eleven.
But a small group of Cal Tech rabble rousers, who later became known as the Fiendish Fourteen, were convinced their hallowed halls were being royally snubbed and dissed by the distinguished Rose Bowl honchos.
After all, the CT campus was barely a swing pass down stream from the Pasadena stadium and they often competed on that turf, although I'm not sure why.  The cathedral seats 100 grand and even if the whole Tech alumni and their mommies and daddies and aunts and uncles and nephews and nieces and every dude and dudess they've ever talked to since birth burst through the turnstiles the joint would still be as empty as a Jewish stomach on Yom Kippur.
          "Get that Sumo dude off my tail"
So once again NBC and the Rose Bowl was devoid of Cal Tech and the FF was as teed off as a rattlesnake who has just realized a sumo wrestler is stepping on his shaker.
A 19-year-old engineering iconoclast named Lyn Hardy was determined to toss a hand grenade of humour into the mix.
Which would eventually garner nary a chuckle from the U of Washington cheer squad, who had created a massive halftime flip card routine that would mesmerize NBC and the 30 million football fans watching.  This was their moment of glory.
Lyn Hardy, still grinning 57 years later
Hardy went to work two days before game time.  Posing as a reporter from a local high school, he visited three Husky cheerleaders where they were staying in the Long Beach State dorms.  "They were very nice guys," he says.  "They talked me through the whole thing and showed me where they kept all the cards."
Now the Cal Tech subterfuge was in high gear.
***When the cheerleaders left for dinner, Hardy and two Tech buds broke into their room by picking the lock.  They quickly confiscated an instruction card and headed back to Pasadena.
***They hired a printer for $30 to duplicate 2,232 cards.
***Then, early on New Year's Eve, while the cheerleaders were visiting Disneyland, the Cal Tech desperadoes broke into the dorm again and lifted the master instructions.  That's all they needed to roll.  These were, after all, engineering students at a high tech college and it didn't take long for them to break the code.
***Recruiting as many CT students as possible, they altered the 2,232 cards by hand so the seat numbers and instructions would synch perfectly.
***And now the last piece of the jigsaw puzzle.  The Hardy Boys trekked to Long Beach for the third time, picked the lock again, replaced the master plan, scooped up the original instruction cards, and left the fakes in their place.
                         Bob Schloredt, the Huskies main man
Now the fun began.
At halftime in Pasadena the Huskies, led by QB Bob Schloredt, had a 17-0 edge and their cheerleaders and marching band were riding an adrenaline high.  The colored cards and instruction sheets had been deposited on the seats in the section reserved for the Washington faithful.  When the cheerleaders gave the signal the students held the cards over their head and the images appeared like magic.
There would be 15 in total and the first 11 received roars from the 100,000 in the bowl and instant focus from the 30 mill NBC viewers.  So far so good.
But number 12.
This flash card image was supposed to look like a Husky, obviously the Washington mascot.  But it had…buck teeth…and round ears.  More of a beaver than a husky.  More like the mascot of…well, Cal Tech.
Must be a glitch.  Carry on, dudes.
Then number 13.
This one would get them back on track.  It would spell out HUSKIES.  And it did.  But backwards.  SEIKSUH.  What the hell is going on?
Now the cheer squad and the marching band were getting bubbles in their gut.  This was not good.  No, sir, no way, just not good.  But it had to be some strange mix up because the first 11 were aces.  Which is a classic example of the Cal Tech genius.
Okay, fire away.  The cheerleaders persevered, giving the signal for number 14.  The cards went up, following the explicit instructions right their on their sheets.
And they spelled out CAL TECH.  In big, bold black letters on a white background.
The silence was deafening.  The band was stunned, the music froze in the air, the cheerleaders stared, unable to comprehend.
And then the laughter rolled through the stadium like a tsunami.
The perplexed band marched off the field and the cheerleaders Deep Sixed the final image, probably wondering if it was a word starting with F.  Too bad because it was the American flag and Cal Tech, being good citizens, left it pristine.
"There was never any intent to make the world's greatest prank," says Lyndon Hardy, who is 76 now and a respected physicist.  "There's a fine line but I think we stayed on the right side of it. It could have been obscenities or something in very poor taste, but we didn't do that. So I'm proud of that — we acted responsibly and nobody got hurt."
Then he reflects, "There was a lot of luck.  What were the chances of pulling that off?  I'd say zip.  But you don't know that when you're young."
Hardy, who has written three sci-fi books, adds, "As you mature you get more conservative.  Life starts hitting you with brick walls. If I was approached tomorrow and someone asked if I'd do this I'd say it was crazy.  But here we were, 19, and committing felonies."
Then he laughs.  "I hope the statute of limitations has run out."
And, oh, yeh, the Huskies took the Rose Bowl crown 17-7.
THROW THROUGH THE CATCHER
       The Incompetence of MLB Coaches 
September, 2002.  Friday night.  The Cincinnati Reds playing at home against the Cubs.  Shortly after the game I dial Ryan Dempster's cell phone to leave a message.  He answers.  I'm surprised.  He lives in an apartment near the park but he should still be in the clubhouse.
"What's happening?" I ask.
Ryan sounds unhappy.  He says he doesn't feel right about the way he's been throwing.  Then he asks what I see.  "You're throwing the ball to the catcher.  Not through the catcher."
Ryan contemplates this observation.  Then he says, "You're right."
We talk for a few more minutes.  Nothing profound, I must admit.  He's pitching the next day.  "Just watch me tomorrow," he says.
The next day Ryan is brilliant, his best start of the year.  He finishes everything.  His velocity is up two or three mph.  His fastball is down, his slider is tight and nasty.  He has late life.  He wins big, striking out 10 and giving up only three hits as the Reds top the Cubs 3-1.
             This is ULTIMATE FINISH.
Ryan makes two more starts in September—both as strong as this one.  And he's throwing through the catcher.
We teach this.  It's the same as a martial artist breaking wood.  Those dudes aren't focused on the piece of lumber.  They're aiming six inches below the target so they'll drive through the wood with all their power.  When you apply that theory to finishing pitches it jumps your velocity like a bolt of lightning.
The Cincinnati pitching coach takes the credit, telling the media Dempster got the ball down like they wanted.  Which is true...but it had nothing to do with the Reds coaching staff.  I know, I know, I'm puffing my chest out and bragging.  But that's not the point.  I wasn't throwing the ball.  Ryan Dempster was.  He did it.  Not me.  I just helped him focus.
And here is the point.  Please don't listen to the drivel spewed out by pseudo analysts like Buck Martinez and Pat Tabler who will smooch the collective Blue Jays butts to make sure they keep their job.
They'll insist Kendrys Morales is a mentor to the young Jays.   And they will ignore the inexcusable sloth of Morales and Yangervis Solarte, who set a great example by refusing to run out groundballs, as if hustle is a six letter word called I'm Going to Be Out So Why Should I Run Hard and Use Up All That Energy When the Clubhouse Spread is Waiting?  If Morales is your mentor, your leader, you are stepping out of a Cessna Skyhawk at 10,000 feet without a parachute.
So I haven't got to the point yet.  But here it comes.  Morales and Solarte only get away with this because John Gibbons won't deposit their lard asses on wood.  Jog to first on a groundball?  Nothing happens.  You think the other players don't notice?  What's the point of hustling when the slugs dog it and stay in the lineup?
And now the real point.  A lot of major league coaches don't have a (bleeping) clue.  When Dempster was with the Marlins the pitching coach would come out to dispense some wisdom and Ryan was thinking, Stay away from me, don't come out here, you don't know anything.
  
         Scott overcame injuries and a jerk to become an ace in Japan.
Scott Mathieson pinned his Phillies pitching coach up against the wall and threatened to punch him out.  The coach insisted he throw too much when Scott's arm was healing from an injury.  Mathieson knew better as he's proven over and over again pitching in Japan.
Adam Loewen is the most talented Canadian to ever play baseball.  As a 17-year-old the 6-6 lefthander threw 96 mph with an easy, explosive delivery.  He was the best bet for the Hall of Fame since the ineffable Sandy Koufax.  Adam was so good he could have been a first rounder as a pitcher or a hitter.
             The greatest Canadian athlete to ever play baseball.
The Orioles paid over $4 million dollars for his signature and then somehow managed to flush his immense talent down the drain.  He wound up throwing 18 inches against his body, a super recipe for destroying your arm, his velocity plummeted to 88, his best pitch was his slider, and he wound up with a steel plate in his elbow.
Dellin Betances throws 100 mph but he's off balance and off line and can't throw consistent strikes.  Any good coach could straighten that out in a few bull pen sessions.
I give you this wonderful revelation because I hate the (bleeping) manure shoveled out by countless sycophants.  Take it or leave it.  You've been warned.
BUT THERE'S ALWAYS TOTAL DIVAS AND DISC GOLF
        Alabama and Ole Miss Never to be Found
I have an incessant, obsessive need to watch Alabama Crimson Tide football.  For my money Nick Saban is the best since Vince Lombardi, the Messiah of Block and Tackle.  Nick is even better than Bellichick.
But on Saturday I can't find Alabama beating the ole miss out of Ole Miss.  The game ain't nowhere to be found.  I search the Sports channels.  There are a couple of dozen teams in the spotlight, including Ohio State, Auburn, LSU, Texas, USC, Wisconsin and even Florida International, whoever they are.
But number one ranked Alabama and Mississippi are lost in the shuffle.
I can watch the Blue Jays and the Yankees twice plus the Blue Jays in 30 minutes, which is more of an overkill than seven hours of the B.C. Legislature.
There's Fantasy Football and Asian Tour Golf and Out of My League, whatever the hell that is, and Glory 58 and the Best of Pride, which sounds like the Gay Triathlon but turns out to be martial arts, and Total Divas and Drag Racing (more gay sports?) and the Lucas Oil Speedway and World Poker (is that really a sport?) and Disc Golf and the 2018 Evian Championship (don't ask) and Live With Lucia (?) and ARCA Racing and women's curling, which is always fascinating, especially when they're yelling "Hard! Hard!" and Bundesliga Soccer and the 2014 NBA Finals.
But no Alabama and Ole Miss.
                                                And he has his shirt on.
Now this undoubtedly seems trivial to you and I understand.  But it's not.
When you consider the age of their young athletes college football and basketball are the best played and best coached sports on the planet.
I once used Saban's Crimson Tide as an example when I was coaching the Vancouver Cannons.  I told them Alabama epitomized commitment and perfection.  And, as I watched their reaction, I soon realized none of them had ever watched Alabama play.  And they were not alone.  Teenagers seldom pay attention to anything that will advance their knowledge or their careers or their understanding of what it takes to succeed at the next level.
That's too bad.  Because a dose of the Alabama Crimson Tide is like a shot of Wisdom.  As Doctor Empey I recommend it to all of you.
If you can find it.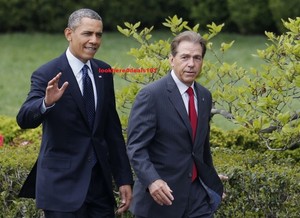 Nick Saban with some unknown Alabama fan.
          McConaughey and the Surfboard
Fun to see Mathew McConaughey on hand when Texas locked Longhorns with USC.
McConaughey is a Texas grad and proud of it.  He is also a remarkable actor with almost unlimited range, everything from Dazed and Confused ("All right, all right") to The Lincoln Lawyer to Two For The Money to Dallas Buyers, True Detectives and White Boy Rick.
McConaughey is also famous for wanting to take his shirt off in every movie to show of his muscles.
But I have a better story.  I think.
Ryan Dempster was visiting one of his buddies, former Chicago Black Hawks star Chris Chelios, who retired at 48 years of age and was staying in an ocean front mansion in Malibu.  Beautiful sunny day in SoCal.

         Who in the hell plays hockey until they're 48.  Unless it's Gordie Howe.
Doorbell.  And, when Chelios answered, he saw Mathew McConaughhey and Robert "Ironman" Downey on his doorstep.
"Can we borrow a couple of surfboards?" they asked.
Chelios, of course, handed over the boards.  Unfortunately, Dempster is not a surfer.  But it did give Mathew another chance to take his shirt off.
               Keeping DTB Alive and Well
I love producing this blog but it takes a lot of my time, which is hard to justify without some financial return.  I'm a professional writer and I'd appreciate your support--$5, $10, $20, whatever you can afford.    
I've set up my PayPal account to accept contributions.  Just click on the "Donate" button at the top of the page.   
If the response isn't enough I'll have to charge a subscription fee but I'd prefer to keep the blog open to everyone.    
Go Ask Alice, when she's ten feet tall
"If you can locate your fastball in all three quadrants of the strike zone you can pitch."
                       --Buck Martinez
Three quadrants?  Enough said.
 "David Price's wind-up is almost pitching from the stretch."
                      --Dan Shulman
Well…hmm…maybe that's because he is throwing from the stretch.
                 BASEBALL PUZZLE
What is the MOST PRODUCTIVE OUT a hitter can make?
                         ANSWER
Runners on second and third.  Nobody out.  The infield is playing back.
The hitter pounds a groundball to the second baseman or a fairly deep fly ball to right field.
Both runners break on contact on the groundball or tag up on the flyout.  The runner on third scores.  The runner on second advances to third.
If the infield is playing in the hitter must elevate and hit a fly ball to right.
Dustin Pedroia with an inside-out swing to drive the ball to the right side.
The hitter is NOT trying to give himself up.  He's trying to get a base hit or a double in the gap.
But he ABSOLUTELY MUST drive the ball to the RIGHT SIDE.  If it's a hit, fine.
But if he's out, that is also fine.  He's driven in a run and moved the runner on second over to third with now only one out.  Where that runner can also score on another groundout or flyout.
One swing of the bat.  For an out.  But it's an RBI and it moves a runner over to set up another run.
That is the most productive out a hitter can make.
____________________________________________________
"If you're 10 years old and your coach says get on top of the ball, tell him no.  In the big leagues these things they call ground balls are outs. They don't pay you for ground balls, they pay you for doubles and home runs."
                          --Josh Donaldson
__________________________________________________
$630,000 EVERY GAME
          The Bringer of Drizzle
At the moment Josh Donaldson is being paid $630,000 for every game he's played this season.  There are billions of hard working Great Unwashed on this planet who won't make that much in their lifetime. 
I chuckle when I read the endless Donaldson tributes that spew non-stop out of the bowels of Toronto's sports columnists and pseudo gurus.  Somehow they equate The Bringer of Drizzle with Robin Hood, the Lone Ranger and Gordon Lightfoot.
Or is it Geddy Lee.
              Can Geddy also play third base?
Donaldson didn't play for over three months because he had a "sore" calf muscle.  A sore calf muscle.  A sore…calf muscle.  It was sore.  And, what the hell, if they're only paying you $23 million to play a little boy's game why would you suit up when your calf is sore.  Poor baby.
Apparently, he now claims the calf was ruptured.  In which case why was he working out at all?
The quote?  It's classic.  The guy is even more of a clown than I thought.
I can only imagine how many guys coaching kids from 8 to 18 went into a Spasm of Cringing over that one.  Maybe a few even had heart attacks.
I have never taught hitters to get on top of the ball.  That makes no sense at all.  So I agree with Josh there.  But I also don't want them upper cutting.  That just leads to long, looping swings and they're dead meat when a pitcher brings even medium heat.
I just want solid barrel contact.  Inside the ball, direct to the ball, through the ball.  That simple.  As Chipper Jones pointed out (when he took a swing at Donaldson's asinine philosophy) he tried to hammer the ball off the outfield fence from pole to pole, which gave the Rawlings backspin and 747 lift off.
Backspin and Jacks speak the same language.  It's called DiamondDustese.
I'm not much of a fan of some dude named Chipper, unless he's still in diapers.  But in this case his advice is as good as Bitcoins.  And Chipper is in the Hall of Fame.
                     The Bringer of Drizzle
Where are the most base hits?  If you guessed groundballs up the middle you win a million dollars, courtesy of John Donaldson who has a few to spare.  Even The Shift hasn't Deep Sixed that trend.
Line drives and hard groundballs produce the most hits and the most runs.  Isn't that the point?  And every youth coach knows fly balls are outs.  Outs.  Outs.
          Fly balls are outs.
Very few young hitters have the power to leave the yard.  Especially when you consider that amateur ball parks are quite often bigger than MLB fields, a fact that somehow seems out of whack.
Kids play on diamonds 330 down the line.  A lot of MLB band boxes aren't that deep.  Ken Griffey loved hitting in the Kingdome because it was 312 down the right field line, which gave him a leg up on the Hall.  When they built Safeco he defected from Seattle to slug for the Reds.
      312 down the line?  Not much bigger than a Little League park.
So how many fly ball outs will a kid survive before he just quits in frustration and plays lacrosse?  And does Josh Jackass give a damn that he's screwing up a lot of kids?  Thanks, Josh.
Kids should just learn to hit.  Solid contact.  Don't even think about home runs.  The power will come as you mature.  That makes a lot more sense than a 10-year-old upper cutting to loft hopeless fly ball outs as preached by the Bringer of Drizzle.  Who didn't play for over three months because he had a sore calf muscle.
Yes, his calf was sore.  For $23 million a lot of dudes would play with a broken leg.
UP-DATE
Bloop and a Dribbler…but Wick Locks the Door
Padres manager Andy Green must have liked what he saw in Rowan's debut because he hustled him back onto the mound faster than a speed reader.
And Wick was even better.
If you're a slave to stats that sounds as irrational as skydiving without a parachute.  In his second go round Rowan was on the hill for another frame and this time he threw a load of 25 pitches, giving up two hits and a walk.
Yes, the Rockies didn't score.  But how could that be better than his first rodeo?
_________________________________________________________

"Green's not wasting any time.  He's putting Wick to the test."
   --Mark Sweeney, Padres TV analyst
_____________________________________________________
For openers, Rowan faced the meat of the Colorado order.
And the two hits were misfires.
Nolan Arenado, one of the premier belter's in the game, fell behind 0-2 and then reached across the plate to poke at a 96 mph heater…and bloop it down the line, where it settled softly three feet fair.  "That was probably one of the worst swings he's taken all year," Sweeney said, "and he dumps it into right field for a double."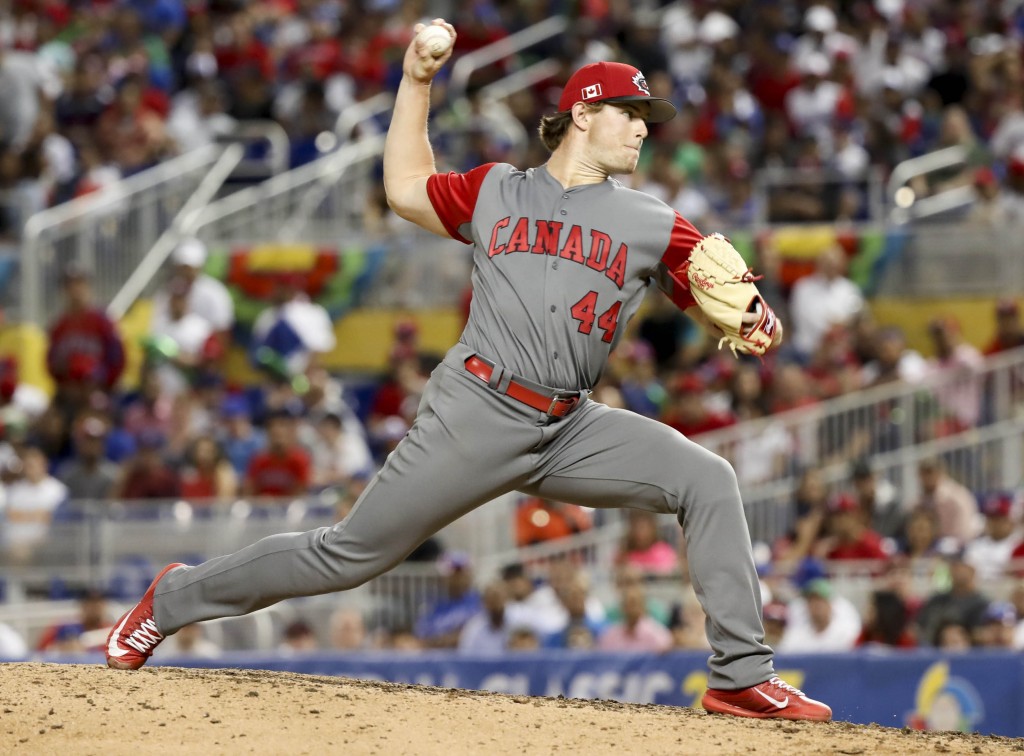 Veteran Matt Holliday battled for nine pitches, fouling off everything he could handle, until he worked the walk.  And Ian Desmond loaded the bags when he dribbled a groundball for a weak infield hit.
But in the middle of all this Rowan handcuffed Trevor Story with elevated fastballs and sliders away for the K and served a jar full of jam for a pair of infield pop ups.
Not one hitter got a good swing on Wick's heater or slider.  Not one.  In fact, they were universally late on virtually everything, chopping a flotilla of oppo foul balls.
But here's the clincher.  The bloop and the dribbler did absolutely nothing to shake Rowan's resolve.  He took it all in stride.  And passed Andy Green's test like a Harvard grad.
AND HE OPENS WITH A BANG
          Rowan Wick Called up to the Padres
                                         43   K   63
Rowan Wick joined the San Diego Padres last night.  And he just didn't walk through the door.  He kicked it open. 
The 6-3, 230-pound righthander from North Van threw blanks in the ninth inning as the Padres shutout the Colorado Rockies 7-0.
In his first taste of the major leagues Rowan threw exactly eight pitches to retire the side before the very enthusiastic San Diego fans.
Wick blitzed a 95 mph heater to get David Dahl to groundout to second base on the first pitch he saw.
Then Ryan McMahon fouled off one fastball, took a slider that clipped the outside corner for strike two, and fanned on an elevated blazer at 96.  Catcher Austin Hedges tossed the Rawlings into the Padres dugout and Rowan had a souvenir of his first big league K.
That set-up the final zap with Chris Iannetta in the box.  Rowan started him with a 95 mph heater on the outside corner that had a wrinkle of cut and Iannetta took a hack and came up empty.  Then he swung and missed on a laser up and away at 96 before fouling off another fastball.
At which point Wick threw a perfect pitch, a 90 mph slider that broke sharply off the outside corner and Iannetta slapped a groundball to short to end the game.
Rowan was called up after posting a brilliant 1.99 ERA with nine saves for the AAA El Paso Chihuahuas.   He was in Fresno with El Paso when he got the word at 4 in the morning.  Two flights later he was in San Diego, thriving on adrenaline.
Rowan arrived just before game time, riding a whirlwind.  "It still hasn't settled in for me," he said after the game.
Wick was signed by St. Louis as a power hitting outfielder.  Even though he hammered a barrage of home runs the Cardinals liked his arm even more than his swing and converted him into a pitcher.  The Padres added him to their system earlier this year.   
This is only Rowan's third full season on the hill, where his repertoire includes a high 90's fastball, tight slider and curveball.              
       What is wrong with human beings?
I'm watching Pawn Stars, something I do every once in awhile when I want to see fat dudes (I refuse to call them "fat pigs" because pigs are noble animals) negotiate with other obese diabetes candidates.
Yes, I know, reality shows are all rehearsed and staged.  That's the irony of Reality TV.
At any rate, a guy ambled in to the pawn shop and tried to convince Rick he had the legendary piece of wood that was in the hands of Babe Ruth when he ripped the famous "Call the Shot" home run.  (Look it up.)
And he was asking for $2,000,000.
Yes, $2 million.  Two million dinero.  Yes, he was.  And Rick was intrigued.  Thinking about paying that much.
Until he found out it was a fake.

             Are these incredible beings not more sacred than a baseball bat?
Now I ask you.  Why would anyone pay $2 million for a (bleeping) baseball bat?  No matter who's sweaty palms it rubbed against (did the Babe wear batting gloves?) and no matter which Rawlings left the yard.
History?  Icons?  Tradition?  For $2 million?  Does insanity run in your family?  Or do you buy Picasso paintings?
       Was this the bat?  Or is this really Kendrys Morales?
There are innocent, wonderful animals being slaughtered for a few bucks by ruthless, savage mercenaries.  Every (bleeping) day.
There are innocent, wonderful children being discarded and emotionally abused by soulless parents.  Every (bleeping) day.
And a baseball bat is worth $2 million?
What the (bleep) is wrong with human beings?